Over the last year and a half, we have fallen in love with the Vietnamese YouTube channel ND Woodworking Art for all the stunning exotic car replicas crafted out of nothing but wood, including the recently built Rolls-Royce Boat Tail replica. However, it turns out that there's no scarcity of talent in Vietnam. What you're looking at here might actually fool you into believing that it's a real Bugatti Chiron pictured on the streets of the Asian country. But let me tell you that it's a home-brewed replica of the $4 million French hypercar that was hand-built in a small workshop in one year. This has to be one of the most realistic Bugatti replicas we've seen so far, which is incredible given the fact that the entire project was completed with basic tools.

The fabricators of the Chiron replica have documented the entire build process on their YouTube channel named NHẾT TV. They begin by building a frame with steel pipes that look to match the proportions of the Chiron. The frame acts as a base to create a mock-up of the body chiseled into shape with clay. The clay model is then applied with a layer of plaster to make a crude mold for Chiron's body. The craftsmen proceed by carefully making the fiberglass bodywork using the mold.

Once the fiberglass body is made, they transfer it onto a homemade tubular chassis. That's right, they didn't actually try modifying the chassis from a donor car but actually create one from the ground up. Very impressive, indeed! The chassis also features what looks like pushrod suspension, while the engine is placed in the middle like a proper mid-engine supercar. However, instead of a massive W16 engine, the replica uses an old carbureted Toyota four-cylinder which should barely be able to produce 100 odd horsepower. The level of craftsmanship is seriously worth appreciating. A rear wing and disc rotors are also custom-made for the project. To complete the look, the replica is painted in Bugatti's traditional blue and black paint scheme. Have a look at the video, I'm sure you'll love the amount of effort put into building the Vietnamese Bugatti.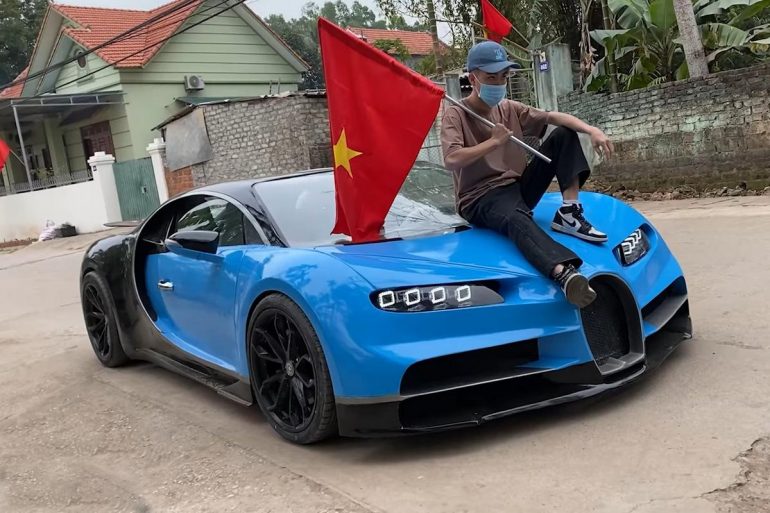 [Via: The Drive]