Pink Shadow, a 190-feet ice-class explorer yacht, has left the shadows of shipbuilder Damen Yachting after successful sea trials in April. The SeaXplorer is currently embarking on her maiden voyage to the Mediterranean and will soon become the pride of her owner for her pole-to-pole sailing prowess. Pink Shadow results from a partnership between naval architects at Azure Yacht Design and experts at EYOS Expeditions. Among its many advantages, the best one is that the robust vessel remains at sea for a month at a time. The globetrotting explorer boats an impressive range of 5,000 nautical miles at 11.5 knots per Boat International.

With so much sailing to accomplish, it is a plus that the ship is outfitted with eco-focused features like large waste tanks ensuring she only leaves behind an impact of a good kind. The SeaXplorer sounds like all work and no play. Design Unlimited's interior work guarantee that's not the case. Pink Shadow, a lavish and lovely yacht, sleeps up to 12 guests in six suites comfortably. A crew of 15 and 2 expedition staff can be accommodated on the ship.

The bridge deck is ideal for a sky lounge where dining under the stars with uninterrupted views as sides seems like a great way of spending an evening. Damen's SeaXplorer also features a signature observation lounge, a cabana-style bar, an expansive infinity pool, and even a relaxing Jacuzzi. The yacht boasts a helideck for the affluent owner's comfort, but the arsenal of toys is the real deal aboard Pink Shadow. The variety of toys and tenders includes two multi-use tenders, motorcycles, and vehicles.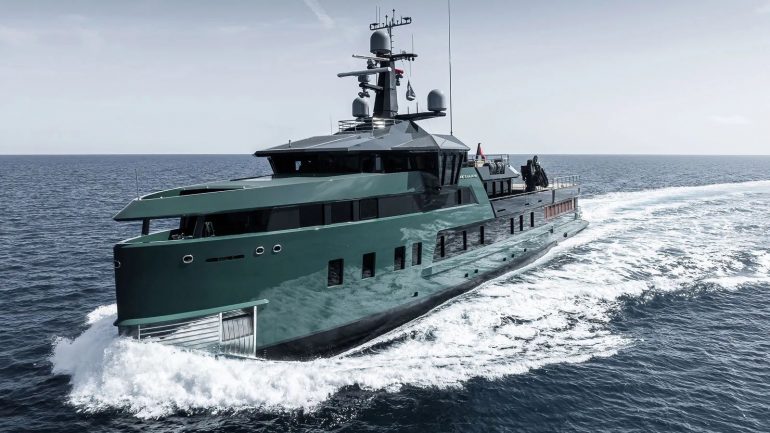 Best of all, she easily fits a 37-foot sailing yacht in her arsenal. "We are very excited at the successful accomplishment of this milestone of the project," Tolga Karacadal, operations manager of yachting at the Antalya shipyard, said in a statement. "Having seen the yacht in the water for the first time, it's clear to see that she will be a head turner."