With the seizure of the $600 million Crescent, a megayacht coveted by most around the world, yacht-builder Lurssen came under scrutiny as two of the three biggest superyachts built by the German yacht maker were seized in a matter of weeks. In March, the superyacht that boasts a gorgeous glass-bottomed pool was seized at Tarragona, Spain. The 443-foot-long yacht allegedly belongs to Rosneft boss Igor Sechin. Sergei Chemezov's 278-footer Valerie, another Lurssen-built luxury vessel, was impounded around the same time. The $150 million pleasure craft was admired for her limo, landing craft, and wellness deck with a Technogym equipment-equipped workout area, beauty treatment rooms, a Hammam, and a steam room.



According to a report by El Pais, a judge from Tarragona has opened proceedings to act against the assets in Spain of Igor Sechin after the U.S. Justice Department requested judicial assistance on these magnates. The case is similar to Suleiman Kerimov's Amadea, which was impounded by Fiji authorities after arriving at the Pacific island without customs clearance.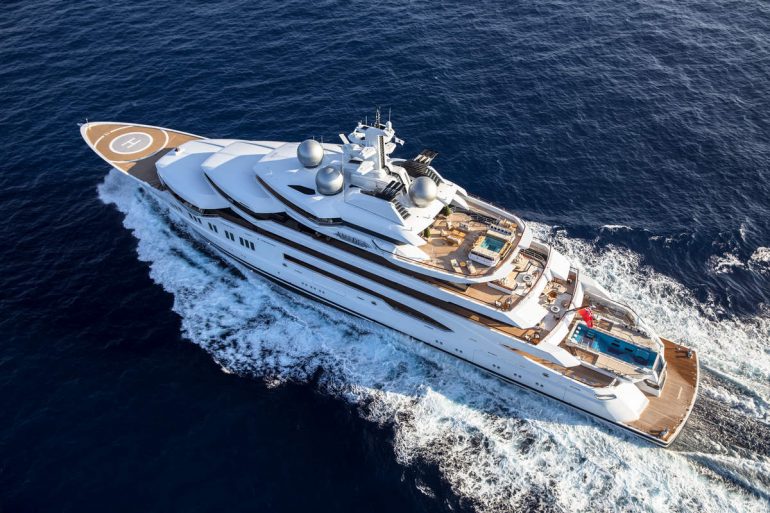 The U.S. embassy's interest in seizing Amadea was mentioned in a statement, "The United States is committed to finding and seizing the assets of the oligarchs who have supported the Russian Federation's brutal, unprovoked war of choice against Ukraine. We and several of our E.U. partners have already frozen or seized many assets of these oligarchs. We are working closely with governments and private sector partners in Europe, and the entire world, including Fiji, on this issue."

With the judicial investigation open against megayacht Crescent, a subsequent search by the Civil Guard and the National Police will follow. Agents of the National Police have registered the massive 443-footer in search of documentation. The police are taking statements from the vessels' crew members, including the captain, the first officer, the chief engineers, and even the kitchen staff. This line of questioning will help authorities zero down on the ownership of the pleasure craft. Many superyachts have been impounded and later let go as the ownership of the vessel could not be established to the sanctioned oligarch in question.

Earlier in April, Spanish Authorities joined hands with the FBI to capture Viktor Vekselberg's $90 million yacht Tango in Palma de Mallorca, the capital of Spain's Balearic Islands. This operation was the first ever to be carried out by the FBI at the request of U.S. authorities along with Homeland Security Investigations and Spain's Civil Guard. Igor Sechin's 290-feet long, $120 million vessel, Amore Vero, was also seized by French authorities in the port of La Ciotat.

The $600 million Crescent – A fantastic beast that sails on the high seas
In 2018, Lurssen built the 443-footer along with the biggest names in the yachting industry. French design-house Zuretti and exterior designer Espen Oeino came together to create this $600 million marvel that floats albeit in style and unmatched luxury.

With a displacement of 9.194 tons, Crescent is undoubtedly one of the largest yachts in the world. A massive 72 feet beam allows the boat, initially dubbed Project Thunder, to flaunt well-appointed accommodations in spacious staterooms, several amenities, and not one but two helipads. As per Charter World, she houses 18 guests with a crew of over 40.

Crescent is divided into four spacious decks that are outfitted with the best entertainment and wellness features, including a jacuzzi, a well-equipped gymnasium, and a large beach club. Guests cannot help but stand amazed by her stunning three-deck glass atrium that allows plenty of natural light. An elevator connects the four decks, and the beautiful boat also comes with a movie theatre and beauty salon.

When it comes to features and amenities, the Crescent has it all. It may even be at par with Roman Abramovich's Eclipse megayacht when it comes to size and price. But the same cannot be said when it comes to performance, as the Eclipse is powered by a diesel-electric, dual propulsion system with four MTU 20V 1163 TB93 marine diesel engines, giving it a maximum speed of 25 knots and a cruise speed of 22 knots; Crescent is powered by two MTU engines giving her a cruising speed of 11 knots and a top speed of 15 knots. However, concerning magnificence, there is no room for grievances.

Who is Igor Sechin?
The Russian oligarch and government official has been recognized as the confidante of Russian leader Vladimir Putin since the early 1990s. Thanks to this association and a reputation earned, the 61-year-old man is bestowed with monikers like "Darth Vader" and the "scariest man on Earth." The sanctioned oligarch is also the CEO of Russian oil giant Rosneft and lives a life of utmost luxury. He owns the fantastic superyacht Amore Vero and a $60 million mansion near the presidential residence outside Moscow.
The Crescent and Amore Vero are managed by Monaco-based Imperial Yachts. Recently, the U.S. has sanctioned CEO Evgeniy Kochman and his company Imperial Yachts, which manages and charters yachts worth billions of dollars to the Russian elites. According to Forbes, the unofficial second-in-command in Russia is worth at least $800 million (until hit with E.U. sanctions). Igor Sechin was born and raised in St. Petersburg. He graduated from Leningrad State University in 1984 with a degree in French and Portuguese and a Ph.D. in economics.