The private Boeing 787 Dreamliner owned by sanctioned Russian oligarch Roman Abramovich has been added to the list of aircraft in likely violation of the US Export Administration Regulations (EAR) by the United States Department of Commerce, according to a report by Reuters. With the privately-owned Dreamliner now being sanctioned by the authorities, it is restricted from receiving refueling, aircraft spare parts, maintenance, or repair services unless it is granted special permission by the US government. It is the second aircraft belonging to Abramovich found in violation of US export controls. Back in March, the billionaire's Gulfstream G650 with the tail number LX-RAY was added to the list.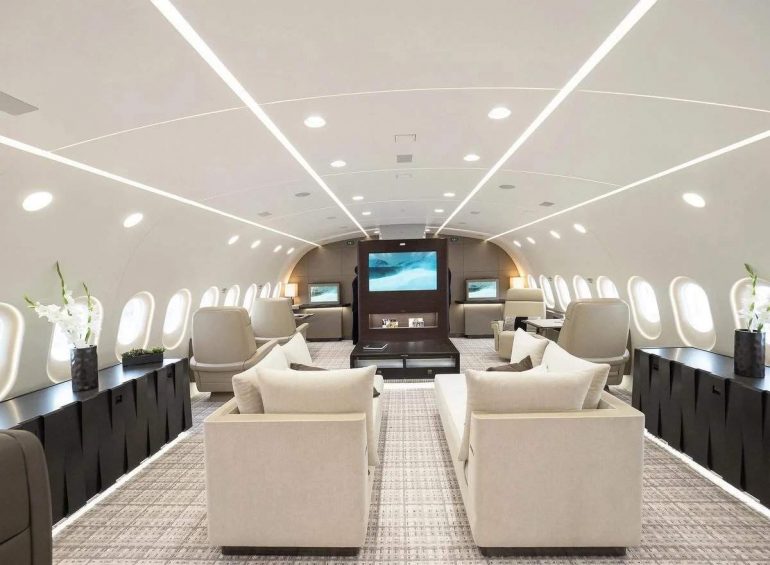 "Today's actions are a reminder to parties in Russia as well as throughout the rest of the world that U.S. legal authorities are substantial, far-reaching, and have a meaningful impact on global operations by parties found to be in violation of US law," said US Assistant Secretary of Commerce for Export Enforcement Matthew S. Axelrod in a statement. In case you're wondering what took the authorities so long to add aircraft to the list, most of such assets owned by Billionaires are purchased through a complex web of shell companies to hide their true ownership. In the case of Abramovich's Dreamliner, the Aruba registered jet was purchased by British Virgin Islands-domiciled Wenham Overseas Limited in 2018. While the Financial Investigation Agency of the British Virgin Islands confirmed that the shell company is owned by Abramovich, it often becomes a daunting task to legally prove the ownership.

According to the Dreamliner's last recorded flight data, the massive private jet flew from Moscow to Dubai on March 4, 2022, and has been there since to hide from western sanctions and avoid getting seized. UAE is one of the few countries that refused to side with the US and its allies to sanction Russia after it invaded Ukraine earlier this year, making it a preferred safe haven for Russian businessmen and oligarchs. However, now that Abramovich's 787 has been officially added to the list, it's practically grounded in Dubai and can't really fly to another destination unless the sanctions are lifted. "By preventing these aircraft from receiving any service, including from abroad, international flights from Belarus or Russia on these aircraft are effectively grounded," explained the Bureau of Industry and Security.

The Boeing 787-8 Dreamliner was purchased by Abramovich at the end of last year as a replacement for his equally decadent 767 private jet nicknamed "The Bandit." There are only 250 of these jets that exist and only 3 of them are privately owned, which includes a presidential plane in Mexico that has been up for sale for a while and the other operated by global luxury charter jet service 'Dream Jet'. The aircraft with the tail number P4-BDL was built in 2015 for PrivatAir, a Swiss airline operator that went bust in 2018. After spending some time in storage, the Dreamliner was purchased for around $300 million by the Russian billionaire. If rumor mills are to be believed, an additional $102 million were spent to completely customize the interior of the jet according to Abramovich's taste, making it the most expensive private jet ever built.

While the commercial versions of the Dreamliner can carry up to 223 passengers, Abramovich's jet custom cabin can accommodate 50 people. In fact, there are dedicated seats for ten security personnel, ten staff members, and thirty guests. The cabin design and layout of the jet, however, have been kept a secret. In case you want a similar experience of flying in the oligarch's jet, expect to shell out around $74,000 per hour to charter the private Dreamliner operated by Dream Jet. In addition to the Dreamliner, Abramovich also owns two of the most expensive superyachts in the world named Solaris and Eclipse. Both the uber-luxurious vessels which have a combined value of around $1.3 billion sailed to Turkey to avoid getting seized. To know more about all the multi-million-dollar toys owned by Abramovich, click here.