Chelsea F.C. owner Roman Abramovich already owns an $80 million private jet that comes with gold fittings, a banquet hall, an anti-missile system, and more. He is also the proud owner of a $610 million megayacht Solaris that comprises 48 cabins across eight decks and is secure as the Air Force One. Ordinarily, one would stop at these huge splurges (maintenance must be another ballgame). Still, the billionaire has recently shopped for a Boeing 787-8 Dreamliner jet expanding his $1.2 billion superyacht collection and $22 million worth of cars. His newest toy is the world's most expensive private jet as the 50-seater aircraft boasts a base cost of $300 million.



If rumor mills are to be believed, an additional $102 million of equipment, as per the taste of the very wealthy owner of Millhouse, are outfitted in the giant aircraft. The plane comes with its history; it was built seven years ago for PrivatAir, a Swiss airline operator. Unfortunately, the company filed for bankruptcy in 2018, leaving it open for the grasp of Roman Abramovich. It is believed to be one of only two privately owned aircraft globally—the rest amount to 250 among all airlines put together.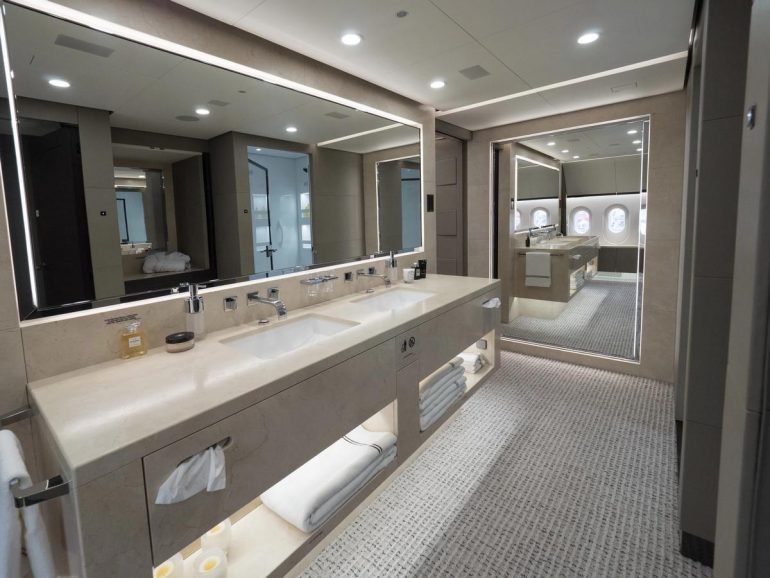 This aircraft accommodates nearly 50 passengers, including ten seats dedicated to security personnel, ten staff, and thirty guests. Buying the entire aircraft isn't everyone's cup of tea, but many millionaires would like to charter the plane on occasion. To book an hour of flying on what is undoubtedly the most luxurious Boeing 787 in the world, one needs a minimum of $74,000 (an eight-hour flight from London to New York could cost around $600,000).

Basing our assumptions on the private Boeing 787 Dreamline, which is similar to the one made for Roman Abramovich, the aircraft will flaunt a master suite fit for the king that he is. It will be outfitted with a walk-in closet, a television, and in Abramovich's model, there will be many more stunning additions. A few large cabins for guests, a lavish dining area, and a separate lounge area are a given. According to Daily Mail, Boeing 787 Drealiner's en-suite bathroom is spread across 2,300-square-foot of space. This may be Abramovich's second private jet after his Boeing 767-33AER, but the gorgeous machine is said to be Russia's first!
[Via: Forbes Russia]