By definition, a billionaire is a person possessing assets worth at least a billion pounds or dollars. However, this definition doesn't mention the aftermath of owning and using these amazing assets. The Guardian published an article highlighting an analysis by Oxfam and US researchers on twelve of the world's wealthiest billionaires. According to their findings, this group of tycoons, including Amazon co-founder Jeff Bezos, Russian oligarch Roman Abramovich, Bill Gates, Larry Page, Michael Dell, Elon Musk, and Mexican business magnate Carlos Slim, among others, produces more greenhouse gas emissions than the annual energy emissions of 2 million homes.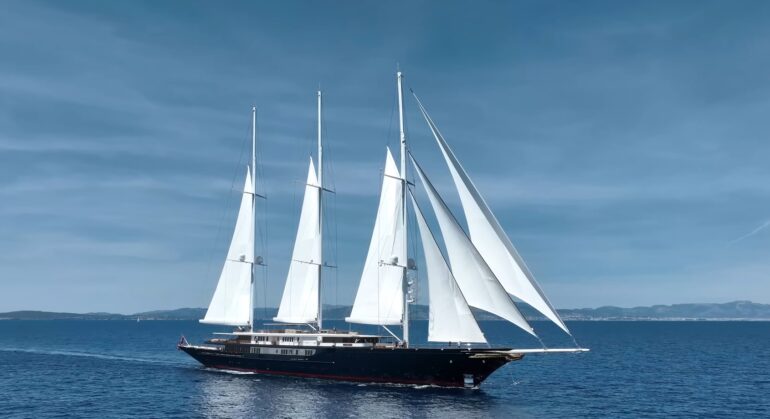 It's no secret that the bigwigs of the business world own the largest and most impressive yachts, private jets, and mansions. The largest privately owned sailing yacht in the world, centibillionaire Jeff Bezos's Koru, is a $500 million masterpiece with equally jaw-dropping carbon emissions. According to an analysis by Wilk and Barroz, the vessel will still emit 7,154 tons of CO2 a year. With the extensive cruising / sailing the newly engaged couple is doing we are certain the footprint will be even more. To put it in perspective, according to the IEA an average person has a carbon footprint 4.7 tonnes of CO2 which makes the Koru responsible for CO2 emissions of more than 1,500 persons.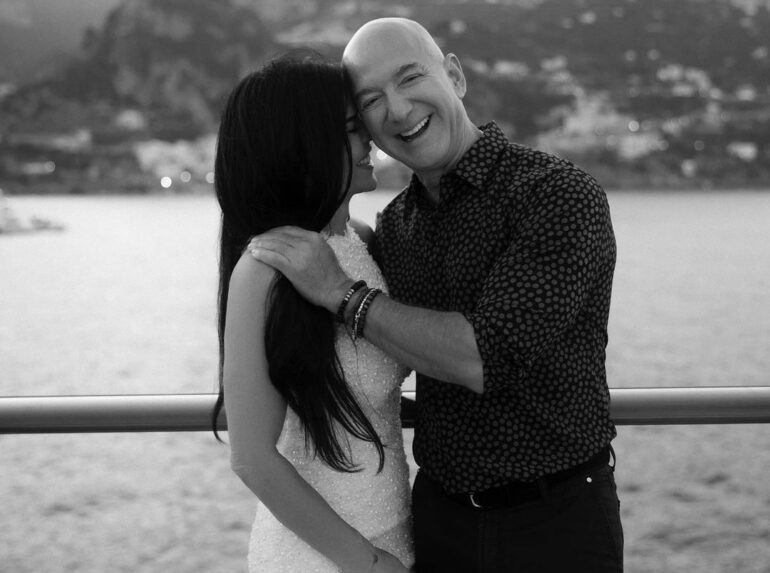 Lauren Sánchez even tried to justify Koru's carbon footprint and her own with her environmental work. Speaking to Vogue, she said, "I think Jeff and I really are focusing on the long-term commitment to climate, and we're extremely optimistic about it. Ten billion is just the beginning." She stated they use green aviation fuel when possible and that Koru can sail using only wind power. "We've done it, and it is magical." The reality, however, is hardly this simple. For the lack of a helipad on the half-a-billion-dollar schooner, Sanchez's fiance Bezos, who is also the third-richest man in the world worth $167.8 billion, commissioned a shadow vessel, Abeona, to follow the mothership with every essential toy, tender, and of course, a chopper for Lauren to pilot in and out from.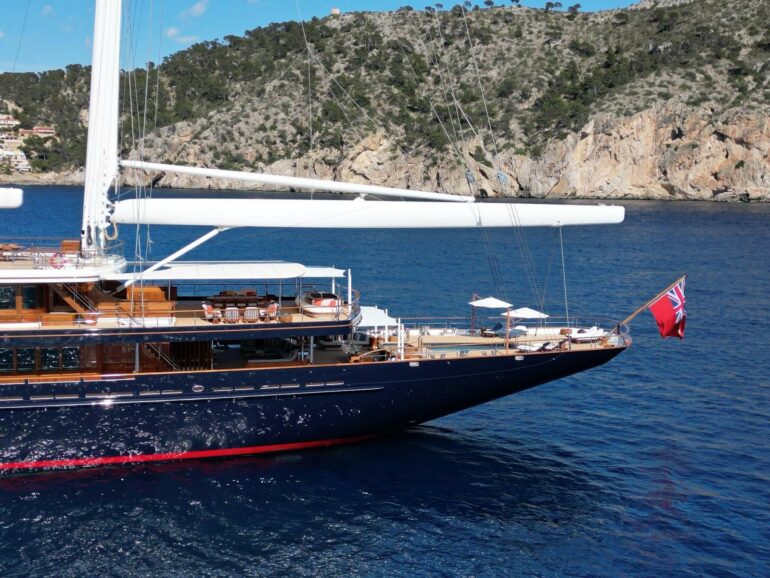 The Koru, which is 417-foot-long, took three years to build, is the largest sailing vessel, with triple masts reaching 230 feet. Despite using wind power thanks to its massive sails, the schooner also relies on 2 MTU engines for propulsion when the sails are not deployed. The Oceanco ship is not a zero-emission superyacht and produces environment-damaging air pollutants as any other vessel of its size when powered by its diesel engines.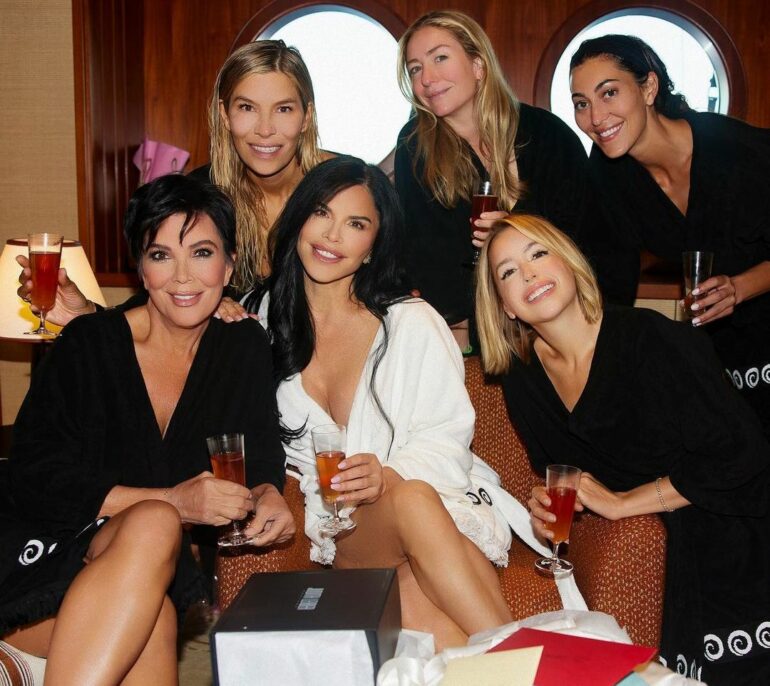 "Billionaires generate obscene amounts of carbon pollution with their yachts and private jets – but this is dwarfed by the pollution caused by their investments," said Oxfam International's inequality policy adviser, Alex Maitland. "Through the corporations they own, billionaires emit a million times more carbon than the average person. They tend to favor investments in heavily polluting industries, like fossil fuels. The world's poorest communities, those who have done the least to cause climate change and are least able to respond and recover, suffer the worst consequences. This is unfair and immoral."
Even at the time of writing, the humongous sailing yacht is en route on a 4,000 mile journey from Gibraltar to the Americas and has currently gone dark somewhere in West Africa.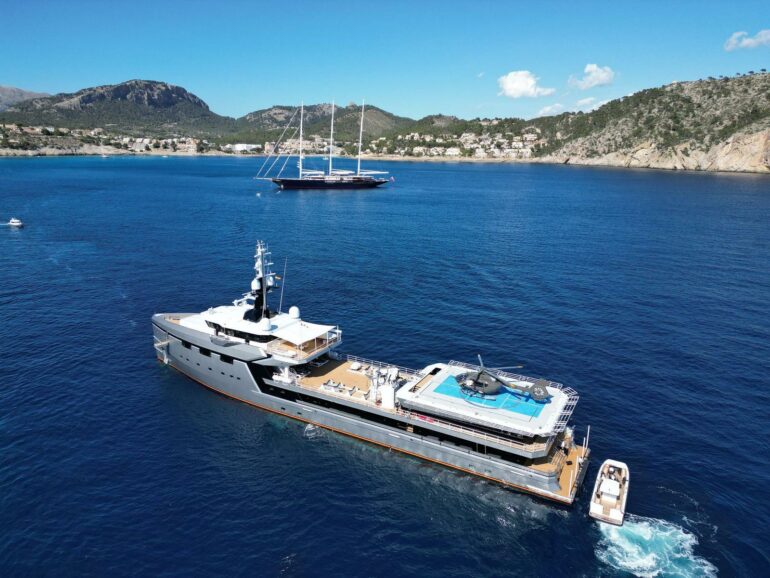 Koru megayacht sails with a $75 million shadow vessel, Abeona –
The Koru megayacht alone pollutes as much as 1,521 people or 450 Americans annually. This figure doesn't even include the pollution caused by its $75 million support vessel, Abeona. The shadow vessel, trailing the massive 417-footer, comes with an arsenal of toys and tenders, including a helicopter for Bezos's flying enthusiast fiancée Lauren Sanchez. The 246-foot Damen yachting vessel is powered by a pair of 16-cylinder diesel MTU engines producing 3,046hp at 1800rpm, along with harmful emissions.

Abeona carries several jet skis, speedboats, and personal submarines, which have likely been used extensively as the billionaire couple have been cruising the Mediterranean for months at a time since acquiring this floating asset in May 2023. The American tycoon journeyed from the Balearic Islands to Cannes, Saint-Tropez, Capri, Sardinia, Portofino, and the Baltic countries in less than six months.

This underscores why the world's top 1% of emitters produce over 1,000 times more CO2 than the bottom 1%. According to iea.org, the global average energy-related carbon footprint is around 4.7 tonnes of CO2 per person. The disparity in wealth between billionaires and laypeople is starkly mirrored in their carbon footprints as well.