Mercedes-Benz has finally taken the wraps off the highly anticipated Mercedes-Maybach S600 Pullman prior to its debut at the Geneva motor show next month. Symbol of opulent transportation, this uber-luxe Mercedes limousine arrives on the 50th anniversary of the legendary Mercedes-Benz 600, the original stretched Merc. The massive range-topping S-Class model has been in development for the last year and a half, and like its immediate predecessors will offer 2+2+2 seating complete with a middle row of rear-facing seats. The second of the Mercedes-Maybach models, the Pullman joins the Mercedes-Maybach S600 range with 21.3 feet of opulence and excess in every department.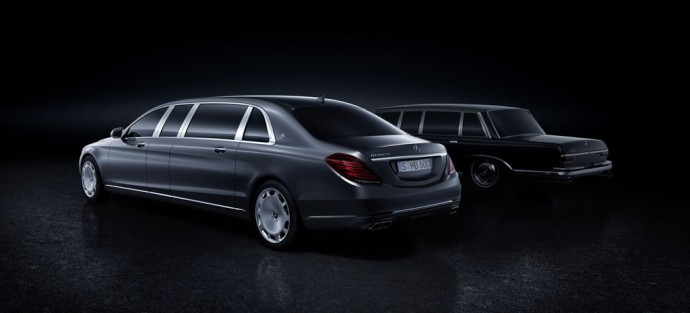 The Mercedes-Maybach Pullman is powered by the 6.0-liter V12 found in the S600, tuned to produce 523 hp and 612 lb-ft of torque. Like its predecessors, the Pullman will arrive in both unarmored and armored form, with the heavier version expected to provide VR9-level ballistic protection, as on the factory S600 Guard model. For the unarmored variant, the starting price is about $566,922.
Measuring a whopping 21.3-foot in length, it is 3.5 feet longer than the Mercedes-Maybach S600 or two feet longer than the G63 AMG 6×6, with 14.5 feet of that distance between the wheels. It's even over a foot longer than the Rolls-Royce Phantom EWB and stands 3.9 inches higher than a standard S-Class to the benefit of its imposing presence and interior space.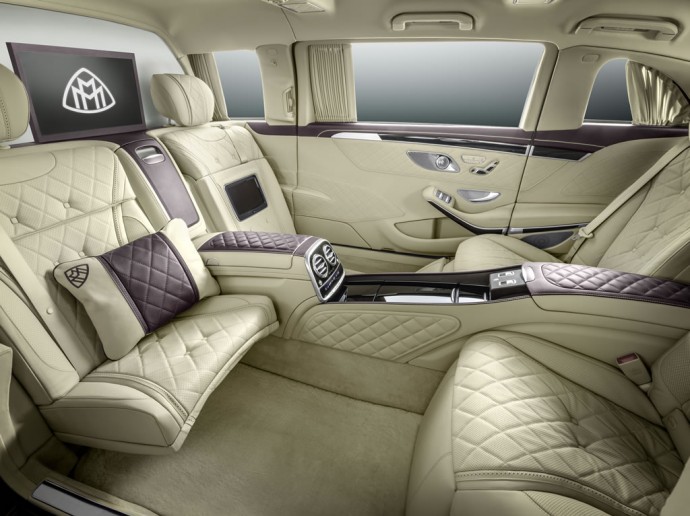 "Quite apart from providing stately and stylish seating for high-ranking passengers in the comfort and spaciousness for which it is famed, the new Mercedes-Maybach Pullman is of course the embodiment of exclusivity at its highest level," said Ola Källenius, member of the Daimler AG Management Board responsible for sales and marketing of Mercedes-Benz cars. "One can sense the significance and greatness of it in every detail."
Inside the cabin, the luxury limo's interior is entirely clad in leather with four seats: two recliners and two fold-down seats facing backwards. The principal rear seats can recline between 19 and 43.5 degrees offering an extensive array of individual adjustments to cater to the occupants' individual preferences. It will also have a powered partition window separating the passenger compartment from the driver. The partition window will be able to turn opaque at the press of a button, while a Burmester 3-D surround-sound system will keep the occupants entertained. More details will emerge once this oligarch-special behemoth debuts next month in Geneva.
[Via – Autoblog]