When you're a ship as gigantic and attention-grabbing as the Nord, there is no escaping the limelight. The 465-foot vessel, owned by Russia's richest man, Alexei Mordashov, went dark in October this year in the Indian Ocean. The Lürssen mammoth, the first superyacht to sail under the Russian flag, was en route to the Seychelles when it turned off its AIS transponders. According to eSysman SuperYachts, the ship popped back on the radar and was spotted in Muscat, Oman, on November 11th and sailed two days later. It was a journey conducted with the AIS turned off, and the Nord megayacht is most likely on its way to Dubai, the safest place for superyachts with sanctioned owners.



It should be known the Nord sailed no less than 5000 nautical miles from Vladivostok in Russia to Muscat and probably stopped for refueling before sailing North with AIS turned off as usual. Per Superyachtfan, Nord is currently in Abu Dhabi's Mina Zayed port, and the vessel is out of range. There are chances that the $500 million goliath may move to YAS Marina, which offers a wide variety of berths for superyachts up to 175m.

Even if the Nord Yacht moves to UAE, it will be in the company of several other lavish floating mansions like the $100 million superyacht Titan, the $156 million Madame Gu, Andrey Melnichenko's $300 million motor yacht A, and more. The 465-foot megayacht Nord is owned by Mordashov, worth $19.8 billion, and is a stunner packed with world-class amenities, making it perfect for the modern-day uncrowned king of Russia.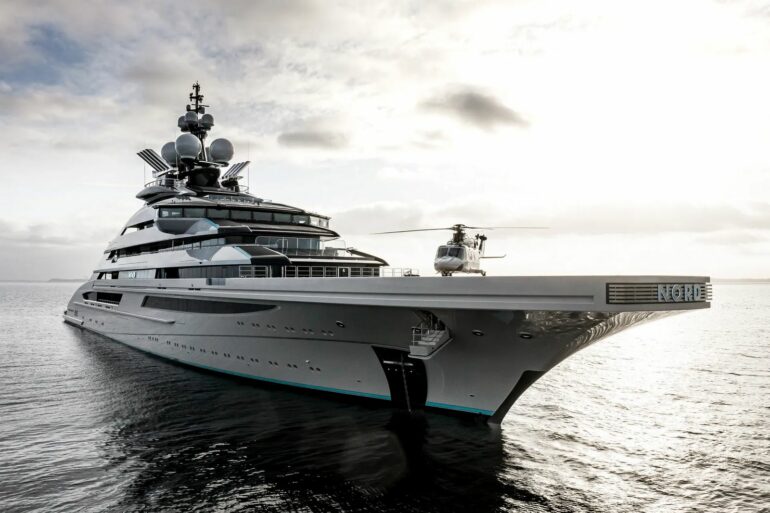 From a sprawling swimming pool to a serene sun terrace, a well-equipped spa, a diving center, and an enormous tender garage, the boat of Russia's fourth-largest steelmaker comes first in class. If the boat does, in fact, arrive in Dubai, there is no doubt it will be spotted from a distance. Talk about owning the elephant in the room!