Travelers, keep those Orient Express dreams alive and burning. After giving globetrotters and tourists gems like the Orient Express train and Orient Express hotel, the future of its legacy looks promising with the Orient Express Silenseas. Accor's first luxury cruise line will launch in spring 2026 on the world's largest superyacht. This significant development will amp luxury travel 140 years after the launch of its trains. We foresee bucket-list modifications and a new future of luxury cruises on the world's largest sailing yacht. Jeff Bezos's Koru stands defeated by the Orient Express Silenseas even before either commenced their maiden journey. While owning a private jet is undoubtedly impressive, cruising the Mediterranean and Caribbean onboard Accor's luxury cruise will be an unmatched experience. Let's take a closer look at the first Orient Express ship ever-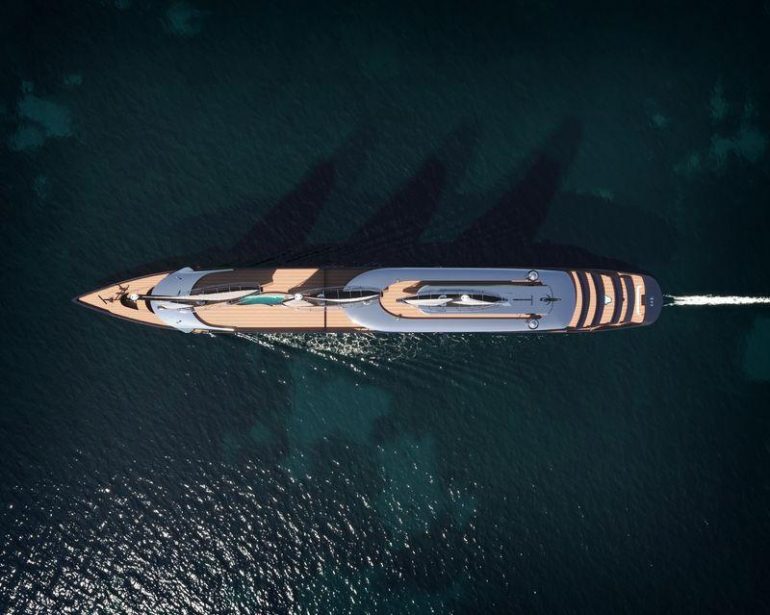 What maketh the glorious Orient Express Silensea?
Size, stature, heritage, and luxury combine to make the mammoth Orient Express Silenseas. With an imposing length of 722 feet, and three towering masts shooting 300 feet high, this luxury schooner is set to be the world's largest sailing yacht, superyacht, and travel plan come spring 2026. Despite the gargantuan dimension, this luxury experience will only include 54 suites, accommodating 120 passengers. There is no place for crowds, packed ports, and crammed itineraries! It already sounds like a dream, right? Accor SA's partnered with French shipbuilding company Chantiers de l'Atlantique to deliver an unparalleled travel experience. Sébastien Bazin, chief executive officer of AccorHotels, shared with Bloomberg, "The experience on board is extremely similar to the experience we give at Raffles in Singapore within and outside the hotel," says Bazin. "Orient Express as a luxury brand is not a product, it's a feeling."

Guests will be accommodated in well-appointed 750-square feet suites. To feel even more special, one can taste the royal treatment on the top deck, where six suites fuse to present a mindboggling 15,230-square-foot presidential suite with an additional 5,700-square-foot terrace. The Orient Express Silenseas will offer an array of impressive amenities, such as swimming pools, two restaurants to satiate the well-traveled gastronomes, an oyster bar, and a speakeasy bar for free-flowing cocktails and conversations.
Rejuvenation is guaranteed at the world-class spa, as is entertainment at the amphitheater-cabaret. Those with creative juices flowing with as much gusto as the ocean waves can spend time at a private recording studio. These features make the ship the perfect venue to be chartered by private businesses for events. Needless to say, all this glitz and glam won't come cheap. With the Orient Express Silenseas being twice the size of Bezos's $500 million Koru, it will be a roughly $1 billion vessel. Compared to the 623-foot Evrima, which houses 300 guests for $7,000 to $25,000 per person for seven-night cruises, the Orient Express experience, in all probability, will burn a mighty hole in the pocket for a luxurious, lasting memory.

She is gorgeous, green, and ground-breaking-
What lies in a name? Everything if you care to notice! The Orient Express Silenseas is constructed to run diesel-free and use a hybrid propulsion system with the wind as its primary energy source. The massive megayacht is designed to glide elegantly and silently owing to three gigantic sails made of glass polyester panels and a 16,145-square-foot wind propulsion system designed by Chantiers de l'Atlantique. "We may not stop when we are meant to stop because the wind is too strong, and that's the way I want it," shared Bazin. In addition to the above, the engine running on liquefied natural gas (LNG) would reduce carbon dioxide emissions by 20% compared to using diesel, the company shared.
The world-class eco-conscious cruiser is already equipped to work on green hydrogen once its use is authorized.

The Orient Express train was the stuff of dreams-
The first Orient Express train launched 150 years ago, turning Georges Nagelmacker's dream into a reality, and a roaring one at that! Since then, the train has clocked up to almost 2.5 million miles, traveling nearly 100,000 miles throughout just one season. If The Orient Express Silenseas will similarly document several million nautical miles is a milestone yet to be witnessed. Undeniably, the Orient Express train is a romantic addition to nearly every bucket list, taking you through the length and breadth of breathtaking continental Europe in the lap of luxury. More recently, the Accor Group launched the Orient Express La Dolce Vita to help visitors live an unforgettable journey through one of the world's most beloved countries, Italy. The icon has presented to the world a very promising successor in the form of The Orient Express Silenseas.