Pebble Beach Automotive Week offers a banquet of events for automobile enthusiasts and connoisseurs of culture. Quail, a Motorsports Gathering, features the newest limited edition and concept vehicles and how can that be complete without a Rolls Royce. The British car manufacturer unveiled one of the 35 limited edition Phantom Coupe Aviator Collection models that celebrate the spirit of human endeavor that led Rolls Royce to simultaneous world speed records on air, land, and water.

The graceful coupe, which comes in Aviator Grey, features a contrasting matt bonnet, window, and grille surround while inside, the interplay of wood and metal hint strongly at a cockpit theme. True to its Aviator name, the dash is decked up with a Thommen, with blood orange needle tips embedded in the metal foil upper front, complemented by matt black dials for power reserve, speedometer, and fuel gauges.


The lower frontage is finished in mahogany and features Sapele contrast. Polished stainless steel veneer 'onlays' with bullet-shaped ends are designed to match floor mat fixings. The car's transmission tunnel and the armrests are made with anodized aluminum, and the leather-lined glove compartment includes an embossed Charles Rolls quote following his first flight with the Wright Brothers in 1908: "The power of flight is as a fresh gift from the Creator, the greatest treasure yet given to man."


How can you leave out the uber-luxurious leather floor mats or the highly polished aluminum cup holders! Having said that, you cannot repudiate the grace and elegance that any Rolls Royce represents. Even a small glance at the mechanical beauty could be enough to fill your hearts with content. The Phantom Coupe Aviator Collection will do that and more.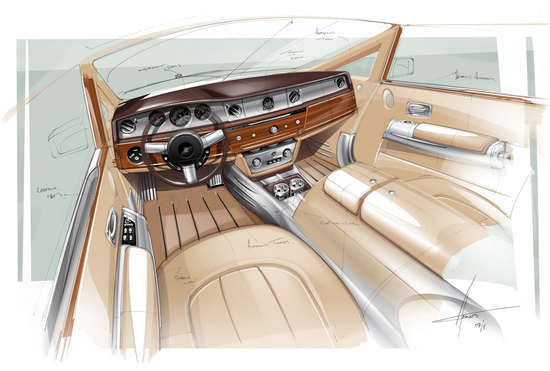 update –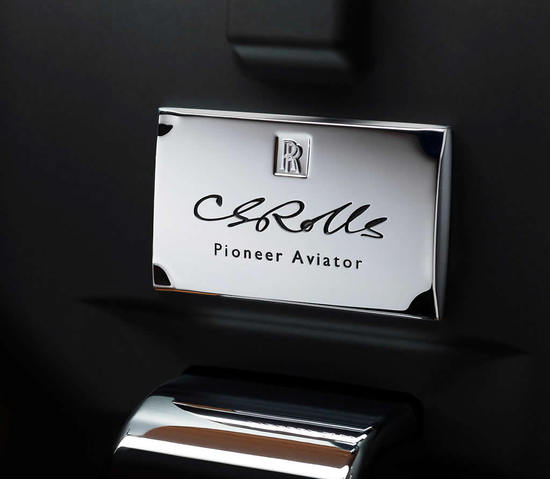 [Rolls-Roycemotorcars]