There was a time when Roman Abramovich was a name featured in statements that read lavish New Year's Eve parties, Chelsea F.C., and wealth. Ever since the Russian invasion of Ukraine, the only context this tycoon's name is taken in is superyachts, sanctions, and stress. It has started to look like no amount of wealth can save the wealthy, and Abramovich is in a deep sea of trouble, as are his superyachts. Megayachts Eclipse and Solaris have been Abramovich's crowned jewels, his ultra-expensive pets. These vessels are among $1 billion worth of assets that would be rendered useless if not seized.



The latest development is that the mammoth Eclipse and Solaris yacht, along with several others flying under the Bermuda flag, are about to get mothballed, according to Daily Mail. Sources claim that Bermuda is moving to remove the registration for the flag of convenience that these ships are sailing under. The loss of the flag means vessels are positively illegal to sail and hence remain stuck in ports.
That's not all; $ 610 million Solaris and $590 million Eclipse will also be left stranded without services, meaning these multi-million megayachts won't be able to get shore-side help for routine maintenance will they get refueled. The rues of Abramovich's frustrated staff is an entirely different problem that keeps getting complicated. The most expensive custom-made superyacht Solaris requires no less than a crew of 60 for its upkeep. On the other hand, Eclipse required a staff of 100 onboard at the service of 30 guests.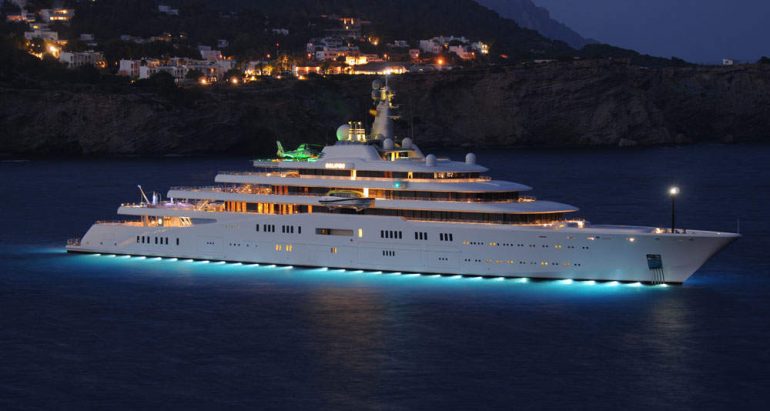 After being struck by sanctions, Roman Abramovich pleaded with his wealthy friends for $1 million loans to pay his staff that keeps his beloved ships afloat and running. 'The whole fleet is under the Bermuda flag, and they are in the process of being de-registered,' a source told the Daily Mail. 'We don't know when it will happen. All we know is that it's imminent. Without a flag, you're not allowed to sail. The captain would be arrested. There's also a fuel shortage. When you pay millions of pounds to refuel boats, it goes through banking channels and gets rejected. Heads of the department have been told to refrain from big purchases and keep crew supplies to a minimum, although the food is 'still really good," the source said.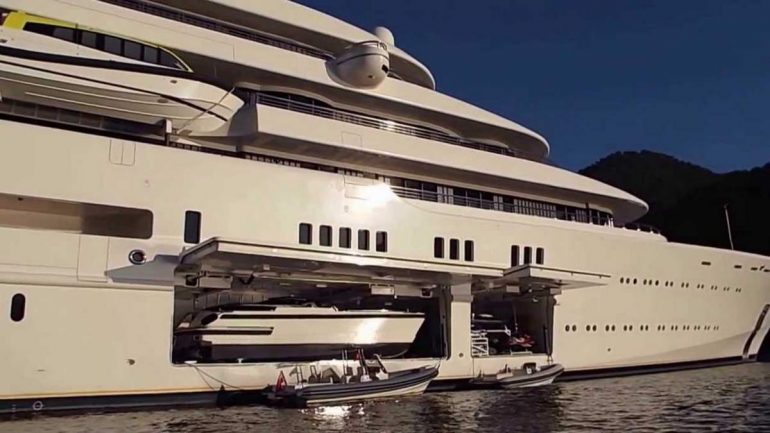 The fact that a court of the island nation of Jersey seized a whopping $7 billion of the sanctioned oligarch's assets only made matters worse for him. The insider also shared with Daily Mail that Abramovich's tribulations have affected the morale among the fleet's nearly 200 crew members, most of whom have not been paid since February, the source revealed.

Where is Solaris?
The most expensive yacht of Roman Abramovich's fleet is Cayman-island registered, $610 million fortress Solaris. From zapping drones mid-air to being outfitted with secret pirate-proof passageways, a radar-based anti-missile system, bulletproof windows, and armored cabins, Solaris is genuinely spectacular.

The Russian billionaire tried his very best to save his schooner from seizure. He sailed the 460-footer aimlessly for days before docking the ship in the Turkish tourist resort of Bodrum.

This refuge was short-lived as the London-based company that operates the terminal, Global Ports Holding (GPH), gave in to pressure and refused services to Solaris. The motor yacht was back in the waters with no place to call home and is currently anchored in Turkey to avoid being impounded under international sanctions.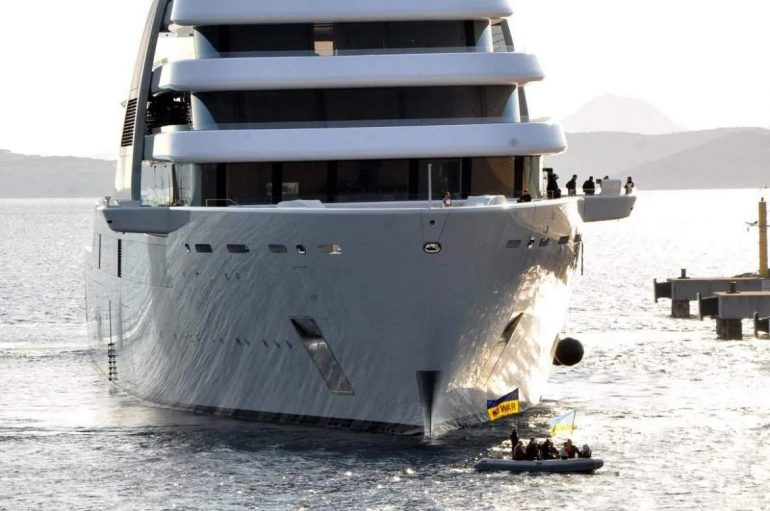 The 460-footer includes 48 cabins across eight cascading decks and well-appointed staterooms, a gym, sauna, wellness center, Jacuzzi, and several well-designed lounge areas around the ship. The hi-tech boat flaunts an anti-drone system that tracks potential intruders as far as 20km away and provides GPS coordinates of both drone and pilot together with the device's speed and compass heading.

Though it is not sanctioned, the vessel is mothballed (a term used for ships when they're retired from active service and put into protective storage).

The ensuing ordeals of the Eclipse megayacht-
Superyacht Eclipse, which once was the life and platform of wealthy Abramovich's big bashes, is now docked in a Turkish port. It certainly looks like its partying days are over as Bermuda is moving to remove the registration for the flag of convenience it was sailing under. This entails that even though it is not seized as of the time of the press, it is as good as useless to Abramovich, who, despite being the owner, won't be allowed to move it elsewhere.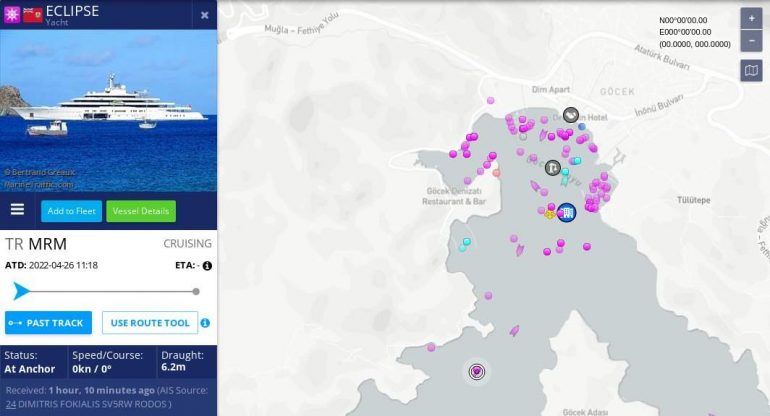 At the beginning of April, it was reported that Eclipse was safely docked and enjoying Turkish hospitality for more than 16 uninterrupted days. As a matter of fact, sanctions are hitting the Russian billionaires harder than ever before; contractors are refusing to carry out routine maintenance, while blocks by banks mean the ships are unable to refuel, and frustrated staff is going unpaid.

It looks like Roman Abramovich won't be able to save the cruiser that kept him safe with an anti-missile defense system, a futuristic laser shield, an escape pod, a submarine, and three helicopters. The 550-footer is divided into nine decks and holds one main helipad on the front and a massive swimming pool and sundeck on level eight. The entrance of this grand vessel is located on the fourth floor, and the salon, and main dining hall, are on the sixth level.

Luxurious cabins, and owner's suite, are found on lower levels. The nine decks are packed with every amenity, and Eclipse was, in better times, the address for an unforgettable New Year's Eve party in 2013. Roman Abramovich paid Lady Gaga $2.9 million to perform at his star-studded bash aboard the superyacht Eclipse.