We may have heard of several nations seizing superyachts on account of EU, UK, and US sanctions. But things have started getting creative, and seized superyachts are no longer at the mercy of nations for their upkeep. Spain and France have allowed owners to pay for superyachts frozen under Russian sanctions. Per eSysman SuperYachts, owners of luxury vessels frozen in Spain are paying maintenance crew, docking, and insurance fee.



I can picture the island nation Fiji rolling its eyes at this point. Russian billionaire Suleiman Kerimov's $325 million luxury vessel was moored in Fiji for over a month with a $1.2 million weekly maintenance cost. Spain and France probably learned not to make the same mistake that cost Fiji 1% of the country's entire health budget wasted on a pleasure craft (the GDP of the island country is $4 billion).

If sanctioned, governments are not legally permitted to accept payments from oligarchs. However, the law in France and Spain will be different, enabling payments under EU and National legislation. In Spain, six vessels were frozen following sanctions imposed after Russia's invasion of Ukraine. Similarly, in France, five yachts have been frozen. Spain's Finance Ministry told Reuters that a 2014 law – adopted after Russia's annexation of Crimea that year – allows sanctioned individuals to make actual payments for the upkeep of assets. The ministry did not confirm whether charges have been authorized. Also, France and Spain have frozen the assets of sanctioned oligarchs instead of 'seizing' them.

This cleverly entails that the running costs remain the owner's responsibility, according to Spain's Finance Ministry, a French maritime lawyer, and two representatives of frozen vessels in France. According to Alarabiya News, Port management company Ocibar said that the owners of two yachts frozen under the sanctions in Spain and moored at its facilities in Tarragona and Mallorca – the Crescent and the Lady Anastasia – were making payments, including for docking and utilities' fees and a skeleton crew.

Spanish officials also seized the $150 million vessel Valerie, owned by Sergei Chemezov, and Victor Vekselberg's $120 million Tango superyacht. Igor Sechin's $600 million Crescent was seized at Tarragona, Spain, whose second superyacht, $120 million Amore Vero, was taken at Cote D'Azur by French authorities. Sanctioned Russian oligarch Alexey Kuzmichev went a step ahead by scoring a victory against French authorities in a frozen yacht fight.

The $600 million Crescent, is the most expensive yacht seized by Spain.
The billionaire won the court case to lounge on his yacht La Petite Ours on the French Riviera. As per eSysman SuperYachts, Germany will soon join this bandwagon which may fulfill Alisher Usmanov's long-denied dream of using his $600 million megayacht. Italy is perhaps the only nation showing no signs of loosening its grip.

The underlying costs of maintaining a superyacht –
James Jaffa, a lawyer for British firm Jaffa & Co, may call yacht maintenance costs "pocket change" for billionaire owners, but these bills amount to millions and burn a massive hole in the pockets of governments. Generally, the annual cost of running and maintenance of a superyacht is close to 10% of its price, which comes to around $10-$15 million in the case of most superyachts. In the case of the world's most lavish yachts, the insurance policy for a $500 million vessel would cost around $1 million a month.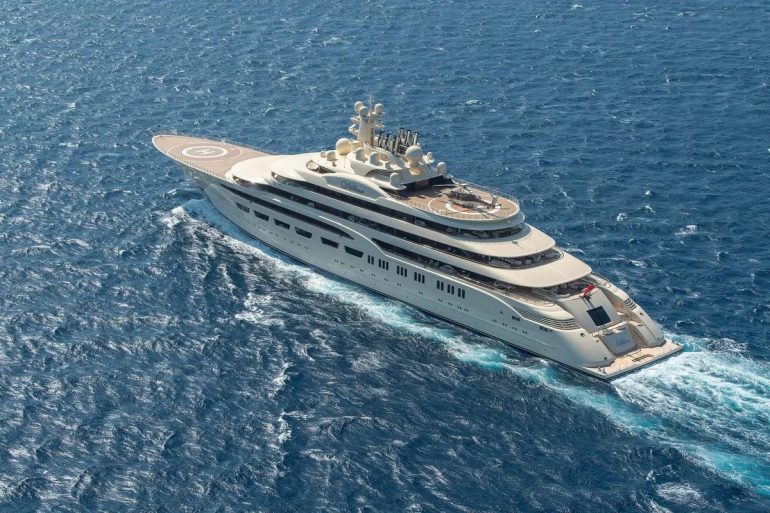 Currently arrested by Germany, the vessel is owned by Alisher Usmanov.The Dilbar yacht is worth $800 million; as per its value, its insurance policy will be more than $1.4 million a month. Then there is the maintenance, and for a ship of this size, even that can run into hundreds of thousands of dollars a month.