It was time for Ferrari to celebrate at the 2011 Melbourne Grand Prix, which was too in a style that not many attributes. Ferrari's luxury car giants are all set to launch its debut Official Ferrari Opus with 852 pages that spot over 2000 images, the 50cm by 50cm Opus features records, and never before seen stories and interviews. Priced at $275,000, the historical memento is the most lavish luxury carmaker has ever made.

Created under Antonio Ghini, it's highlights include two-meter long gatefold pictures, collages created by Piero Ferrari's father, insights into Enzo Ferrari and Luca di Montezemolo, along with details of every car made by Ferrari, an in-depth tour of the 'Maranello dream factory' and detailed analysis of the Ferrari X-factor. The one at the Australian Grand Prix is the one-piece only 'Enzo Diamante edition for Australia. It will spot a handcrafted red leather cover with a diamond-encrusted Prancing Horse encrusted with 30 carats of diamonds. Once sold, every Enzo Diamante the world over can participate in a draw to win a Ferrari F1 car.
Three other limited editions would be out, including 400 copies of the Enzo priced at $34,925, 500 copies of the Cavallino Rampante priced at $6,545 and 4100 copies of the Classic priced at$3,520. The first official copy would by signed by the who's-who of motor sports and will be put under the hammer at Maranello, with the earnings given away for charity.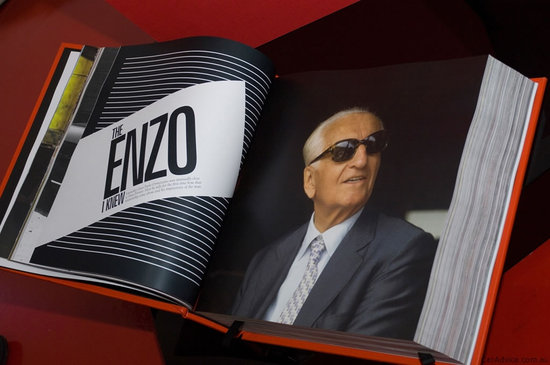 [Caradvice]