United Airlines have announced a deal to purchase 15 supersonic aircraft from Boom Supersonic which according to the company "represents a leap forward in returning supersonic speeds to aviation." United said it will purchase 15 Boom Overture supersonic passenger jets from the Denver-based company, with an option to increase that order to 50 jets. According to the current timeline, Boom plans to roll out the Overture jet by 2025, fly in 2026, and begin ferrying passengers by 2029. If all goes according to plan, this will mark the return of commercial supersonic flights since the grounding of the Concorde jet in 2003.

Introducing the United supersonic fleet.@United will purchase up to 50 Overture airliners and fly the fleet on 100% sustainable aviation fuels. https://t.co/zVG2aMCVKx #BoomSupersonic pic.twitter.com/kg9eoFT2Ww

— Boom Supersonic (@boomaero) June 3, 2021

Boom claims its supersonic passenger jet will reduce the travel time between New York and London to just 3.5 hours from the 7 hours. The flight between Los Angeles and Sydney that usually takes 15 hours will come down to just 6 hours 45 minutes! Boom had stated that the tickets will cost around $5000 per seat; however, United it's too early to announce pricing. "Boom's vision for the future of commercial aviation, combined with the industry's most robust route network in the world, will give business and leisure travelers access to a stellar flight experience," United CEO Scott Kirby said.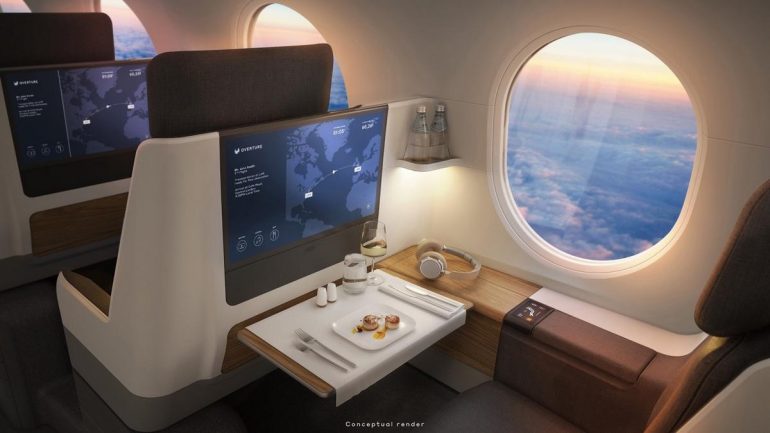 Environmentalists across the globe have raised questions on the return of commercial supersonic travel explaining that faster air travel results in more pollution. However, both companies have claimed the jets will be "net-zero carbon from day one [and] optimized to run on 100 percent sustainable aviation fuel." It plans to fly on 100% sustainable aviation fuel (SAF). Although, the companies are yet to reveal the specifics on how they plan to achieve that goal.

Boom Supersonic revealed a demonstrator last year which is expected to complete its first test flight in 2021. The prototype named XB-1 is a scaled-down version of the full production model and is expected to reach speeds of Mach 1.3. The full-scale Overture jet will be able to achieve speeds of Mach 1.7 and achieve speeds of Mach 1.7. Boom Supersonics already has contracts or memorandum of understanding with Rolls-Royce and the US Air Force along with preorders from Virgin Group and Japan Airlines. Only a few weeks back, Aerion –another major American company working to bring back supersonic passenger jets – announced that it is ceasing operations after failing to secure funding to keep the company afloat.
[Via – Boom Supersonic]