Have a superyacht to save? Dock it in Dubai! Vladimir Potanin, the newly sanctioned oligarch just took his $300 million luxury yacht Nirvana to a path regularly traveled (read: sailed) – Turkey and the United Arab Emirates. Both destinations have developed a reputation for being notorious safe havens for the Russian oligarchs' pleasure crafts. Roman Abramovich did it with his $1.3 billion megayachts Eclipse and Solaris. Evraz billaionre Alexander Abramov (business partner of Roman Abramovich) followed suit and had his $100 million luxury vessel Titan moved to Turkish waters. Even 240-footer Clio belonging to sanctioned tycoon Oleg Deripaska, hit Turkish territory away from the grasp of authorities. Joining the ranks of these splendid and safe ships is Vladimir Potanin's superyacht Nirvana using the same old tried and tested formula. The floating goliath arrived in Dubai earlier this week.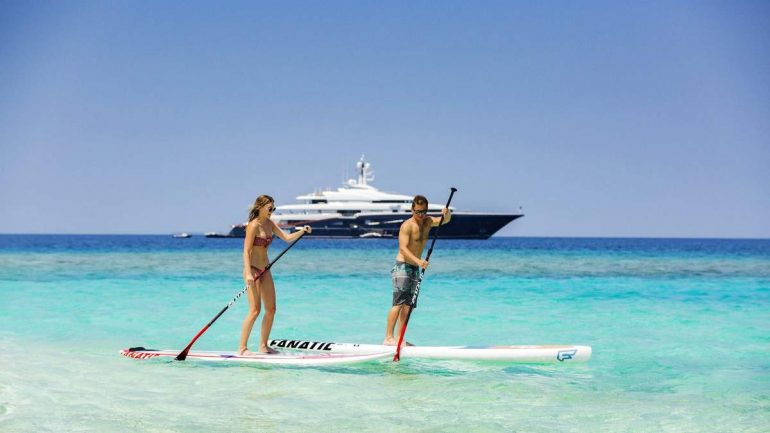 As reported by Whio, the mammoth Oceanco boat docked flying the Cayman Islands flag at Dubai's Port Rashid and well in time. On one end, Putin's ice-hockey playing buddy was getting sanctioned. On the other, he successfully sailed his lovely $300 million vessel to safety. The Nickel King, worth $30 billion and Russia's second-richest person, is a close Putin ally and became the latest Russian oligarch sanctioned by the UK. "Today's sanctions show that nothing and no one is off the table, including Putin's inner circle," a spokesperson said in the statement, says Mining.

It is impressive how Potanin, one of the wealthiest Russian oligarchs and the 58th richest person in the world, has evaded sanctions. Possibly because the US and its allies comprehend that Potanin as his company accounts for about 40% of global palladium output and 10% of refined nickel – very crucial metals heavily used in all kinds of manufacturing and tech products. However, the Brits couldn't care less to have sanctioned an important name from the 'Putin List.'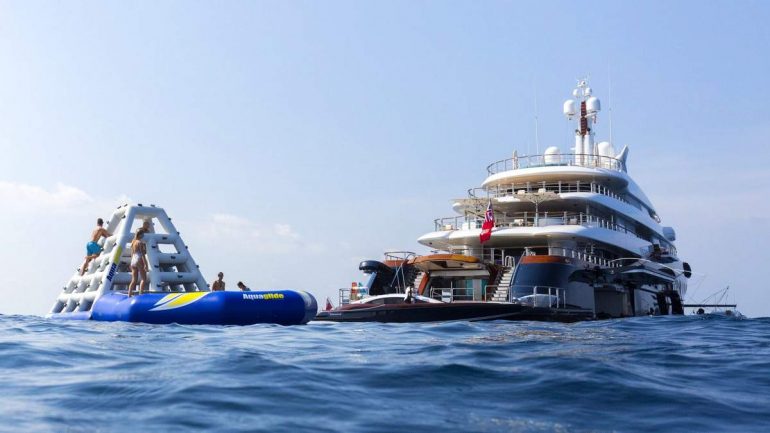 Nothing ordinary about Nirvana superyacht:
This Oceanco-built boat was delivered to the Nickel King a decade ago and was the most enormous pleasure craft created by Oceanco at the time. Nirvana looks distinct with a sleek navy blue hull, a white superstructure, and a slightly flared bow.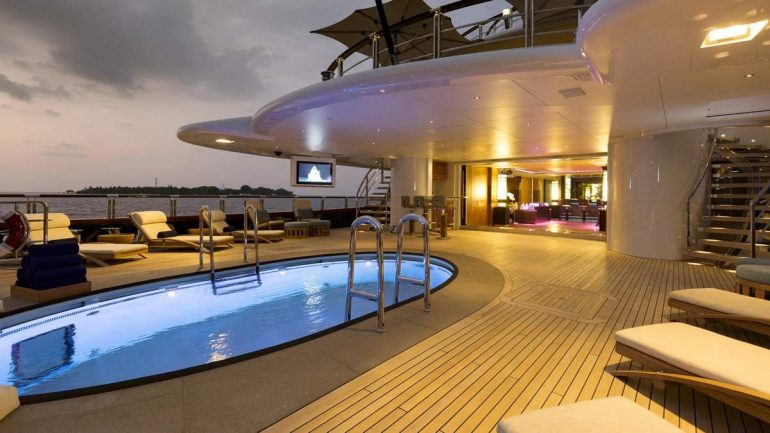 The six-decker features large sun pads and a 7.5-meter counterflow pool. The floor can be lifted to deck level, creating ample space for entertaining. The main salon also turns into a nightclub.

Other fabulous amenities include a 3D cinema, spa, and a casino-style game room. In addition to accommodating 12 guests, Nirvana also flaunts a rare display of wealth in the form of two terrariums with exotic reptiles.
[All images by Northrop and Johnson]