While the eyes of the art world stay firmly set on this week's Art Basel International Art Fair in Miami Beach, those of travellers passing through Miami International Airport are likely to be captivated by what sounds like a visual spectacle going by the name of The Johnnie Walker Blue Label Gallery. The ultra-premium Scotch whisky has launched its own art gallery 'with a difference' using state of the art projection technology.

Created in conjunction with some of the world's most talented and up-and-coming artists including Anrika Rupp and duo, Coral Morphologic amongst others, the said spectacle is basically a 3D art exhibition in a bottle. It showcases a collection of artistic endeavors from inside three large format Johnnie Walker Blue Label bottles that stand at almost ten feet. Each holographic artwork brings to life a key element of the heritage of this ultimate drink of luxury.

Coral Morphologic's faith in the living organisms of the coral reef is used by them to reflect the evolution of the whisky. Miami resident, Anrika Rupp states that the aim of her work is to unravel the complexities of the world through fine art and photography. She takes inspiration from Johnnie Walker's timeless blending mastery and mingles it with her own philosophy to deliver the ultimate homage to their unique ability. Also participating is artist-duo Kai & Sunny, who display their passion for the natural world resulting in a mesmerizing animation where the simple becomes complex in an ever-changing cycle of smooth lines. A fitting tribute to a blend made of the rarest whiskies.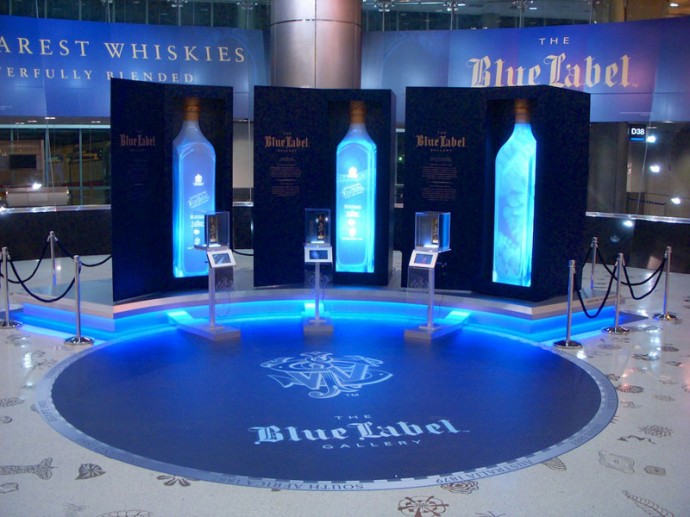 Commenting on the collaboration, Doug Bagley, Managing Director, Diageo Global Travel & Middle East said, "Johnnie Walker Blue Label is a blend of unrivalled luxury. It deliberately and expertly draws together some of the rarest whiskies from the four corners of Scotland. With that in mind, the artists have taken the theme of 'The Rare Blend' as their inspiration, to produce a unique creation that is reflective of the pioneering, game-changing ethos of Johnnie Walker Blue Label. We're delighted with the results and we have enjoyed exploring the synergies between the worlds of art and whisky for this Gallery, which we hope will surprise and delight Miami travellers."
The gallery will be exhibited in Concourse D of Miami International Airport from now until end of January and over 50,000 international visitors are expected to jet in to Miami Beach for Art Basel and witness this visual treat. It will also overlap with a further Johnnie Walker Blue Label Gallery launching in London Heathrow Airport Terminal 5 and be on December 10, 2013.
[Via – Artbasel]