Crown Prince Mohammed bin Salman's extravagant $1 trillion mega-project Neom has already established unprecedented records of inventiveness, architecture, and luxury living. Converting a fictional mega opus into a tangible reality in the Tabuk Province in northwestern Saudi Arabia is this great gigaproject. The Line, an elongated 'linear' city 33 times the size of New York, challenges gravity, while Trojena, a year-round outdoor skiing resort built in a desert, challenges nature. Neom's Sindalah Island, more extensive than Disneyland, is a well-appointed paradise redefining lavish vacations, and the octagon shape city, Oxagon, wins the title of the world's largest floating structure.



These massive structures are surrounded by giant fake moons, animatronic dinosaurs, robots as farmers, and tropical rainforests, making Neom city larger than Kuwait. It may take Neom another 50 years to be complete that will unquestionably advent a new way of life. However, the magic will be witnessed as early as 2024, with Sindalah opening its gates to visitors. Read about the four 'regions' that together make up Neom and characterize urban living-

Sindalah, the marriage of idyllic island life with new-age luxury
Cost – $24 billion
When will it be completed – 2024
What makes it unique – Italian superyacht and architecture studio Luca Dini Design and Architecture have helmed the 840,000-square-metre island into an exceptional resort and a yacht club destination.

Set to open in 2024, Sindalah will comprise a yacht club, three luxury resorts, a spa, 51 luxury shops, 86 piers, 38 restaurants, and a beach club. Superyachts, boats, golf, or shopping and living it up, Neom's luxury island will indulge every divertissement.

Trojena, a futuristic ski resort in the desert
Cost – $220 billion
When will it be completed – 2026
What makes it unique – If year-round outdoor skiing and adventure sports smack in the middle of a desert doesn't sound astonishing, then nothing else will! The 60-square-kilometer skiing and outdoor activity resort Trojena will include six distinctive development districts based on visitors' moods and choice of activity.

The opulent resort will allow adrenaline junkies to indulge in a range of activities in the ski village, featuring a ski slope, mountain biking, and watersports. Those with no penchant for sports can spend time at the Vault, a "vertical village" dotted with restaurants and retail stores. It is believed that attractive chalets, villas, and ultra-luxury hotels will house up to 9 million residents by 2045.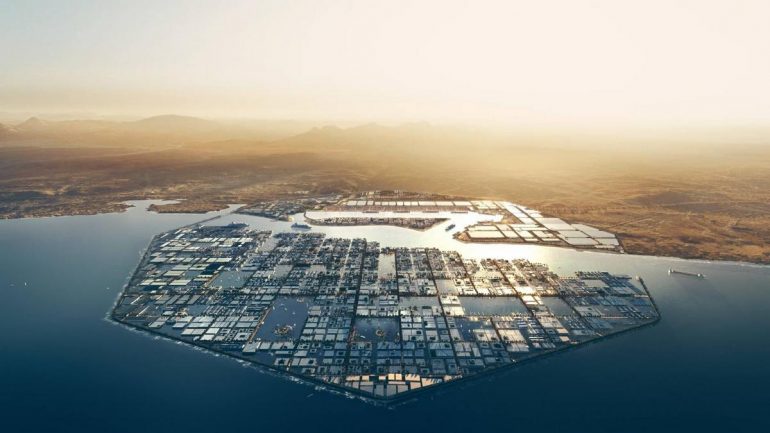 Oxagon, the eight-sided floating city on the Red Sea-
Cost – $220 billion
When will it be completed – 2030
What makes it unique – This octagon-shaped construction will be the world's first fully automated port and integrated logistics hub. This net-zero city aims to modernize the conservative kingdom under Vision 2030 project and diversify its economy by minimizing dependence on oil. The industrial port hub with a cruise terminal and oceanographic research center will use robots and AI for operations.

The Oxagon will operate on one hundred percent clean energy and introduce housing for '90,000 residents by 2030. "Through Oxagon, there will be a fundamental shift in how the world views manufacturing centers. What encourages us is to see the enthusiasm of a number of our partners who have shown eagerness to start their projects in Oxagon. These pioneers of change will establish factories developed with the latest technologies using artificial intelligence to achieve a significant leap for this era into the Fourth Industrial Revolution. As with The Line, Oxagon will be a comprehensive cognitive city that provides exceptional livability for its residents," said Nadhmi Al-Nasr, CEO of Neom.

The Line, 105-mile-long mirrored megacity
Cost – $500 billion
When will it be completed – 2030
What makes it unique – The cynosure of Neom City and its most talked-about aspect is 'The Line', a ground scraper unlike any other on the planet, standing 1,640 feet high and stretching horizontally for miles. The out-of-the-box idea is navigated by a California-based architecture firm called Morphosis.

The Line will be home to a whopping nine million people living together in a car-free place powered by 100 percent renewable energy. It is genuinely the stuff of dreams; if realized, The Line will unveil an entirely alien yet amazing way of life. The urban dwelling will incorporate public parks, pedestrian areas, schools, and workplaces, all accessible within five minutes. The high-speed rail with an end-to-end transit of 20 minutes will make all daily needs reachable.