As far as Ferris wheels are concerned, the Seoul Ring will be king as an imposing 591-foot tall spokeless Ferris wheel. Undoubtedly the world's tallest spokeless Ferris wheel, Seoul Ring Zero, will be set close to the World Cup Stadium, along river Han, in northwestern Seoul. Inspired by a wedding band, the spokeless giant wheel is slated to be constructed as soon as June 2025. The amusement ride, a project of the Seoul Metropolitan Government, will serve as an entertainment facility and even a cultural complex, augmenting the historical meaning of Nanjido. This wheel will also be the best way to experience Haneul Park from above. Haneul Park is regarded as a place of importance, acting as a gate to both Seoul and a unified Korea.



Per CNN, the Seoul government stated the wheel's location in Haneul (Korean for "sky") Park was chosen for various reasons, namely its proximity to the country's northern border. "Since the park is geographically close to North Korea, the SMG will concentrate its desire and wishes for a unified Korea and national unity on the Ring." Seoul Ring Zero will feature 36 carriages, accommodating 25 passengers in each. This means it can accommodate around 12,000 people every day. The grand plans also include a dine-in-the-sky' facility to make the most of this striking structure.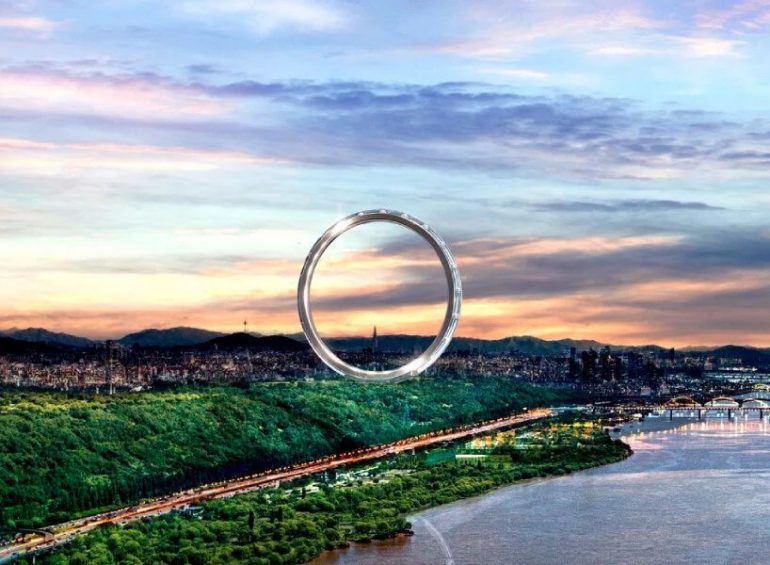 The director general of the Future Urban Spaces Planning Bureau of the Seoul Metropolitan Government, Hon Sun-ki, said at a briefing, "(Seoul) has long reviewed the feasibility of Ferris wheels given the millions of tourist visits expected and jobs created, but the fundraising challenges and safety regulations have left plans in disarray." He added, "Now is the time to wipe out concerns and build the Ferris wheel under a feasible plan to reveal the true value of the Han River and open the way for the era when some 30 million tourists visit Seoul." The Korea Herald stated that the Ferris wheel cost around $310 million (400 billion won).

The world's first spokeless Ferris wheel is in China, named the 'Bohai Eye.' It is 475 feet tall and does not steal the title of the world's tallest spokeless ferris wheel from Seoul Ring Zero.