I love treasure hunting, but the concrete jungle doesn't really offer such exciting opportunities. However, another bustling city, made sure its residents enjoyed what is tagged as the "The World's Greatest Treasure Hunt". The city of New York has been having the treasure hunt right from the May 23 onwards. What is the prize catch you ask? A solid Gold Eagle, that is well worth over $1 million is what everyone is hunting for. Created by Canadian artist, Kevin Peters the gold eagle is set in 18 lbs of solid gold and is encrusted with 58 carats of diamonds. This golden eagle stands guard to a 400 year old emerald which is named the Atocha Star, which was found in aboard the Spanish Treasure Galleon "The Atocha" that fell to a hurricane in 1622.
Check out the video after the jump for more details


The novel fund raising idea is the brainchild of author and entrepreneur Ron Shore. He is all set to bring out a book which will need to be read and solved to reach to the million dollar treasure. What's more is that you can also find 12 other $20,000 treasures deciphering the clues from the book. The proceeds from the book sales will go into charity entirely. The author is determined to sell over one million copies to fund research that can find a cure for breast cancer.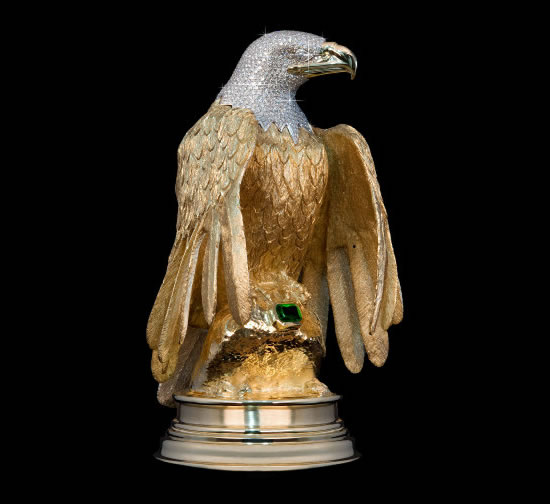 [The Rich Times]