A few decades ago, if someone wished to pay thousands of dollars on worn and used sneakers, people would call them demented. Hypebeasts have changed the worth of fashionable items and the very face of investments. Everything has gained momentum from sneakers to trading cards thanks to its exclusiveness and the luxe factors involved. "The rise of the massive sneaker market can be attributed to two things, the artificial scarcity of hyped-up limited-edition sneaker releases and the popularity of luxurious minimalist sneakers, first spawned into popularity by Common Projects and the many Common Projects Alternatives on the market," said a spokesperson for Onpointfresh. If this head-spinning mix of rare pairs and holy grails of sneakers have left you bewildered, we have it all chalked down from the least' most expensive' sold for large sums of money to the highest in history:



11. Nike MAG self-lacing 'Back to the Future II' – $104,000
The Nike MAG is quite possibly the rarest and most desirable sneaker ever made. It wouldn't be wrong to call it a tribute to pop culture and film fans worldwide. This cool-looking piece of Marty McFly's attire was initially released in 2011 and on October 21, 2015 – the date Marty and Doc traveled to in the 1989 film. Eighty-nine pairs were raffled off by Nike, with tickets to enter costing $10 each, and all proceeds ($6.75 million was raised) going towards the Michael J. Fox Foundation for Parkinson's research.

10. 1997 Air Jordan 12 'Flu Game – $104,765
Twenty-five years ago, the Flu game became one of Michael Jordan's career-defining moments! His iconic Air Jordans worn that night were gifted to Utah Jazz ball boy Preston Truman, who sold them for a world-record fee back in 2013. Over the years, the game-worn red and black sneakers featuring MJ's autograph have received a hefty pricetag and cult status.

9. 1992 game-worn Air Jordan 7 'Olympic,' – $113,000
The 1992 Olympic Dream Team is one of the greatest sports teams ever assembled. These are the shoes worn by the legendary Michael Jordan during that historic run when the dream team won the gold medal at the 1992 Olympics in Barcelona. The team set a record by defeating its eight opponents by an average of 44 points. MJ signed the pair and gifted it to a staffer on the team.

8. 1984 Michael Jordan game-worn Converse Fastbreak mid-top – $137,000
There was a time when Michael Jordan wore Converse though he eventually became synonymous with Air Jordans. The pair pictured above is what the legend wore at the 1984 Olympics, where the team won a gold medal. Not only are the sneakers important for being part of that victorious game, but also cause these are the last Converse Jordan wore.

7. 1960s Bill Bowerman Handmade Prototype Logo Track Spikes With Waffle Sole – $315,000
What looks like battered down shoes is spikes handmade by Nike co-founder Bill Bowerman in the 1960s. The shoes feature Waffle soles under each set of track spikes — the first notable innovation introduced by Nike when they premiered the Nike Moon Shoe at the 1972 Olympic Trials.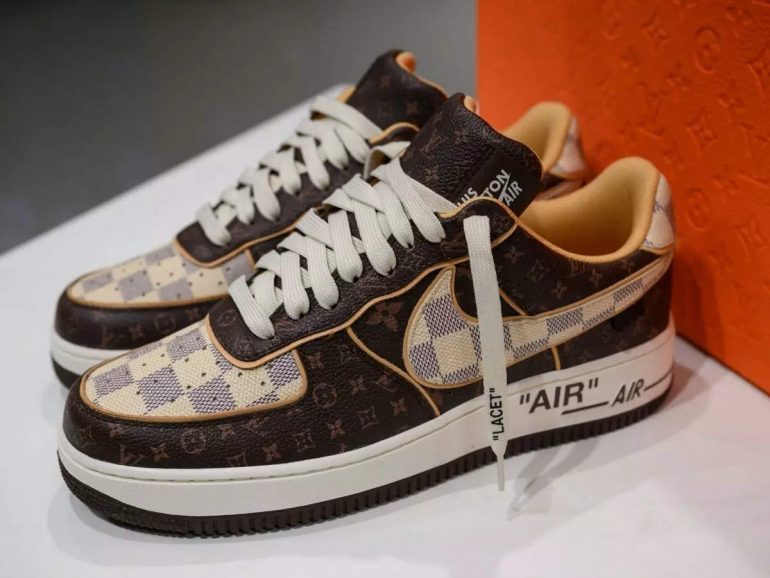 6. Louis Vuitton and Nike "Air Force 1" by Virgil Abloh – $350,000
This size 5 pair went for $350,000 at Sotheby's auction of the Louis Vuitton and Nike "Air Force 1" along with a Louis Vuitton pilot case. The sale has turned out to be the most valuable charity auction at Sotheby's in nearly ten years achieving a total of $25.3 million in a 200 lot sale. 100% of the proceeds will benefit The Virgil Abloh™ "Post-Modern" Scholarship Fund.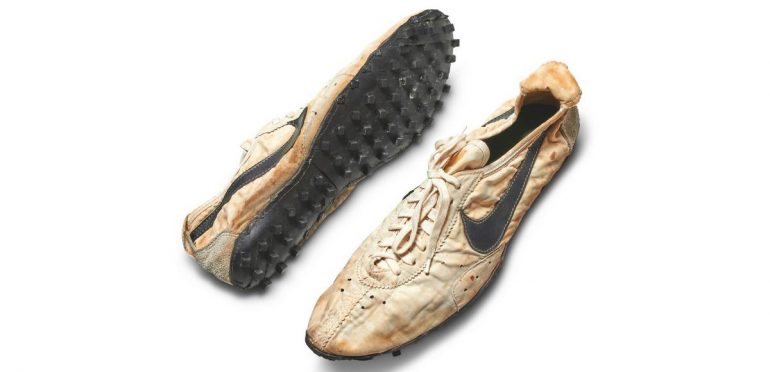 5. 1972 Nike Waffle Racing Flat' Moon Shoe – $437,500
Nike co-founder Bill Bowerman made these retro kicks from the 70s 50-years-ago. The enterprising man ingeniously poured rubber into his wife's waffle maker to get the groundbreaking idea of studded soles. The "Moon Shoe" got its name from the resemblance between the waffle pattern left in the dirt and the famous tracks left on the moon by astronauts in 1969.

4. Nike Air Jordan 1 game-worn – $560,000
Michael Jordan has irreplaceable talent and a lot of shoes! This stellar pair of hightops were from his days playing for the Chicago Bulls. The pair shattered the record of Nike 1972 Nike Waffle Racing Flat' Moon Shoe' sold for $437,500 in July 2019 by selling for more than 3.5 times their $150,000 high estimate.

3. 1985 Nike Air Jordan 1 game-worn – $610,000
Only Jordan can break Jordan's record, and so Jordan did! This pair of game-worn Jordan 1s was infamous for the shattered backboard incident (the basketball legend dunked so hard during a Nike exhibition game in Trieste that the backboard was completely broken). A piece of glass from the board is still embedded in one of the shoes.

2. Nike Kanye West' Grammy Worn' Nike Air Yeezy Sample – $1.3 million
One of the most expensive sneakers in the world is West's Nike Air Yeezy samples. These black leather hightops were the first pair to cross the $1 million mark. Sotheby's stated the pair was sold for more than a staggering 1.8 million in a private sale to sneaker investment platform Rares in West's very own size 12.

1. 1987 Nike Air Ship Michael Jordan game-worn – $1.45 million
As legendary as the player wearing them is this pair of autographed Nike Air Ship sneakers that sold for almost $1.45 million, christening them as a legendary piece of basketball and sports history. The hightops were worn by MJ during his fifth NBA game in his rookie season on November 1, 1984. Avid trading card collector Nick Fiorella later acquired them.