Sitting just outside Jaipur, in the stillness of the Aravalli Hills is the stunning Amanbagh Jaipur. An oasis within the walled compound of a property once used by the Maharajah of Alwar, immediately transports you to the Mughul era. Amanbagh's Haveli suites, pool pavilions, private courtyards and historical trails offer guests a chance to explore the rich heritage of Rajasthan.



The resort with its award-winning design featuring domed cupolas and private courtyards is very much a modern day 'Mughal Palace', paying homage to the architecture and design of India's golden age. The property also boasts of three dining outlets, a well-stocked Library, an organic garden and a Spa that provides a complete wellness experience with yoga and meditation.
Amanbagh offers its guests four categories of luxury accommodation. All categories of suites feature a large bathtub carved from Udaipur green marble, king-size beds as well as modern-day amenities including Bose sound systems and a personal bar.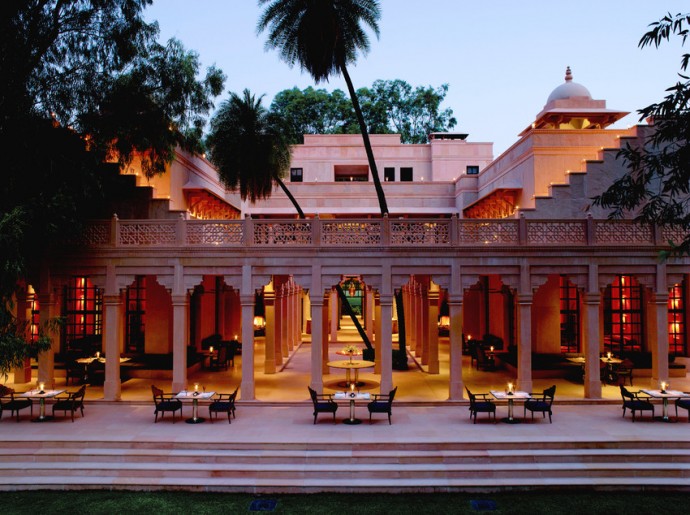 Our suite pick is the stunning Terrace Haveli Suite known for its regal balcony and generous terrace space overlooking the 33-metre sea-green marble pool and lush gardens. The property features eight Terrace Haveli Suites that are located on the upper level of the two dwellings. The suites are accessed via a staircase which leads the guests through tall wooden doors to a spacious terrace with an outdoor dining area and two chaise lounge chairs. Inside, a spacious sitting is luxuriously decorated with a daybed, two armchairs and a writing desk. The bedroom features a king-size bed and large bathroom with a bathtub and separate dressing room.
Other suites options at the Amanbagh are Courtyard Haveli Suite, Garden Haveli Suite and the Pool Pavilion with its own private swimming pool and spacious garden.
Cost: $1,427 (including VAT) per night
Size: 163.94 Sq. Mt. or 1771.58 Sq. Ft.
Occupancy: 2
Why should you splurge on it?
Amanbagh means 'peaceful garden' and that is just the kind of experience the property offers its guests. Whether you chose to explore century-old pavilions and tiger reserve or just sit back and unwind within the rose-tinted walls and shaded courtyards from the Mughal era – a stay at Amanbagh is sure to give you a taste of true royalty.
Address:
Amanbagh Resort
Village – Ajabgarh
District – Alwar
Rajasthan 301027
India