Sweet strawberries. Sprawling colonial bungalows. Sensational sunsets. As one of Mumbai's closest hill-stations down the decades, Mahabaleshwar has been all about a few of our favourite things. Every visit has revolved around the fabulous views, shopping for fruit crushes at Mala and Mapro, savouring the local jambul honey, trekking to all the popular points and just soaking in the pure mountain air. We think we'd be forgiven for thinking that we've been there, done that and worn the straw hat.

This time though, as we swoosh up the slopes via Panchgani, we find ourselves looking forward to the weekend with more anticipation than usual. Invited to an immersive experience at the Le Méridien Mahabaleshwar Resort & Spa, we are really curious to see what the international brand owned by Starwood Hotels & Resorts holds in store at this hyper-local location.
Sunshine state!
After a comfortable six-hour journey from Mumbai (265 kms away), we are received warmly at the resort. Our first impression is that of serenity and space. The beautiful sunlit courtyard in sunshine yellow, which looks straight out of a Tuscan villa, is the perfect place for group pictures, selfies and Insta-love, as we wait for our rooms to be readied and the lunch buffet to be laid out. The unique flight of stairs leading to this area is not only wheel-chair and push-chair-friendly (they love kids here) but also a visual treat.
We are soon tucking into a wonderful multi-cuisine buffet lunch at the bright and cheery Latest Recipe all-day dining restaurant. This lays the foundation for the comfortable hospitality we enjoy for the rest of our stay. To be honest, in hindsight, it's this meal that we relish the most. Of course, we are there on a whirlwind trip which doesn't leave us time to try the North Indian fare at the absolutely beautiful-in-black Chingari fine-dining restaurant or a drink at the sophisticated Longitude 73 bar.
Villa like it?
We do make time to savour our room though. Each of the 122 rooms and suites on this 28-acre property are at least 41 sq m in size and has its own private terrace. Ours has twin queen beds, a beautiful eggshell bath-tub, Toto bath fixtures, a 40" flat-screen LED TV and all the other amenities that make for a really comfy stay. We love the light and shade print over the headboard that's reminiscent of the trees outside. The only quibble we have with the fittings is the sub-standard hair dryer. And who really uses that on a weekend getaway except styling-mad sillies like us right? In fact, instead of swishing city hair, we decide to let nature take its course as we relax on the lounge chairs on our private terrace (every room and suite has one of these). Then we take our shining sun-dried tresses for a spin on the resort buggies. These cute little golf carts make it easier to find our way around the resort the first few times (or a hundred, as we're quite directionally challenged and aren't allowed to mark Xs on the trees to find our way back to our villa!).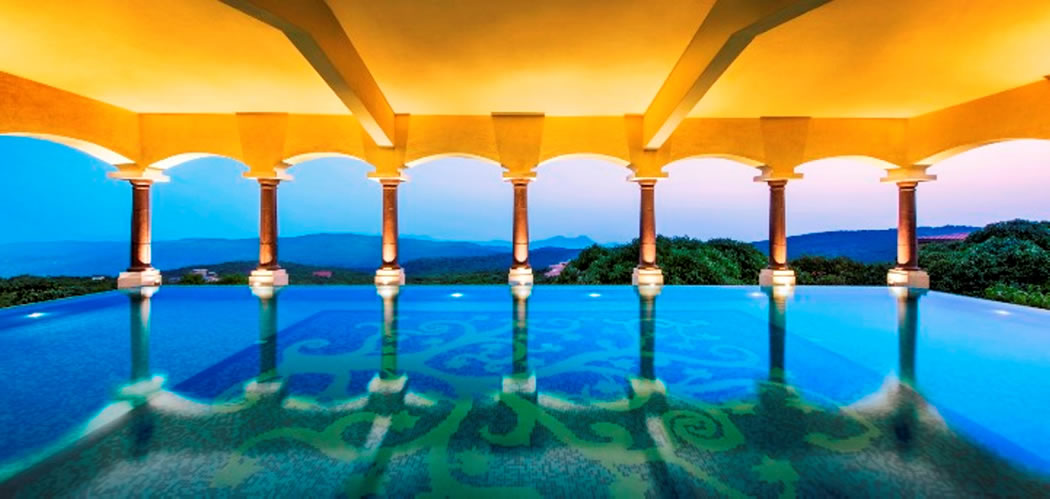 Infinitely fun
There's quite a lot to see at Le Méridien Mahabaleshwar. First off, a universal favourite is bound to be that spectacular swimming pool, with different depths segregated cleverly for absolute safety. Built like a Roman bath, shaded from harsh sunlight yet facing the misty mountains, this infinity pool is infinitely better than any you've ever seen in a hill-station around the city. The little poolside café called Plunge is also quite the glam venue for canapé-centric sundowners and the hotel's signature bubbly cocktail ritual aptly called Sparkling.
Apart from two large pool areas, there's all kinds of entertainment for all ages across various venues. We find it hard to leave the games room with its space-agey Table Tennis and Pool tables, Chess board, book nook, etc as well as excellent air-conditioning. A similar set up awaits younger guests at the Family Club, with everything from munchkin-sized munchie tables, air-hockey, books, play floor and a host of activities that can be enjoyed by grand-parents, parents and kids together. The resort also has its own super-plush auditorium, with black sofas to sink into and some really popular films screened daily! A fully equipped gym, salon and a stunning standalone spa (more on that later) are the cherries on the cake (or shall we say, mulberries on the mousse). If you still have time on your hands with all this on offer (what, you're staying for a month?!) you can consult the resident palmist and face-reader or take a trip to Tarot central with the colourful looking savant.
Spa-licious!
The Explore spa is a self-contained structure with captivating interiors. Pristine whites and mother-of-pearl mosaics create a serene environment to enjoy a variety of therapies. While we are tempted by the stunning traditional hamam and the state-of-the-art Vichy shower rooms, we pick a gentle Swedish massage with soothing lavender essential oils (there are six different ones to choose from) to work out the kinks. An en-suite steam and Kohler shower help to cleanse the mind and body and completely unwind. The relaxation area, with a choice of green or lemon tea with honey in delicate Arttd'inox cups, has the most comfortable seating to add to the bliss. We float back to our villa on a cloud of happiness. Or so it seems at the time!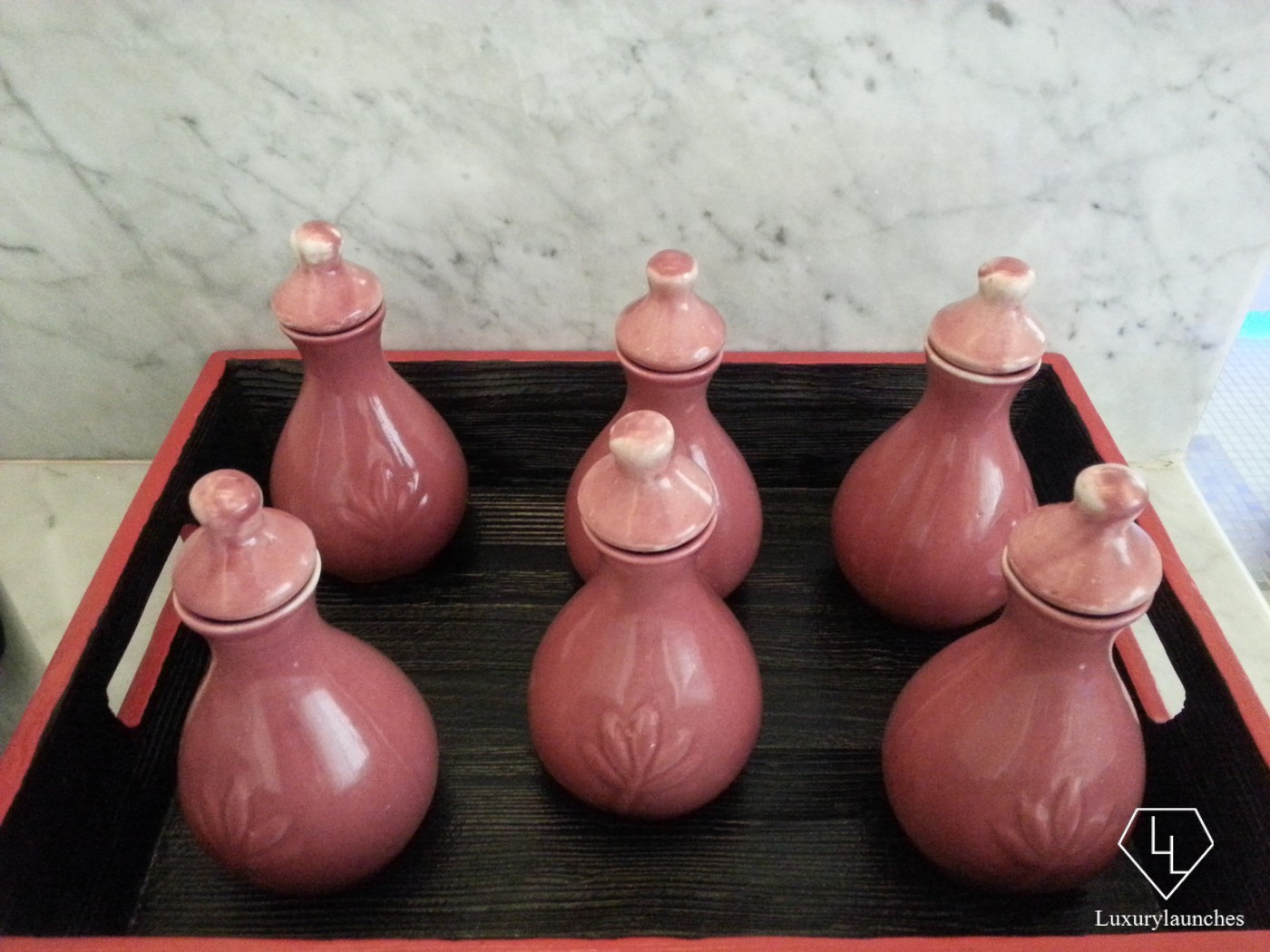 Le Méridien must-dos
There's so much to do at Le Méridien Mahabaleshwar that we'd think they would be content with just giving you all those options. But the brand has a rich tradition of helping a guest 'unlock the destination'. They strongly believe that you must get some of the local colour and flavour to have truly visited a place; that it's not enough to just come and enjoy a plush property. In keeping with this thought process, there's a chance to go strawberry picking (in the right season), visiting a 5,000-year-old temple, or watching the craftspeople from a local NGO at work, among other activities like treks and nature trails.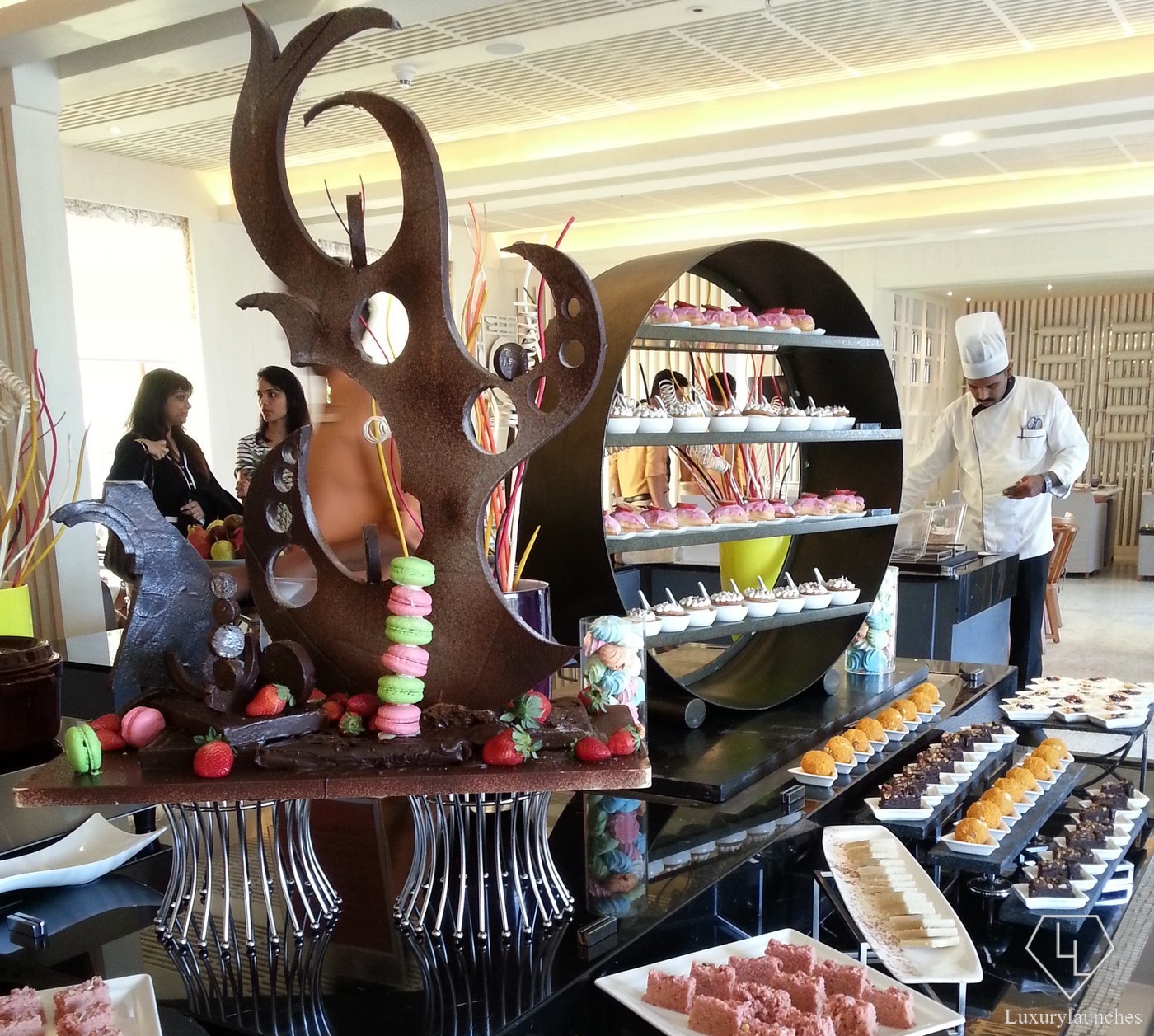 Speaking of traditions, we also get a taste of the trademark Le Méridien éclairs, which, in Mahabaleshwar, are created using – what else? – strawberries! This is at a high tea following a media meet in the garden, with a table groaning with the éclairs as well as a vast array of dainty strawberry specials, both sweet and savoury.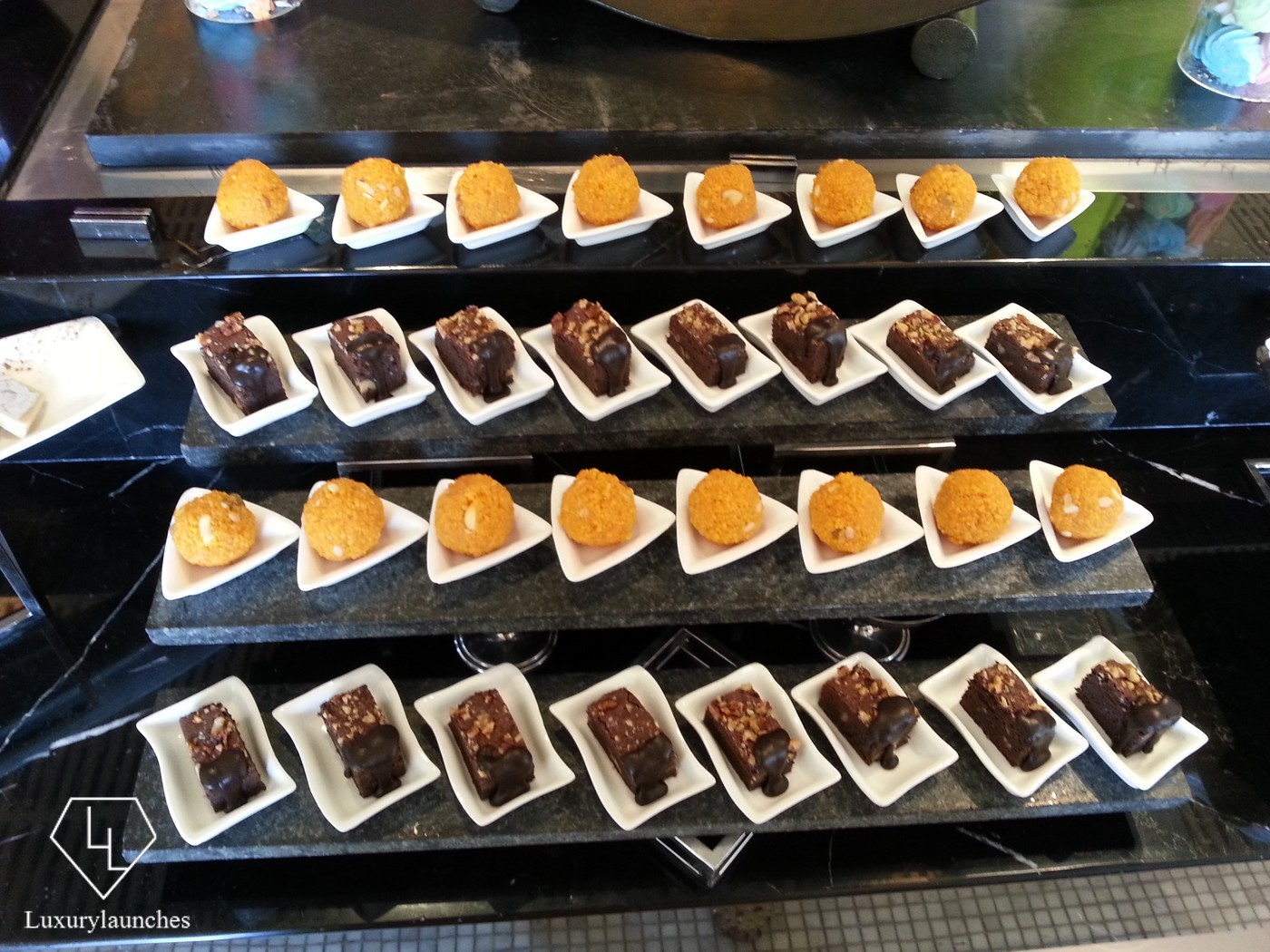 When we see the seamless way they conduct a meeting outdoors with a screen and mic and copious amounts of Illy coffee, we think that this would be a great place for companies to host seminars (they also have some great indoor event spaces and excellent banquet facilities). While they're very propah and professional when it's called for, the vibe in general is casual-efficient. Even their reception area, called The Hub, as in every Le Méridien across the world, aims to create an atmosphere of easy comfort where the visitor and the local can be comfortable, drink a cup of good coffee (always Illy) and perhaps even strike up a good conversation. That's true luxury in today's world… to be able to really relax and make a connection.
The hills are alive!
A full-fledged luxe property, the resort, with winding tree-shaded pathways and beautifully maintained gardens, is still very 'Mahabaleshwar' in subtle, not-so-easily-fathomable ways, which you only notice if you're looking out for them. Minus manicured lawns, garish ornamentation and that certain symmetry of construction that makes many a resort too blingy or boring, Le Méridien Mahabaleshwar feels organic and very much in tune with the terrain. The service is warm, personalised and enthusiastic, with a large retinue of locals. There's a certain cheeriness about the place that's probably part of the hill-station's heritage, wrought over years of happy holidaying.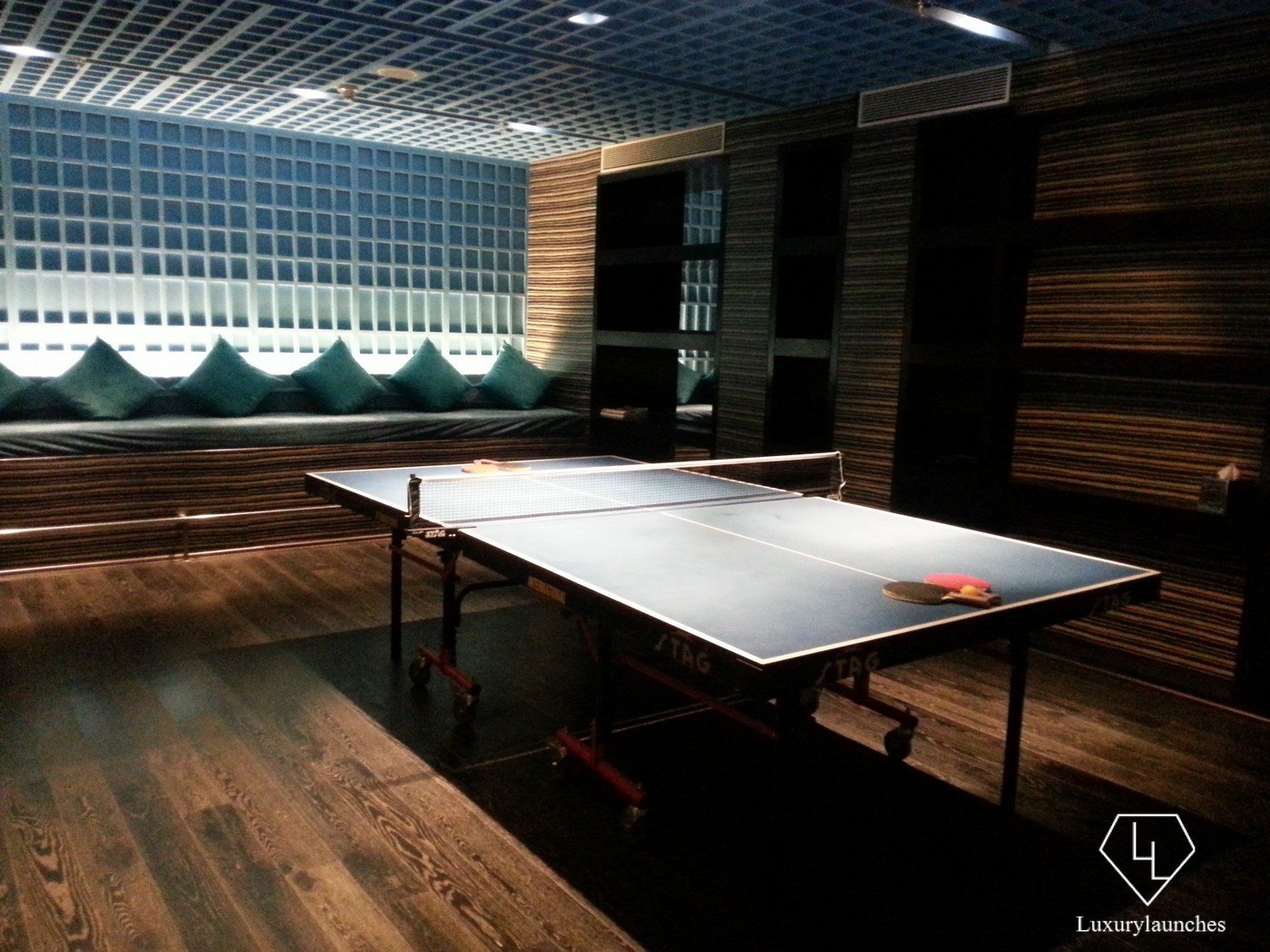 When we leave the resort, it's with the satisfied glow of knowing that Mahabaleshwar's soul is in good hands.
Address: Le Meridien Mahabaleshwar Resort & Spa
211/212, Mahabaleshwar Medha,
Kas – Mahabaleshwar Rd, Mahabaleshwar,
Maharashtra 418206
Phone: 02168 262 222