A Rolex store in central London owned and run by Bucherer saw some unwarranted action- Eco-zealots painting the store orange! A video shared on Twitter revealed Just Stop Oil activists, who have been painting the town red in the month of mayhem, unleashed their orange-tainted wrath on the Rolex store in Knightsbridge on the 28th consecutive day of protest. So far, 600 Just Stop Oil activists have been nabbed by the cops for various attention-grabbing stunts like throwing soup at Van Gogh's Sunflowers, scaling the QE2 Bridge, and causing more than a dozen major roadblocks.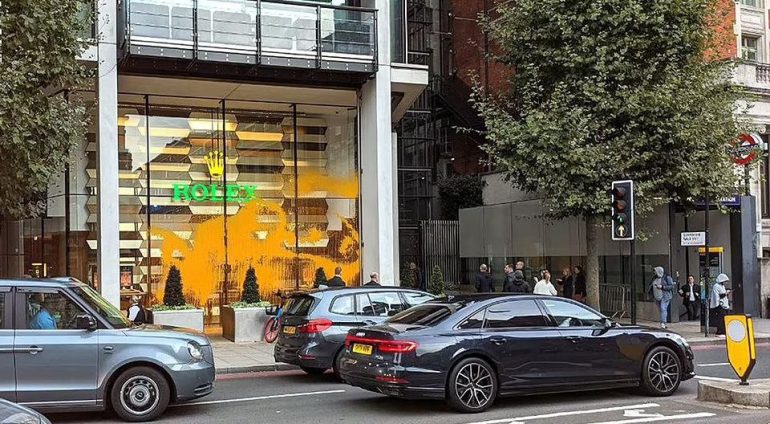 The eco-warriors aim to force the government into halting all new oil and gas consents and licenses. Per Daily Mail, Jennifer Kowalski, 26, an environmental scientist from Glasgow, said today: 'There's no point in having jewel-encrusted watches when they're destined to be lost in floods and climate change is happening now. An energy crisis is happening now. We do this because we want to protect the things and the people we care about. I'm not willing to stand by as the refusal to improve life for everyday people causes my loved ones to suffer.'
Another activist Adrian Johnson, a former deputy head teacher from Perthshire, shared, 'The science is clear. The breakdown of the climate is here, and it is due to the extraction and use of fossil fuels. Any new fossil fuel projects will cause irreparable damage to the climate. This may have already happened. And yet, this is the path our government is following by granting over 100 new oil and gas licenses. It makes no sense, and it's reckless beyond belief. That's why I have decided to take action. I can no longer sit back and ignore it.' The two activists who vandalized the Rolex showroom were arrested on suspicion of criminal damage and taken into custody at a central London police station.

In a similar episode, a Just Stop Oil protestor glued his head to Johannes Vermeer's iconic 'Girl with a Pearl Earring' painting at The Hague's Mauritshuis museum. His accomplice glued his hand to the wall next to the painting while pouring a can of tomato soup over his accomplice's head. Talk about making a point about preserving Mother Earth by ruining properties and precious things.