A cross-over between a luxury yacht and all-terrain vehicle, the world's most futuristic caravan 'The Caravisio Caravan" was officially unveiled at the UK's national Motorhome and Caravan Show at Birmingham's NEC. This bohemoth is 9m (29.5ft) long and 2.5m (8.2ft) wide, and is outfitted with high-tech features to remotely control everything from lights and entertainment systems to window coverings. You will never get bored on this modern day marvel, with a giant cinema, specialized wine cooler compartment, the caravan will lead you on a road of discovery. Every time you step inside, you will notice a detail you hadn't seen before.


This super motorhome was designed by German outfit Knauss Tabbert and took two years to build. The interior layout features single beds at the front that can be turned into a double bed using a mattress extension. The cone-shape of the caravan allows for improved aerodynamics and has large windows for passengers to soak in the great panoramic views.
The 30ft caravan opens up to form an outdoor terrace for dining al fresco, while inside the rear wall can be turned into a giant cinema at the touch of a button and comes with a high-tech app controlled by iPad to regulate lighting, sound and heating. The caravan is equipped with nanotechnology, which allows movies to be projected onto the outside wall for people to enjoy outdoor. Additionally, there is even a specialized wine cooler compartment on board.
The Caravisio caravan features a frosted 'smart-glass' dual-paned sliding door, which can become see-through at the touch of a button. Also, located next to the front cockpit is a touch-screen display to control water system in the bathroom.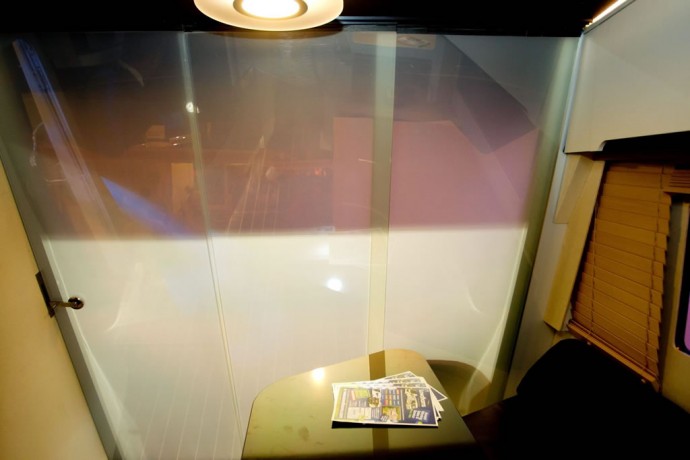 For privacy reasons, the caravan's app uses finger print-activated biometric technology that was designed by the German company Knaus Tabbert who spent £88,000 on its development.
The Caravisio Caravan could go on sale in two years for £500,000.
[Via – Yahoo]