Engines, speed and glamour: fast cars and speedboats have quite a few things in common, and tend to appeal to the same breed of petrolheads. This has led to some interesting collaborations over the years, falling broadly into two camps.

Firstly, there are design projects like the Lexus Sport Yacht Concept. Here, the world of car design decides to get its hands wet, taking the current styles, manufacturing techniques and technology found in the latest cars and applying it to a waterborne craft instead. This can be as subtle as using the same materials – think lashings of wood trim and carbon-fibre – or in the case of the Benetau Sea Drive Concept, as obvious as sharing a steering wheel.
Next up, there are the companion boats, designed specifically to appeal to the owner who has to have it all. Perhaps the ultimate example is the Niniette 66, a luxury powerboat with a design directly inspired by the Bugatti Chiron you can drive to its mooring – even down to matching colour schemes.

10. As pun-based car and boat collaborations go, the Skoda VisionSea takes some beating. It was launched to coincide with the Skoda VisionC, a design concept that plotted out Skoda's future design language and laid the foundations for the Skoda Superb. If you're ever looking for a difficult quiz question, the VisionSea was also Skoda's first ever plug-in hybrid. For a boat, its 180bhp turbocharged petrol engine and 270bhp electric motor are highly unusual. They send power to a similarly unconventional six-speed dual-clutch DSG transmission.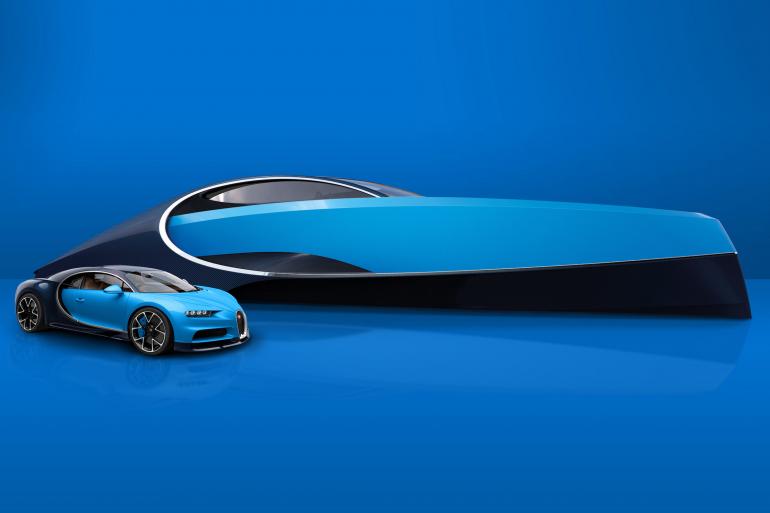 9. Imagine the scenario: you treated yourself to a Bugatti Chiron hypercar last Christmas, and it's going to be tough to top it. Well, you could always invest in a matching superyacht, for a cool £3 million. As luck would have it, the Bugatti Niniette 66 shares the car's striking side-blade design and you can match its colour scheme to your car. Taking its name from Ettore Bugatti's daughter, the carbon-fibre creation has sponsons to improve its stability at high speed, and a top speed of 44 knots. Among its incredible features, oak decking, a jacuzzi and a fire pit stand out.

8. What's the most expensive Mercedes? The S-Class? A Mercedes-AMG GT R? They don't even come close to the £2m Mercedes Silver Arrows Marine. Twin diesel engines produce almost 880bhp to help it skip over the water at up to 38 knots and a simple joystick automatically aligns all of the separate controls to make docking in a narrow harbour as easy as playing a computer game. The hull has an innovative design to ensure you don't spill your gin and tonic over the side and 'smart glass' windows can go from transparent to opaque at the touch of a button for added privacy.

7. Measuring an impressive 164 feet from bow to stern, the Benetti Fisker 50 Concept is the largest vessel on our list. Its designer is Henrik Fisker, whose most famous product is the Fisker Karma electric supercar, and the Super Yacht is even more extravagant. In fact, its equipment list reads more like that of a Hollywood home, with a living room, ocean-view terrace, royal bed, fireplace and enormous curved TV. Like a car, it features a strong design line along its flanks, which kicks up on all three decks to mimic a regressing wave.

6. If you're struggling to get noticed around the marina, how does a fluorescent yellow, 2,220bhp electric Cigarette Racing powerboat sound? Designed in collaboration with the Mercedes SLS AMG Coupe Electric Drive – which has the same arresting paint scheme – the tie-in doesn't just include the paint job and AMG graphics. Under the deck, there are no less than 12 of the electric motors developed for the revolutionary concept supercar. They're encapsulated in a 38ft 'Top Gun' hull containing a 240kWh battery pack.

5. You probably know the name of car designer Ian Callum from such impressive models as the Aston Martin DB7 and Jaguar F-Type, but now you can add the Concept Speedboat by Jaguar Cars to the list. It was launched alongside the Jaguar XF Sportbrake and Callum explained at the time: "We had an opportunity to create a vision of how our design philosophy might be applied to an alternative product, in which speed and beauty are also priorities." Design cues include teak decking and a carbon-fibre rear fin inspired by the Jaguar D-Type.

4. Described as a "Gran Turismo of the seas", the Lancia di Lancia looks compact, but it can carry up to 11 people and has more features than you can shake a tiller at. This fibreglass-hull rib even has an electric soft-top and a windscreen that pops up while you're at anchor. You'll want it closed when you open the taps on the 1,105bhp engines, though; they give the boat a top speed of 48 knots.

3. As the story goes, Toyota President Akio Toyoda, was so impressed while sampling a Ponam yacht with a Toyota Marine engine that he decided a luxury powerboat would complement the Lexus brand to perfection. Two design teams got to work and the chosen Lexus Sport Concept features an upper deck and hull bonded seamlessly from huge swathes of hand-laid carbon-fibre-reinforced plastic (CFRP). Two 5.0-litre V8 petrol engines based on those from the LC 500 produce 440bhp each, for a top seed of 43 knots.

2. Unveiled at the 2017 Nautic Paris Boat Show, the Benetau Sea Drive Concept features Peugeot's i-Cockpit interior design, breathing fresh air into the world of boat controls. There's the same small steering wheel for responsive handling and navigation information is put in the pilot's line of vision, in a similar way to Peugeot's head-up display technology. Peugeot design touches extend beyond the dashboard, with Nappa leather, copper stitching, chrome trim and toggle switches inspired by the GT trim level of the Peugeot 3008 SUV.

1. The AM37 is a day cruise with a difference, because 'AM' stands for Aston Martin. Built by Quintessence Yachts, but styled collaboratively by Aston Martin and naval architects Mulder Design. It's the "pure translation of the Aston Martin DNA into an entirely new maritime concept" according to Aston Martin, with a top speed of around 50 knots thanks to twin 520bhp Mercury engines. There's air-conditioning, a fridge, microwave and coffee machine and rear seats for eight guests.