Lamborghini Gallardo made its debut in 2003 at the Geneva Motor Show, and the company has produced more than 14,000 baby Lambos over the period of one decade. The Italian marquee announced the end of production of Gallardo late last month, which set the stage for its successor to be unveiled. Lamborghini has finally taken the wraps off its newest offering, which is also one of the most hotly anticipated cars of this year and was at the 5th position on our top 5 upcoming supercars. Before the official launch, there was ambiguity in the speculation of what Lamborghini will choose to name Gallardo's successor. Some said it'll be named Cabrera, while other rumors pointed towards the name Deimos. To everyone's surprise, Lamborghini has gone with the name 'Huracán,' which, like other Lamborghinis, is named after a legendary bull and means the god of the storm in Spanish.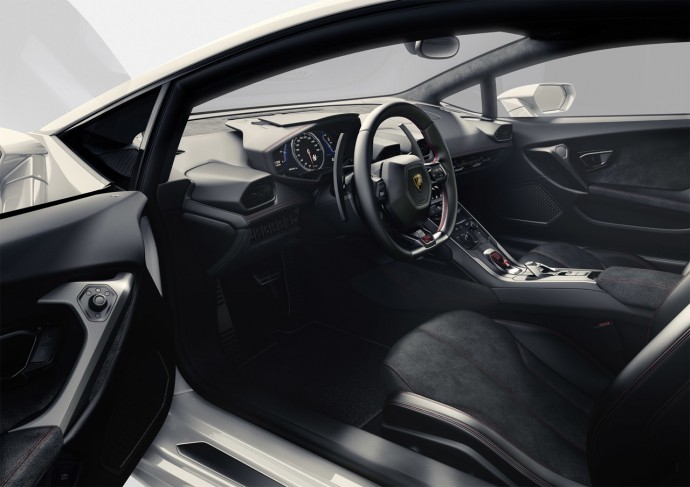 The Lamborghini Huracán was spotted on numerous occasions in the wild covered in camouflage prints, but it gave us a fair idea of the final product. The Gallardo changed quite a bit externally over the 10 years to keep the design modern, but its successor is quite different in many aspects. Lamborghini claims they have developed the Huracán from the ground up from scratch. By judging the official images released by the Italian sports car maker, the design of the Huracán is similar to that of Aventador. Still, it has a lot of unique styling bits to give it a separate character of its own. The front end might not look completely new despite the new aggressive headlights, but it's the rear end where the change is most noticeable. The rear-end styling is a lot sharper than other models by Lamborghini barring Veneno. The taillights and the sharp edges augmenting the design blend together seamlessly, and overall, the Huracán on the outside is beautifully crafted.

On the inside, the cabin is styled typical to recent Lamborghinis but with enough new touches. The most eye-catching addition to the cabin is a 12.3 inch full-color TFT instrument panel that delivers all car information to the driver, from rev counter to navigation maps and infotainment functions. It can be configured by the driver in different setups. The interior comes wrapped in fine Nappa leather and Alcantara, which will be available in different color combinations.

The model that has been launched is named Huracán LP 610-4, which has a 4 wheel drive system powered by a naturally aspirated 5.2-liter V-10 that produces 610hp and a peak torque of 480 pound-feet. It can accelerate from 0-62mph in 3.2 seconds and has a top speed of 202mph. The car will make an official debut at the 2014 Geneva Motor Show and on a brand-new line at its Sant'Agata Bolognese plant, with the first cars reaching customers in the spring of 2014.