Whether it is a luxe, fast and mini yacht or a solar-powered hybrid catamaran that can travel on water and land or a multimillion megayacht concept with three swimming pools, Italian design studio Lazzarini has done it all! Adding to this assemblage of world-class offerings is a superyacht concept named Saturnia that houses its own "private harbor" for tenders. One would believe that to be its most outstanding feature, but it's got more in the form of an exterior made entirely from dry carbon fiber.

The 100-meter (328 ft) luxe vessel sports a geometric silhouette with angular lines and material that makes the superyacht nearly 50 percent lighter than boats of the same size. Saturnia's more lightweight structure contributes heavily to the yacht moving faster, reaching a top speed of 30 knots (34.5 mph/ 55.5 kph). Lazzarini has designed the vessel with zero-emissions hybrid propulsion in mind and is powered by twin side engines and a central electronic water jet system.

Saturnia is equipped with a private port located amidships that can be entered through two enormous automatic openings on each side. Saturnia's floors' can be orchestrated in a way to accommodate 10 to 20 suits that would fit in passengers plus 20 crew members. The last floor holds side openings that double up as lounge areas offering an uninterrupted, panoramic view of the sea.

Saturnia boasts a total of five decks comprising several amenities like pools and alfresco dining areas, a launchpad for eVTOLs, and a glass-bottom lounge. The concept exists only in the form of renderings, but Lazzarini design studio estimates that the saturnia superyacht concept could be built for $300,000,000 in about 30 months.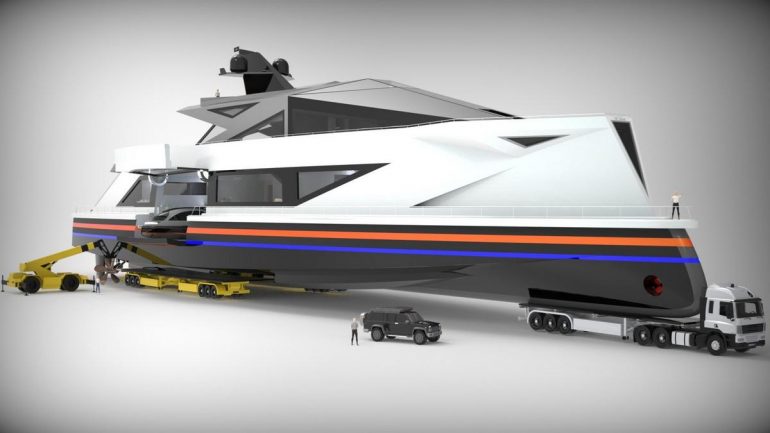 [Via: autoevolution]