Apple co-founder Steve Jobs once told French designer Philippe Starck, "Every year, we go on vacation on my friend Larry Ellison's boat ($130 million superyacht Musashi). And every year, I say to myself, I too should have a boat built. But I don't do it. Two years ago, I decided I was going to go for it. I looked at everything, asked everyone, and came to the conclusion that only one person can do it: you." That's how Venus came into being as a stunning $140 million motoryacht. The first thing observed is how Venus is a mastless motoryacht, with her antennae and domes hidden within an architectural statement. That was the world's first, in addition to boasting 40-foot floor-to-ceiling windows, per the wishes of Jobs.



In 2008 along with Venus, Starck also conceived another beauty- Sailing yacht A for Andrey Menichenko, the Russian oligarch. Venus motoryacht was completed in 2012; a year after Steve Jobs' passing, entailing the genius never got a chance to set sights on his massive 256-feet boat. While Philippe Starck created the design of his one-of-a-kind sailing paradise, the chief designer of the Apple Stores made structural glass for the yacht. Let's take a closer look at what this beautiful boat is all about: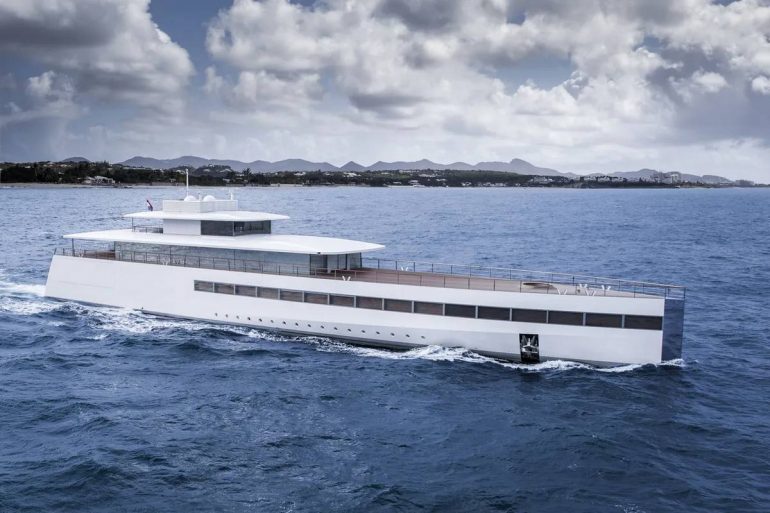 Steve Job's Venus superyacht was named after the Roman goddess of love-
If ships could be compared to goddesses, Venus would be deemed supreme! Venus is a breathtaking boat, designed to perfection by Philippe Starck and built by Feadship for one of the most legendary entrepreneurs of all time. There was nothing run-of-the-mill about the $140million yacht, right from its unusual shape and concealed antennae to using an unprecedented amount of glass unlike ever before that extended throughout the length of all main deck staterooms.

The 256-footer comfortably accommodates 12 family and friends in six identical rooms serviced by a crew of 22 for a luxurious sailing experience. The massive deck offers umpteen spaces to set up several lounging areas for alfresco parties and dining under a canopy. As per the images released, the posterior platform integrates into the hull. As is the case with most luxury vessels, this space acts as an access point to a tender garage or is used for some fishing action and lounging as a beach deck. The billionaire's stunner of a ship cruises at a speed of 16 knots and flaunts a top speed of 22 knots. Two MTU 16-cylinder engines power the boat that now belongs to Jobs' widow Laurene Powell Jobs.

Laurene, daughter Eve Jobs and friends have been spotted enjoying the opulence of the luxury vessel Venus off the coast of Cannes in the Mediterranean. Like there won't ever be another Steve Jobs, there won't be another yacht like Venus.

Groundbreaking Venus motoryacht pays homage to its maverick owner-
A boat like Venus could only belong to Steve Jobs. It's avant-garde, sans frills, and looks like a technologically-advanced sailing lair of a tycoon. Though interior details remain hidden, it is learned that the ship's captain relies on a hi-tech row of 27-inch iMacs to navigate the wheelhouse. Interestingly, Steve Jobs has also registered a patent under his name for a remote control application like an iPhone to control his massive ship. In 2016, the US Patent and Trademark Office approved the remote control device that displays the yacht's status and shows subsystem data and which systems are engaged while the vessel cruises in the water.

Yet another hi-tech feature of the ship is a home automation system that comes in handy, mainly because the kids are positioned in the front of the vessel while the adults are housed in the back. This system allows seamless communication and quietness as the owner fancies. 'Steve wanted to be sure that the teenagers could be set up in the front of the boat when he was at the back and vice-versa. He was obsessed with silence,' Starck said. 'In his home, children did not make noise, nor the dog, nor his wife … no one made any noise, ever.'

Starck also talks about the 256-footer in a Vanity Fair interview, "There will never again be a boat of that quality again. Because never again will two madmen come together to accomplish such a task. There'll never again be so much creativity, rigor, and above all, philosophy applied to a material creation. It was not a yacht that Steve and I were constructing, we were embarked on a philosophical action implemented according to a quasi-religious process. We formed a single brain with four lobes.

The yacht was once impounded due to unfinished payments-
Impounded vessels are mentioned primarily in connection to sanctioned oligarchs these days. But back in 2012, Steve Jobs' superyacht Venus was impounded by authorities in Amsterdam due to unfinished payments. $11 million was to be paid for the yacht's commissioning to Philippe Starck's company Ubik, of which only $8 million was delivered. The yacht was docked at a Dutch port but eventually set free after arrangements were reached between the Jobs estate and Philippe Starck, who helped Jobs design the vessel.