After having a look at the world's largest SUV and the biggest truck, it's time we talked about another quirky automotive creation that quite possibly is the longest pickup truck in the world. You might have already guessed by now that this too is owned by Sheikh Hamad bin Hamdan Al Nahyan, aka the Rainbow Sheikh, and is part of his gigantic collection of unique automobiles. While it's common for builders to create stretched limousines out of sedans and SUVs, we've never seen someone build a stretched pickup with a massive bed; except for the 1200hp Stretchy Truck dragster, maybe.

However, the Rainbow Sheikh is no ordinary person. Named Al Banoush, the stretched pickup truck is based on the Dodge Ram 4500 and has a bed that measures 16 feet in length. That's long enough to fit in a full-size luxury sedan. Its wheelbase had to be elongated to 205 inches to accommodate the massive bed.

Interestingly, the stretched pickup rides on four wheels like the standard Ram 4500 and doesn't have an additional axle like the massive Apocalypse Ram 1500 TRX 6×6 Warlord, which might look like a compact truck in front of the Al Banoush. Not a lot of details are available on the stretched truck except that it retains the Ram's standard 6.7-liter Cummins diesel engine.

The six-cylinder engine produces 420 hp and 1,075 lb.-ft of torque in standard tune, which is necessary to haul that massive stretched bed.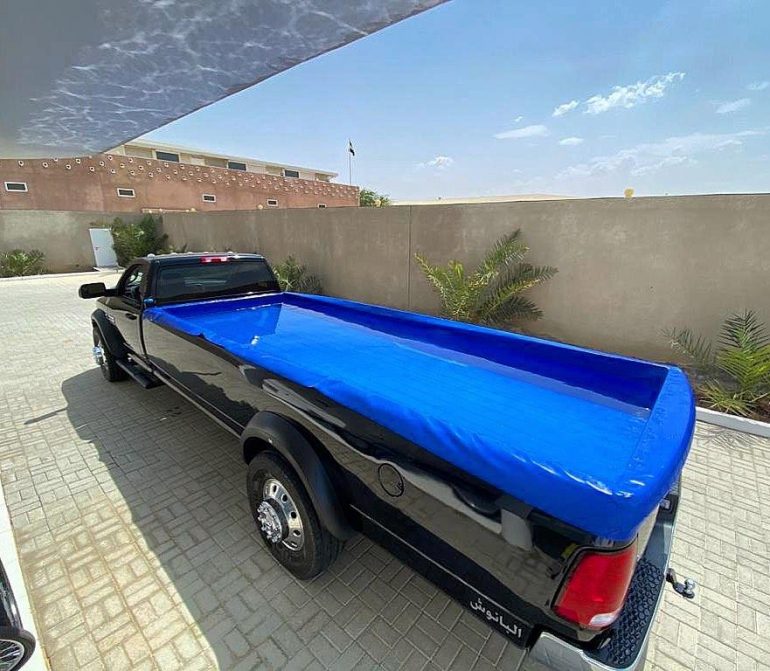 There's also a tow hook at the back, although we don't know why would it need one. In case you're wondering what's the use of such a massive bed, the Rainbow Sheikh converted it into a Jacuzzi, which looks like it was made by wrapping the bed with a tarp and filling it with water. The bizarre stretched pickup is on display at the Off-Road History Museum in the UAE. The Rainbow Sheikh even posted a video on YouTube a few years back where you can see him try dune-bashing with the truck. Crazy!

The Rainbow Sheikh and his obsession with quirky automotive creations
Sheikh Hamad bin Hamdan al Nahyan is a member of the ruling royal family of the United Arab Emirates and is said to have a personal net worth of over $20 billion. He used his share of UAE's oil money to build himself one of the craziest car collections that consist of some of the most bizarre automotive creations, including the world's biggest SUV, truck, and moving automobile. The Sheikh also holds the world record for the biggest collection of 4x4s. He famously ordered Mercedes-Benz to build him an S-class for every color of the rainbow, which ended up earning him the nickname "The Rainbow Sheikh".