Trust me this is the last time you will be hearing about the Emirates A380 on Luxurylaunches. We could not resist posting these exclusive pictures and a nifty video of the retractable personal beverage station. The first-class suites offer you complete privacy along with loads of burlwood and gold-chrome trim. The pictures and videos are taken by Todd Lappin who was the lucky one invited to take a 90-minute demo flight of the Emirates A380.
(Many more images after the jump)

Each of the 14 First Class passengers can enjoy a 5-minute shower in one of two private lounges, each of which looks vaguely like something one might expect to find in a Napa Valley golf club. Two dedicated shower attendants clean and freshen the rooms after each use, and the A380 carries an extra half-ton of water to meet the personal-hygiene needs of its First Class passengers.


Upper deck bar/lounge area


Main stairway


Upper Deck, Aft Lavatory


Fountain Fixture at Top of Main Stairway


First Class Personal Amenities Station


First Class Suite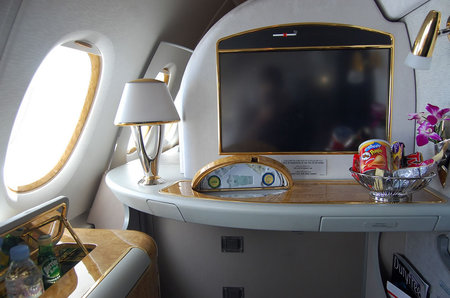 Telstar Logistics more images at their Flickr page