Boutique brand Kross Studio has been around for a little more than a year and it has managed to create a lot of buzz in the industry by crafting several different interesting timepieces, including the incredible $150,000 Star-Wars-themed watch and also the Batmobile desk clock. Continuing its philosophy of creating collaborative timepieces, Kross Studio has joined forces with French interior-architect-turned-watch-designer Alain Silberstein for its latest offering. Silberstein is known for the use of bright colors, geometric forms, and Pop Art design elements. The designer was impressed by the unique timepieces by Kross Studio and contacted the boutique brand to partner for a lotus-inspired timepiece.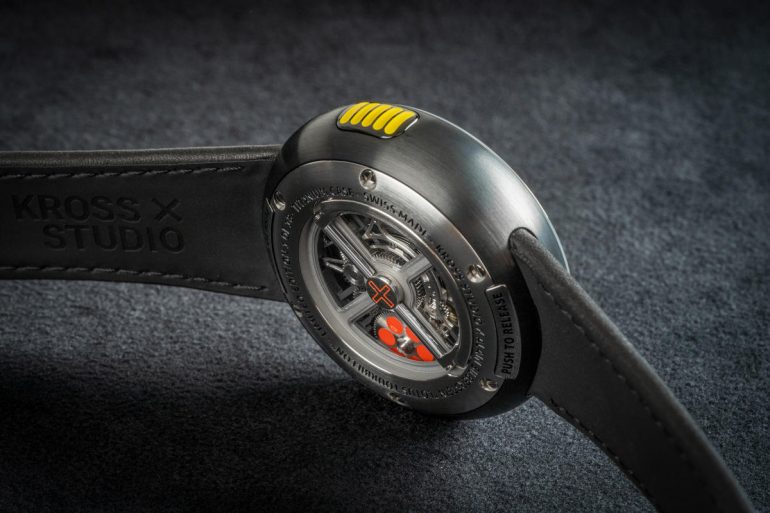 Alain Silberstein said: "I was blown away by the first central vortex created by Kross Studio which depicted the Death Star from Star Wars. Curious, I made an appointment to get to know this talented team. I thought our first meeting would last about an hour. Four hours later, we were still in a meeting, creating what would become the Lotus Tourbillon. What was supposed to be just a first contact turned into a creative meeting."

The Kross Studio Lotus Tourbillon is set to make its public debut at the upcoming Dubai Watch Week. Created to capture the essence of the sacred Asian flower, the Lotus Tourbillon uses the brand's central tourbillon design. The watch features the familiar pebble-shaped 45mm lugless black brushed DLC titanium case. The watch doesn't have a traditional crown. Instead, the winding function are taken care of by a folding D-ring crown on caseback. The time can be set using the push button located between 3 and 4 o'clock that sports Silberstein's signature colorful styling.

A lotus flower made of skeletonized titanium petals acts as the centerpiece of the dial and sits on top of the brand's trademark central tourbillon. The watch also preserves Kross Studio's signature layout including the planetary gear hand system. The use of red, blue, and yellow on the dial adds to the timepiece's playful design while maintaining a minimalistic styling approach. Powering the Lotus Tourbillion is the in-house KS7000 hand-wound tourbillon movement. Featuring a massive open mainspring barrel, the movement offers an impressive 120-hour power reserve. To match the watch's minimalistic and clean look, it is paired with a simple black strap in rubber and rubber-lined leather. The Kross Studio Lotus Tourbillon is limited to just 18 examples and is priced at $80,000.