Renowned automotive influencer Alex Hirschi, aka Supercar Blondie, has added a new exotic car to her collection which was recently delivered to her in a giant Tiffany box. Captured in the latest video on her popular YouTube channel, the car blogger arrives in a Rolls-Royce Wraith to be surprised by the massive gift box waiting for her to be opened.



This is when she realizes that the dream car that she had been anxiously waiting for over the last 6 months has finally arrived. Untying the white ribbon, she reveals a fully-customized G-Wagen and introduces it as the world's first Tiffany Edition Brabus G-Class.

Giddy with excitement, Alex explains that she had handed over the G-Wagen to Brabus to work their magic on the iconic SUV and build her a one-off machine.

By judging the badges, the G-Wagen was given the German tuning company's G800 treatment along with plenty of unique touches commissioned by the influencer. In fact, Alex slowly goes through all the bespoke elements on her G-Wagen along with the performance upgrades made by Brabus. The SUV is finished in beautiful metallic bronze paint on the outside done by CarDip which is contrasted by subtle Tiffany blue accents. The SUV also rides on special 23" monoblock wheels that look to be inspired by the ones on Maybach models. The bespoke G-Wagen is also fitted with a new sports exhaust system, a carbon fiber spare wheel cover in the back, LED auxiliary lights on the roof, and a hood scoop.

Alex even pops open the hood to give a view of the mighty V8 engine which is sadly hidden under swathes of plastic cladding. However, Brabus has upgraded the engine with special components and remapped the ECU to eke out 800 horsepower from the engine, which otherwise makes around 580hp in the standard AMG G63.

However, the highlight of the bespoke G-Wagen is its special interior that has been rendered in Tiffany blue. Unlike other bright colors, the light blue shade looks really attractive. In fact, the Tiffany blue color is very popular amongst supercar owners.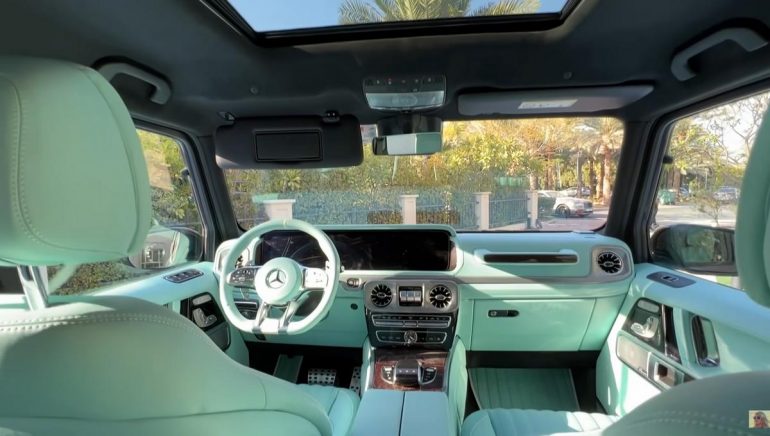 We have seen a Bugatti Veyron Tiffany edition in the past and the McLaren Senna owned by American YouTuber Jeffree Star is also finished in the same shade. Nevertheless, Supercar Blondie might be our favorite amongst all other Tiffany edition exotic cars we have seen thus far.