If olden day Indian maharajas were walking around in their flying suits, Louis Vuitton was taking notice. If not of the maharajas directly then of their past habits. That could explain why the label's latest collection reinterprets Rajasthan's kings and flying. And while their attempt to demonstrate that in a non-air conditioned real-life greenhouse (a.k.a. hothouse as several would complain) may not have been such a hit, the opposite can be said of their latest Paris men's fashion week showing.

"While last season's collection was about looking down at the earth from above, this time we've looking up at the stars," said Kim Jones, Men's Style Director. Jones, in his travels to India's northwestern corner, Rajasthan, discovered Sawai Jai Singh, the king who built Jaipur, India's pink city, and constructed its 18th century astronomical observatory gardens Jantar Mantar. This basically sums up the inspiration for the set design this season. But more on the collection!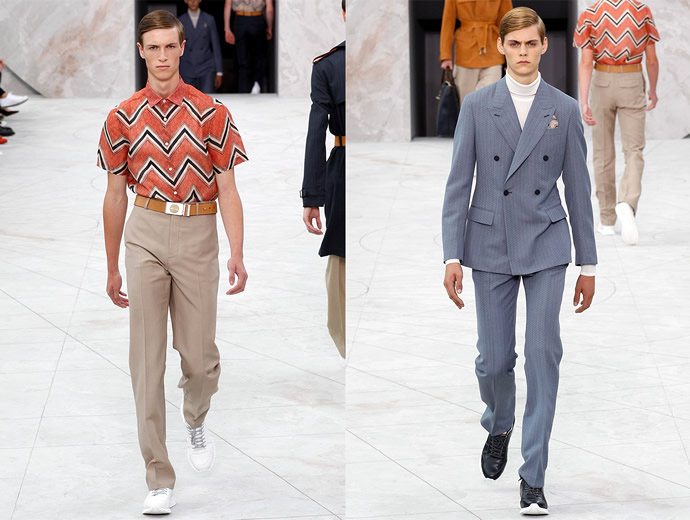 Silk organza with dynamic zigzag stripes, double-breasted jackets on rollneck jumpers, luxurious looking trench coats, high waisted pants à la 70's India; all made an appearance. And now for the aviation in the men's S/S '15 Louis Vuitton collection- bomber jackets in fabrics such as reversible orange satin and zipper adorned jumpsuit, alongside pilots' badges depicting a military sundial and the maison's "volez, voguez, voyagez" menswear slogan of the season. But where there was militariness, there was also mirror work and more zany Indianness in the form of washed silk voile in hot pink that evoked the colors of the turban.

There was no dearth of neutrals either as, say a flight suit in beige nubuck or bombers in navy or sage green lent that element of versatility to the collection. But if showgoers went back pleased, it might also have to do the release of the new V bag collection. After the Spring/ Summer '13 men's bags, we're feeling the (water-repellent) leather love with this one. And speaking of love, you can't miss this season's round-lensed, cross bridge sunglasses. And true to the current trend, all the looks were seen with white and black trainers.
[Via – Ilvoelv]