Lit nerds and travel enthusiasts have a reason to rejoice! A London bar called Fogg's (inspired by the Jules Verne novel Around the World in 80 Days) has launched a cocktail menu that references the 80 destinations popularized by the book.

Titled Around the World in 80 Cocktails, the menu developed by general manager Danilo Tersigni and bar manager Francesco Medici features 80 antique cocktails. Customers can use a map to choose one among four flavor profiles: "Spicy Aromatic Exotic"; "Sweet Fruity Sharp"; "Woody Rich Bitter"; and "Fresh Light Delicate".
After selecting a flavor, cocktail lovers must choose a spirit and mention preferences that will help narrow down the selection for their ideal drink. Each cocktail is complex and elaborate. The bar uses a variety of to explore flavors from around the world. Each cocktail is presented with an anecdote from the fictional Phileas Fogg.


The beautifully designed map with outlined flavor profiles


Cointreau, lemon juice, raspberry syrup, cranberry juice, egg white up and a mix of sparkling teas comprise this cocktail served with a miniature hot air balloon. The drink is called No Cointreau-Temps Here


The Royal Coffee Maker is inspired by a gift given to Queen Victoria whilein Newfoundland, Canada. It combines Hennessy Fine de Cognac, Luxardo Maraschino liqueur, chocolate bitter, gomme syrup, cocoa tea blend and mascarpone foam.


The Smoking Carriage mixes Dictador 20-year-old rum, Lapsang Souchong syrup and chocolate bitters and is served dramatically in a black box on dry ice with the intention of evoking the feeling of an open window on a steam train.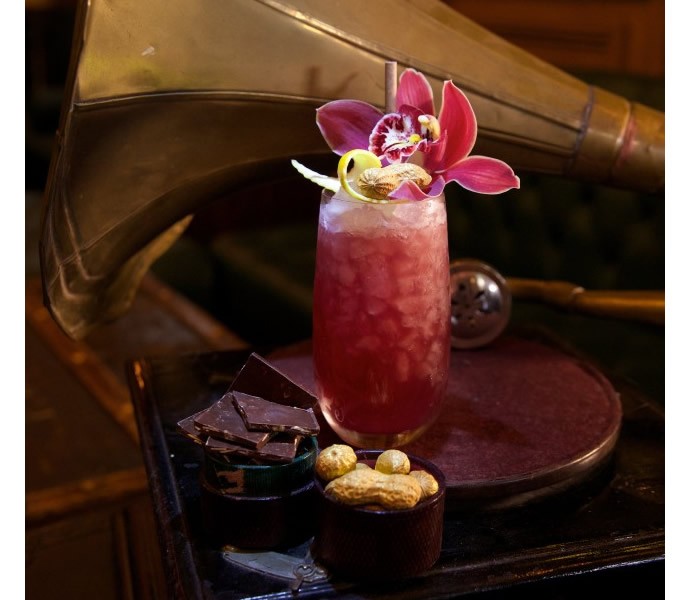 Tropical Jamaica inspires this colorful drink: the Gin O'Clock which features Tanqueray London Dry Gin, Plymouth sloe gin, Wray & Nephew Overproof rum, homemade orange liqueur, rice juice, lychee, lemon juice and sugar syrup.


Bacardi Carta Oro rum, Santa Teresa orange liqueur, falernum, Visciolata del Cardinale, homemade spicy pineapple syrup, fresh lime juice and chocolate bitters comprise the Polynesia inspired Don Beach Punch.
[Via – Bar Magazine]