Ever since the 18th century, Champagne has enjoyed the status as a royal and aristocratic drink and been associated with celebrations. Unfortunately, celebrating in style does not come cheap. With the most expensive champagne costing as much as $2.07 million, the effervescent beverage is truly coveted and exclusive. However, there is no better way to celebrate than popping the cork and toasting with bubbly. The initial burst of effervescence when the fuzzy alcoholic beverage is poured into the Champagne flute glass is one of the most exhilarating part of any occasion be it a wedding, New Year's Eve, bachelor party, long weekend celebration or a high class charity event.

While we have rounded off Vodkas, Beers and Whiskies in our series of most expensive beverages, here are top 12 expensive champagnes with a price that will make you as dizzy as the liquor inside the bottle:

12. Moët & Chandon Bi Centenary Cuvée Dry Imperial 1943 – £832 ($1,392)
French winery Moët & Chandon released the Bi Centenary Cuvée Dry Imperial 1943 in the same year to celebrate the Champagne house's 200th anniversary. Established in 1743 by Claude Moët, Moët & Chandon presently own more than 2,500 acres of vineyards and annually produces approximately 26,000,000 bottles of Champagne.

11. Krug Brut David Sugar Engraved 'Quail Design in Flowering Tree' – £1,080 ($1,806)
Engraved with the design of a quail sitting in a flowering tree, this limited edition Krug Brut is listed as the 9th most expensive single 75cl bottle of Champagne on the WineSearcher website.

10. Moet & Chandon Dom Perignon by Karl Lagerfeld – £1,169 ($1,955)
German fashion designer Karl Lagerfeld designed the special edition Dom Perignon Champagne Brut in 1998.

9. Krug Private Cuvée – £1,189 ($1,989)
Joseph Krug founded the House of Krug in 1843. The house is majority owned by the multinational conglomerate LVMH Moët Hennessy, Louis Vuitton S.A. whose portfolio includes other well known wine brands such as Moët & Chandon, Veuve Clicquot, Château d'Yquem and Ruinart.

8. Boërl & Kroff Brut Rose – £1,314 ($2,198)
The Boërl & Kroff Brut Rose Champagne is composed of pinot noir, chardonnay and pinot meunier, all from the best vintages of the Aube region. This exceptional vintage was elabored with the passing years, and a constant observation allowed to follow its development at obtaining this unique Champagne.
An exclusive stopper made of natural cork was produced and composed of five pieces for an exceptionally long ageing. The parts in contact with the wine have been analysed individually in order to avoid any risk of abnormal tastes attributable to the cork. This stopper is "imprisoned" in a muselet which plate, made of full eighteen-carat gold, engraved and bearing the same number as the magnum, was created by a prestigious French jeweler.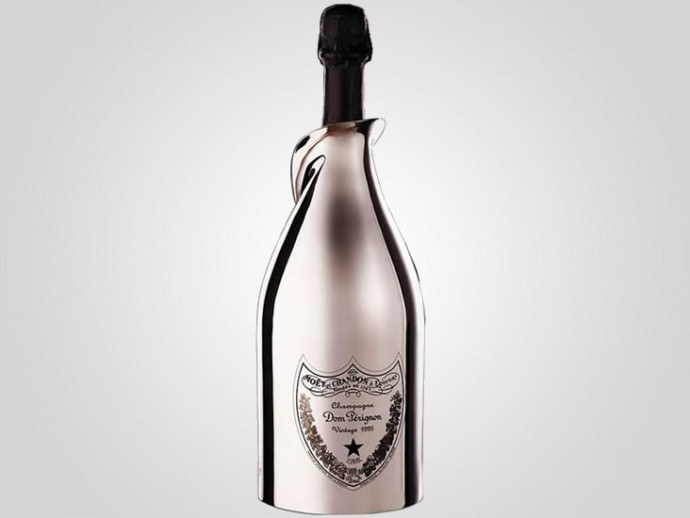 7. Moët & Chandon Dom Perignon White Gold – £1,475 ($2,467)
Moët & Chandon Dom Perignon White Gold special edition Champagne house inside a white gold plated bottle is a collector's item. According to WineSearcher, the average price of a 75cl bottle is listed at £1,475.

6. Boërl & Kroff Brut – £1,488 ($2,489)
Produced both as a vintage and non-vintage, a 30 litre bottle of this champagne carries an average price of £1,144 per bottle on WineSearcher.

5. Krug Clos d'Ambonnay – £ 1,615 ($2,701)
The Krug Clos d'Ambonnay is made with Pinor Noir and has an average selling price of £1,615 per bottle on WineSearcher.

4. Moet & Chandon Dom Perignon Charles & Diana 1961 – £ 2,576 ($4,309)
The "incredibly rare" 43-year-old Cuvee was "disgorged" by makers Moet & Chandon in 1981 for the royal wedding of Lady Diana Spencer and Prince Charles. Limited number of this vintage Brut Champagne were later released to commemorate the occasion, which now sell for an average price of £2,576 a bottle. Dom Pérignon is always a vintage champagne, meaning that it is not made in weak years, and all grapes used to make the wine were harvested in the same year.

3. Louis Roederer Cristal 'Medalion' Orfevres Limited Edition Brut Millesime, Champagne, France – $20,000
Designed by Philippe di Meo, the bottle is dressed in a light protective 24-carat gold latticework design. The limited edition jeroboam of the 2002 vintage is made with Pinot Noir and Chardonnay.

2. Armand de Birgnac Ace of Spades 'Midas' Brut, Champagne, France – $58,413
Produced by Champagne Cattier, the Midas is a 30L (Melchizedek) gold-plated bottle of Ace of Spades Champagne. It is listed at $58,413 on WineSearcher.

1. Goût de Diamants, Taste of Diamonds – £1.2m ($2.07 million)
Ouch! Well that's a lot of money for a bottle of bubbly. So what makes it the most expensive champagne? Designed by Alexander Amosu, the limited edition bottle is hand finished with precision to represent luxury and elegance. The labels are pure pewter and delicately hand applied, finished with a diamond cut Swarovski stone worth 19-carats for that added majestic charm. Inside the bottle, Champagne is made from three types of grapes, Chardonnay, Pinot Noir and Pinot Meunier.