Decadence comes in all shapes, sizes and forms and we assume it MUST be lasting. But, for the rich and the indulgent, splurging thousands of dollars on a few minutes of gastronomic extravagance seems reasonable and warranted too. What converts the regular fast food eats to over-the-top, fine dine savouries and desserts in the world you ask? Just a little edible gold leaf, caviar, truffles, precious stones, some exotic unheard of ingredients, and some more gold leaf. Here's a fine and ridiculously expensive list of most expensive foodstuff ranging from $1000 to $32000 that will tempt you to break that fixed deposit in the bank to try these luxury extravaganzas at least once in a lifetime.



9 – Most expensive bagel in the world
Price: $1000
What's this? A simple breakfast bagel. Well, it's not so simple when you add stuff like white truffle cream cheese, goji berry-infused Reisling jelly and of course, gold leaf. The most expensive bagel in the world is the chief expertise of Executive Chef Frank Tujague at New York's Westin hotel.

8 – Golden Opulence Sundae
Price: $1000
If you ask me, the Golden Opulence Sundae looks worth a million bucks. The sweet, lustrous and decadent beauty is served at the Serendipity 3 of New York City where celebrities are often spotted enjoying their meals. Covered in 23-carat edible gold leaf, the sundae is made of Tahitian vanilla ice cream infused with Madagascar vanilla beans, chunks of rare Chuao chocolate from Venezuela, world's most expensive chocolate from Amedei Porcelana, and then adorned with candied fruits, gold covered almonds, chocolate truffles and marzipan cherries. The generousness of ingredients is completed with a dollop of sweet Grande Passion caviar served with a mother of pearl spoon and a gilded sugar flower. Dessert lovers would just want to jump at the nearest ice cream parlor to assuage their sweet craving temporarily!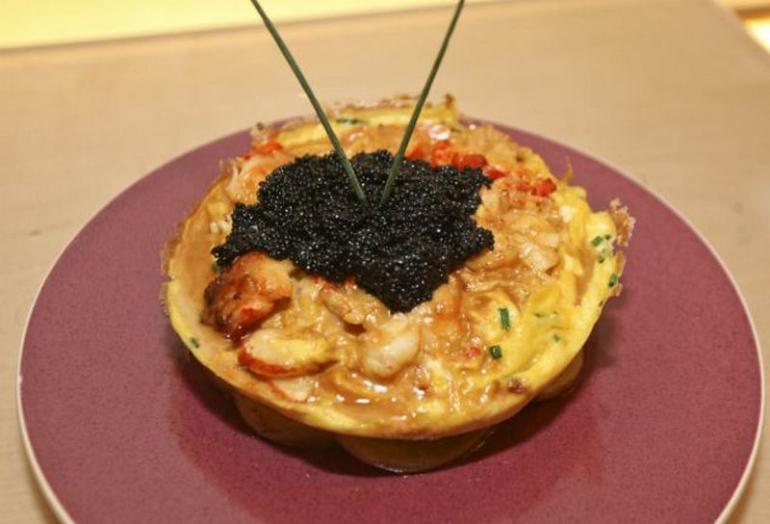 7 – Lobster Frittata
Price: $1000
It's culinary magic when you transform a seemingly simple dish like a lobster frittata into a game of a grand. Norma's at Le Parker Meridien Hotel in New York City dole out this luxe entree that has only been sampled 12 times as on today. "The Zillion Dollar Lobster Frittata" as they call it, combines six eggs, lobster claws, and 10 ounces of Sevruga caviar. For somebody who may not want to drop their holiday savings on a breakfast, the hotel offers a slightly scaled down version of this frittata for $100. That's quite doable, I suppose?

6 – Hot dog with white and black truffles
Price: $2,300
The hot dog has to be one of the most mundane fast foods the world has seen and we wouldn't like anyone to mess with its simplicity. However, New York's 230 Fifth couldn't reason out and suddenly decided to come up with the world's most expensive hot dog that's made with 60-day dry-aged wagyu (Japanese Cow), topped with Vidialia onions caramelized in Dom Perignon, sprinkled with black and white truffles, saffron, and sauerkraut braised in Cristal and caviar. How long until service? Well, you need to order them 48 hours in advance.
5 – Most expensive curry
Price: $2650
London is synonymous with curry and we all know about their decades-old obsession. So we weren't surprised when the most expensive curry in the world dubbed 'Samundari Khazana' was launched by Bombay Brasserie owned by Taj Hotels. With the finest of ingredients such as a mix of caviar, sea snails, a whole lobster and slices of edible gold, the critics still have their doubts on how many samplers will come forth to pay such a huge price for curry, albeit a real special one.

4 – Most expensive burger
Price: $5000
Yet another mundane fast food contestant that likes to steal the heart of the moneyed, the humble burger takes the title of the most expensive burger in the world at Las Vegas's Mandalay Bay Resort and Casino at Fleur de Lys restaurant (At least this one isn't in the exhaustive list of New York restaurants). This starrer is devoid of the precious gold leaf topping, but the package does have foie gras, black truffles, a bottle of Chateau Petrus 1995 in the side and Ichendorf glassware that the diners can keep. Fancy a burger, anyone?

3 – Most expensive cocktail
Price: $7290
It's time to talk about the bubbly. Oh yes, we've waited all along to hear about what gives us a buzz – at a hefty price of course. How would you like to taste a little piece of history in your drink? We'll like to call it learning by drinking. The famed Italian bartender Salvatore Calabrese invented the world's most expensive cocktail and called it the 'Salvatore's Legacy'. Made up of ingredients more than 200 years old, the concoction throws in 1778 Clos de Griffier Vieux Cognac, 1770 Kummel Liqueur, Dubb Orange Curacao circa 1860 and two dashes of Angostura Bitters circa 1900s.

2 – Most expensive Martini
Price: $10,000
Call it the 'Martini on the Rock' or the stone snow, this drink with a pre-selected diamond sparkling at the bottom is something for the big occasion – pop the question or something like that. The vesper martini stars a 1.52-carat "radiant" cut diamond that flaunts a natural sparkle. It's a drink that requires 72 hours notice and a staff meeting with the jeweller. But when you're spending the big bucks and planning it all out, you wouldn't mind waiting it out a few weeks.

1 – Most expensive dessert
Price: $32,000
Something that looks right out of renaissance grandeur, this decadent dessert is styled like a Faberge Easter egg and sparks a lavish list of grand ingredients. Gold, champagne caviar, a two-carat diamond, four different types of finest Belgian chocolate flavoured with peach, orange and whiskey are some of the sumptuous ingredients that go into the making of this beauty. The layering is done with champagne jelly, a light biscuit jaconde and glazed with with edible gold leaf. The world's most expensive dessert is served at the Lindeth Howe Country House Hotel in Windermere, Cumbria and you'd prefer not to know how much it costs – A whopping $32,000 and I bet you'd like to keep it as a souvenir rather than gorge on this preciousness!