You can be rest assured that you can get the perfectengagement ring for your lady love at Tiffany's. But you can now get the 360-degree experience to make your bride blush a lot more by spending your first night together as man and wife at a Tiffany Suite! No I am not kidding, as the St. Regis, New York has come out with a unique 1,700-square-foot Tiffany Suite on its 14th floor to spend the night. The room sports interiors of neutral hues like as "whites, beiges, charcoal gray and silver accented with the signature Tiffany blue". The suite boasts of several jewel-inspired references, starting with the foyer that features a "Tiffany-blue glass-beaded and silver-leafed handmade wall covering". However, the most striking thing is the entry cabinet designs that draw inspiration with Tiffany's engagement ring. Other notable pieces include "an intricate jewel-shaped mirror on the wall and a silver-leafed table".

The room is furnished in a modern meets classics theme with objects like "McGuire jewel-shaped armchairs, a contemporary coffee table and desk with white lacquer and chrome accents and mirrored side tables". The living room spots an ornamental fireplace and has "floor-to-ceiling windows overlooking Fifth Avenue with views of Central Park". The room also has a bar with "Tiffany crystal barware and accessories". The dining room has been inspired by the Tiffany blue box with tiffany blue walls and ceiling and contrasting white crown moldings and doors. The highlight of the room is a crystal chandelier that reminds you of dripping gems.
The most important room of the suite, the bedroom, sports "a porcelain flower installation; a bright, contemporary floral patterned love seat; a Tiffany blue striped upholstered headboard, and a lush white comforter". At $8,500 plus tax per night, you can live the night of your life in grandeur and bliss. However, the first collaboration between the Tiffany and St. Regis design already seems to be booked all through the summer!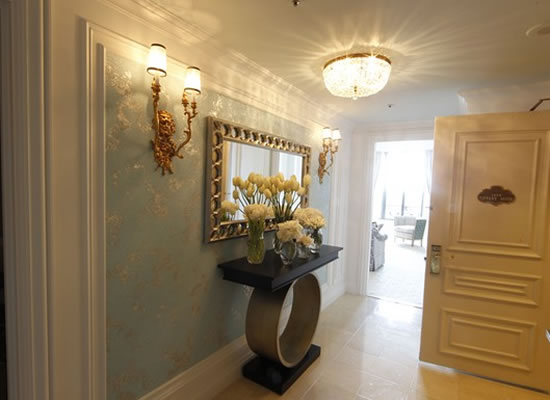 [WWD]