This January our travels took us far far away to the snow covered Scandinavian country of Finland. With temperatures going down to way below zero, the land was completely buried under snow. The winter months is the time when the Aurora Borealis better known as the Northern Lights can be seen light up the polar sky. Lady Luck is definitely smiling at you if you catch a glimpse of this ethereal phenomena.


We were staying in the town of Rovaniemi, which is little over an hours flight from the capital city of Helsinki. To survive in these temperatures and enjoy outdoors you have to be well equipped with thermals, sweaters and jackets to layer in order to feel warm. Woolen socks and snow shoes, gloves, a cap to cover your head and ears and a scarf to keep your neck warm will help you feel comfortable in the snow.
There are enough outdoor activities to keep you busy and give you experiences of a lifetime. From snow mobiling, to go karting on ice, to driving ATV's on ice to husky rides and reindeer rides. If you are daring enough to jump into the ice cold water then The Polar Dip is just the thing for you. Lapland Safaris is a company that can organize all these activities for you.
A two and a half hour drive from Rovaniemi will get you to a coastal town from where you can board The Sampo which is an ice breaker ship that breaks through the ice as it makes its way forward as the sea is completely frozen. After about an hour of sailing the ship stops and you can get off and walk around on the frozen sea! You can also wear the inflatable wet suits that they provide and float in the ice cold waters of the Gulf of Bothnia. This is the only ice breaker ship in the world that allows passengers to sail on it.
The Ice hotel is quite unique and worth a visit. It is an exhilarating experience to walk through the hotel that has ice and only ice all around.
A 20 minute drive from Rovaneimi will take you to the small charming village of Santa Claus. Time seems to stand still when you step foot into this fairy tale land. This little picture perfect village is home to the most beloved man in the world, Santa Claus ! He has made his home here in a place that only knows smiles and laughter, happiness and joy.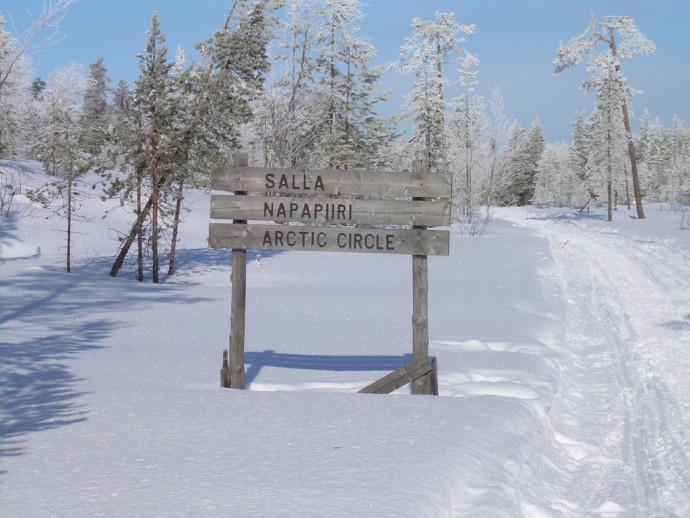 Sitting on the Arctic circle, this picturesque land is buried is snow all through the winter months. Soft white snow flakes gently wafting down from the sky make a silvery carpet all around, the pine trees laden with snow and still standing strong, the roof of the houses stacked with snow and icicles hanging from them, Christmas songs playing all through the land and two huge smiley snowmen standing by at the entrance to Santa's house. An entrancing land indeed where the sprit of Christmas prevails all through the year.
In the midst of this enthralling village is the home of Father Christmas. As you make your way through this quaint little house you cannot miss the huge pendulum clock keeping track of the days to Christmas.
A few steps away from Santa's house is the post office, which is by far the busiest one in the world. With letters pouring in from all over the world the office is buried under heaps and heaps of letters all addressed to just one man! You can post a letter from here to your loved ones either for it to reach immediately or for it to reach at Christmas.
The village is dotted with shops selling souvenirs, cafes and the Santamus, the only restaurant in the village.
This cute little hamlet is truly like a fantasy land that transports you into a happy world, a world with no sorrows and worries, a place where you cannot but help get a smile on your face and a song in your heart.
To see Finland in winter is a treat, the snow all around gives it another charm and enhances its beauty. And then of course if Lady Luck is smiling at you and you see the Polar sky burst into colour with the Northern Lights what more can you ask for?