The Copper Beech mansion in Connecticut, the most expensive home listed in the U.S. market was officially sold last month for $120 million. The 50-acre estate was soon dethroned as the most expensive home in America after a Hampton property was purchased by a top hedge fund manager for $147 million. Here are top 10 of America's most expensive homes worth over $90 million.

10. New York's One57 Skyscraper – Sold for $90 million


Billionaire Bill Ackman, CEO of Pershing Square Capital Management, and a group of investors bought the duplex penthouse inside One57 in May 2012 while it was still under construction. The building has two penthouses with six bedrooms and 140 feet of Central Park frontage. The 14,000-sqaure-foot penthouse on the 75th and the 76th floor include access to the building amenities such as Central Park frontage, 65-foot pool, library to name some.
9. Bel Air Estate – Sold for $94 million


Financier Gary Winnick bought the historic Bel estate mansion for $94 million from David Mudroch. The main house is 28,725 square feet and has seven bedrooms and possibly 20 full bathrooms; there's also a 15-car garage, a pool with cabanas and poolhouse, a tennis court, a full-sized basketball court, a putting green, and a concrete track around the perimeter.
8. Donald Trump's Palm Beach Estate – Sold for $95 million


Donald Trump's Palm Beach estate was sold to Russian billionaire Dmitry Rybolovlev in 2008. The 69,000-square-foot home has a 50-car garage and 475 feet of oceanfront property.
7. Mansion in Los Altos Hills – Sold for $100 million


Russian investor Yuri Milner has bought a French chateau-style mansion in Silicon Valley for $100 million. The Los Altos Hills mansion runs more than 30,000 square feet and has a tennis court and pool.
6. NYC Townhouse – Sold over $100 million


The country of Qatar bought the former Wildenstein townhouse at 19 East 64th Street to make it Qatar's first consulate in NYC. The 20,500-square-foot mansion is currently an art gallery.
5. Los Angeles Fleur de Lys Estate – Sold for $102 million


The 50,000-square-foot estate known as Fleur de Lys situated in the Holmby Hills neighborhood, which together with Beverly Hills and Bel Air form Los Angeles's Platinum Triangle has a massive movie theater, pool, tennis courts, and a nine-car garage. Socialite Suzanne Saperstein sold it to a mysterious French billionaire in March 2014.
4. Hamptons Real Estate – Sold for $103 million


Ron Baron, founder of the Baron Funds investment company bought the 40 acres of oceanfront property which at that time didn't even have a house. He bought the land from Adelaide de Menil, heiress to the Schlumberger oil fortune, and her husband, Ted Carpenter.
3. Woodside California Estate – Sold for $117.5 million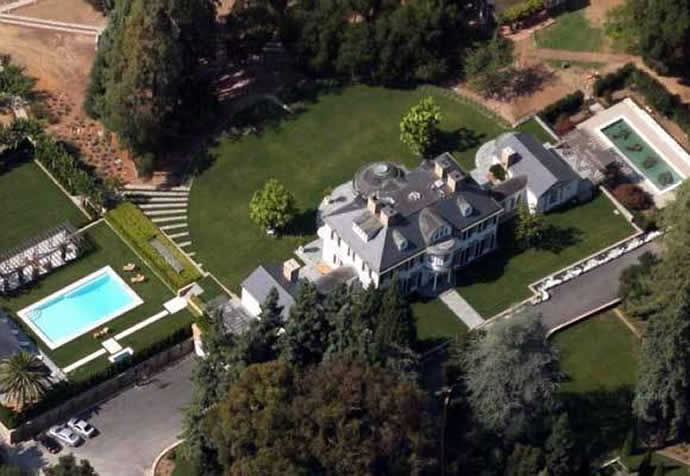 The mansion is about 9,000 square feet, and was designed by Virginia-based architect Allan Greenberg. It has a pool, nine-acres of property, and is surrounded by 360-degree views of the Woodside Mountains. It was bought by an undisclosed buyer in November 2012.
2. Copper Beech Farm – Sold for $120 milllion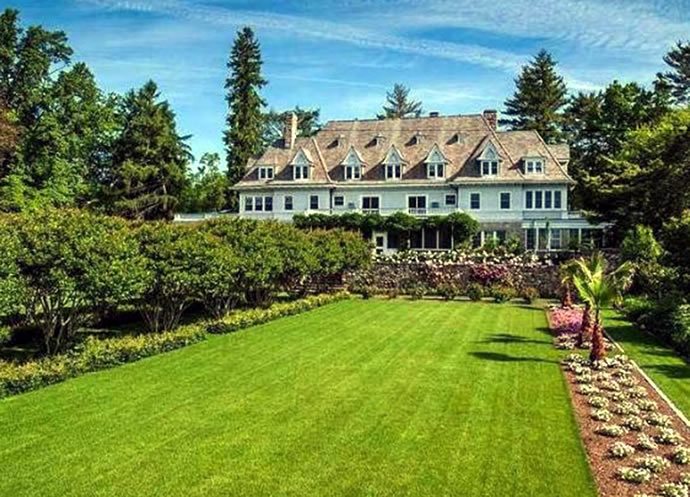 The 50-acre estate dates back to the 1890s, and was owned by timber magnate John Rudey. The 12-bedroom home has 15,000 square feet of living space, 7,000 square feet of basement and attic space, and a 1,800-foot-long driveway. There's also a grass tennis court, innumerable gardens, apple orchard, greenhouses, 75-foot-long heated pool, and a carriage house.
1. East Hampton Home – Sold for $147 million


Barry Rosenstein, fund manager at Jana Partners bough the 8-acre beachfront home in the Hamptons on New York's Long Island for $147 million. The East Hampton home with beachfront spread and gardens formerly belonged to Christopher H. Browne, managing director of Tweedy, Browne Company investment firm, whose will was contested after his death.