With several outposts across East Asia today, the famous group of restaurants known as Nadaman has been treating discerning diners in Japan to fine Japanese cuisine since 1830. And while "Sazanka-so", the very first restaurant operated by Nadaman, and also known as the Nadaman headquarters, is recognized for seasonal, Kaiseki (multiple small courses) style eating, the Shangri-La branch caters to a more global palate, serving everything from 'Kaiseki' to "Surf & Turf" set.


Located on Level 29, Shangri-La's signature Japanese restaurant, Nadaman serves cuisine rooted in the past, packaged in a modern, trendy format.
Chief Chef Takehiko Yoshida's goal has been to create a new style of Japanese cuisine reflecting his experiences abroad, while maintaining time-honored traditions of Japanese cooking.
Some of his creations include Foie Gras Egg Custard with Truffle Sauce, a twist on the traditional Japanese egg custard, with foie gras as an ingredient. And Kano Eggplant Wrapped in Wagyu Beef.

While the original sits amid lush foliage and trees, the Shangri-La Tokyo outfit trades a 400-year old Japanese garden with views over the city! The interiors here are modern minimalist, with traces of Japanese motifs and accessories of an almost installation-esque quality, that welcome you at the entrance, and run through the length and breadth of Nadaman. Aside from standard seating, which in this case not so standardly overlooks the striking capital, the restaurant features sushi and teppanyaki counters, with private dining rooms available.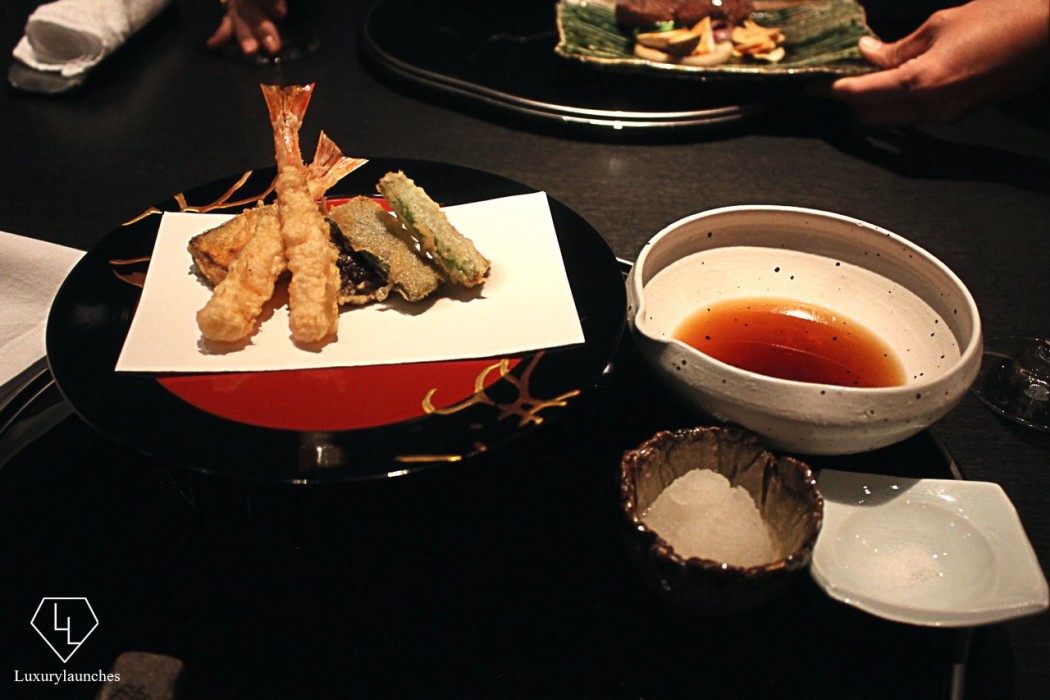 "No eel?" None. "No beef?" Nope. "Pork then?" Sure. "And what about raw egg?" None. Again. Our preferences duly noted, the elegantly outfitted hostess prepared to bring out the first course- sake! The very versatile Japanese beverage is, for us, a delicate cross between vodka and white wine. On our best days, we sampled twenty different kinds, out of their own Balthazar bottles and still walked straight (straight to the takoyaki counters, that is). On others, two could knock us out, while still tasting great. It's hard to know when to stop, with sake.

At Nadaman, we downed little green bottles of (Happo-Seishu) "Suzune"- a sweet, sparkling drink from Miyagi, with little alcohol, a distinctive rice flavor, and perfect effervescence. While it was meant as a welcome drink, the sake seemed to pair beautifully with most of our customized "Yorokobi" set, that comprised an appetizer sampler, sashimi, tempura, egg custard, a stir fry, four pieces of sushi, miso soup and dessert! What we loved- crabmeat and tomato salad! Assorted tempura that they made sure was a mix of shrimp and veg. Egg custard (moist and silken, again with crunchy shrimp and vegetables). Stunning crockery- they use, in equal parts, Japanese ceramic and crystal.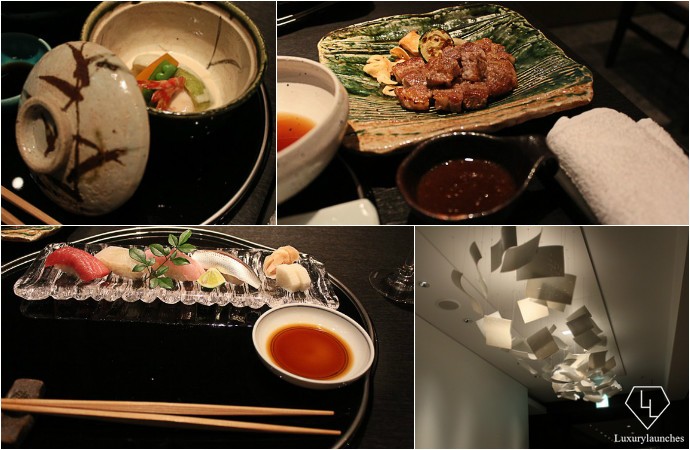 On the other hand, the pan-fried pork was tough and over-seasoned, and left a lot to be desired. It's a good thing the Honey Citron Beer (Asahi Dry Premium and Honey Citron) was great to wash it down with. As was the miso soup (in fact, we could really use one of those right about now, New Delhi is a miso-deprived frigid mess at the moment!) As for sushi and sashimi, we've had better. The dessert of seasonal fruits with Cointreau jelly, however, balanced out the hits and misses and made for a simply sublime end. And something we'd like to go back for again.
Disclaimer: The author was a guest of the restaurant.
Address: Nadaman, Shangri-La Hotel, Tokyo
Marunouchi Trust Tower Main,
1-8-3 Marunouchi Chiyoda-ku,
Tokyo, 100-8283, Japan
Phone: +81 3-6739-7899