"It's where all the world blends between gourmet cooking and endless rounds of bubbly and you wonder, amidst all these friendly faces, who cannot be happy!" Introducing K3 at the JW Marriott, where Sunday brunches redefine "lavish". Attribute it to the 3 'K's or kitchens, namely, North Indian, Cantonese and Tuscan or simply it's host property's unchartered nascence. JW Marriott or Delhi Aerocity's newest kid-on-the-(hospitality) block poses with such nonchalance, you'd never expect the scrumptious extravagances that await within. But before I get to that, let me go back to the beginning.

When I received the invite, I realized I was being brazenly asked to "spice up" my lazy Sunday afternoon. Wary of the oft-rehearsed terminology, I continued to be convinced to surround myself with live music, delectable food, and chilled drinks. And I thought how perfect could this "perfect way to celebrate your Sunday" be after all. For all they know, I have already tired of the capital's five-star hotels and their respective smorgasbords of Sunday brunches. But while "bring on the canapés" is my newest catchphrase (something you would know if you have come across my review of the Shangri La hotel), luckily for the skilled folks at K3, all three counters included, I hadn't.

So I made my way to the hotel and upon reaching, walked through what could well be called an unimposing exterior. But once in, I was amazed at the vastness of its expanse, something the hotel entrance had almost surreptitiously kept hidden. Steering clear of any obvious signs of tradition that fail to elude most of the other hotels from the capital, its interior design provided a fresh breath of pleasing contemporariness. This atmosphere seamlessly followed us into the all-day dining abode that lay ahead. K3, with all its screened beauty, is a massive 3-kitchen island that despite its bustle seemed far distinct from the city's madness. Very old school, the concept of screens, their modern design coupled with their discrete placement segregated the tables and food station well besides subtly enhancing the ambiance!
Then began a globe-trot across the Cantonese, Tuscan, and North Indian kitchen but not without a master class by Executive Chef extraordinaire, Girish Krishnan. In a thoroughly delightful conversation, the man revealed his Indian army roots, not unlike my own. That done, he could've almost been expected to know his flavors, what with having trotted such a multi-cultural country somewhat, if not the whole world. But what was least expected was his un-elitist approach towards staffing. He confessed to digging into the nooks and crannies of New Delhi to bring out the best, from braisers of lamb right down to soakers of saffron, in order to offer the finest from the North West Frontier region. Try the 'Nalli Korma' or Mughlai Lamb Shank Curry from the North Indian kitchen to know what I mean. Or the immensely aromatic 'Hyderabadi Mutton Biryani'! Not to mention, the Paneer preparations that are mouth-meltingly lovely.

As for the Tuscan kitchen, the cold cuts counter will tell you a meaty tale. Its trail of excellent salmon and pork leaves little to be desired, especially after they're paired with their designated marmalades. My favorite was the pork neck, with some crisp cracker and bell pepper marmalade for sweetness. Credit for this Tuscan discovery, however, goes to the lovely Italian in charge of the counter, who was charm personified, besides being counselor suprême on food pairings! So after giving our grazie to him, we led our newly evolved palates towards some other epicurean experiences but not without a pit stop at some tried-and-testeds. Enter Grilled Chicken in Jus, which was an absolute revelation. Extravagant red wine lashings? No, thank you. Simple yet oh-so-succulent, it retained all its meatiness without being overbearing. Big ups to the chef and his super show of restraint! Something that could've reverberated in the crunching of pizza were it not for an utter lack of "crunch" in it. But hey, you don't blame a buffet for getting that wee slice buried beneath all the salad, assortment of cheese, grilled veggies and fresh baked breads.
If the sound of those wasn't tempting enough, might I remind you of the Cantonese spread? For those loving a bit of fire in their food, I'd recommend the Fish in Chilly Bean Sauce. For those loving a lot of it, I'd advise a generous smear of their splendid chilly paste on it. As for the advice I received from the servers there, lets just say it pointed me to dimsum-direction. And while I was glad to have such a volley of happy faces surround me and rattle off useful tips (there may be a chance all those flutes of champagne had something to do with this), I'd have been happier to pass on this one instead. Well-cooked and swathed in colorful coats, they were nice to look at and even bite into but when it came to taste, both the vegetarian and the chicken dimsums were meh at best. At this point, the bubbly came in handy to wash down those middling mouthfuls I must say. But all was forgotten as soon as I stepped into their outdoor space.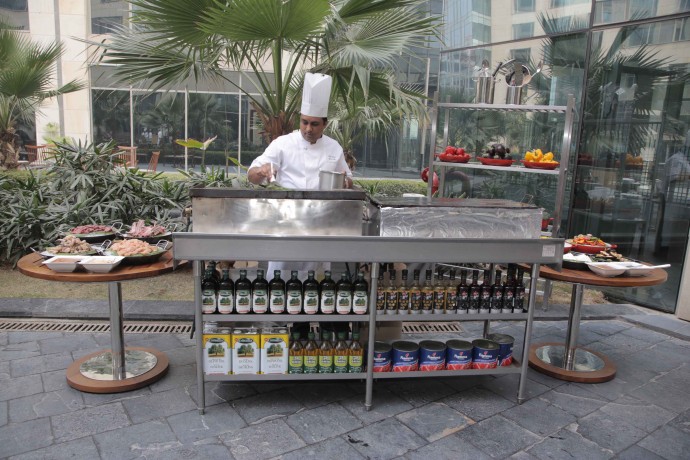 Reeling from a post-wedding hangover, its décor was still spanking to say the least. Buzzing, in equal parts, from a breezy nip and shafts of the elusive winter sun, it was dotted with live food stations. Indian street food aficionados may as well pronounce this the starting point of their big North Indian food binge, with the indoor kitchen as the aptly appointed successor to the its smaller yet equally fiery sibling. What would come as a surprise is that at K3's Sunday brunch, lovers of Cantonese, as well as Tuscan cuisine, can do the same. With a live Panini grill, my sandwich cravings were satiated in an instant. Mediterranean vegetables and dressing, thank you very much! But an eye opener came in the form of ravishing radish patties, which tasted nothing like the domesticated root vegetable. Those melt-in-the-mouth bite-sizers packed a lip-smacking punch with a hint of sweetness. Not so bite sized, on the other hand were the gorgeous fresh fish resting on a tray right across from the Asian street food counter. "We get fresh catch flown in for every Sunday brunch," quipped Chef Krishnan.

My mind was elsewhere, though when he did. While I was full from my 3 kitchen strong bender, my sweet teeth, shall I say, were groaning for dessert? So onward we went teeth, I and friend. And a feast it was after we made it back into our chairs. Although, if I recollect correctly, we didn't wait to make it back to the table! Crepes, hot off the pan beckoned us to begin. But not before beckoning me first for a dark chocolate filling and white chocolate topping. It is almost cruel to have to recount the experience minus the star of it, let alone get to the chocolate gelato that had the lightness of fresh ice cream, all the while retaining the density of good chocolate. A real iced underdog, however, proved to be the 'masala chai' ice cream. A nod to the Indian beverage after which it is named, it was a real winner and also the perfect pick for someone wishing for a ceremonious close to their Indian banquet.
I was far from my own ceremonious close, though, ravaging the mousse and the pretty little cake square in one go. Best medley ever! Not counting the medley of upbeat jazz, which was a musical witness to my gastronomic journey that spanned three counters, some live grills, and several lives as well. And Sunday after tantalizing Sunday, they all come together to create "a joyous feast where family and friends indulge over an exceptional meal accompanied by great music at the most elegant setting graced with impeccable service." The K3 Sunday Brunch can be enjoyed from 12.30 pm to 3.30 pm.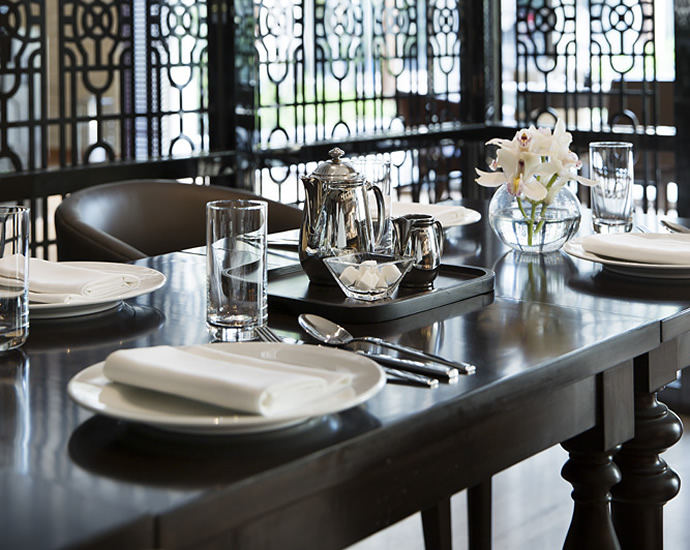 The wholesome Sunday Brunch includes three different price options:
a. Food, unlimited soft beverages & fresh juices – INR 2,250 ($36)
b. Food, soft beverages, unlimited premium spirits, and sparkling wine – INR 2,750 ($44)
c. Food, soft beverages, unlimited premium spirits, and champagne – INR 3,950 ($63)
JW Marriott Hotel – K3, New Delhi, Aerocity,
Asset Area 4 – Hospitality District,
Delhi Aerocity, New Delhi 110037,
India,
Phone: 91 11 4521 2121
[JW Marriott Hotel – K3 New Delhi]