BMW has finally revealed the new BMW M4 GT3 race car after months of teasing, and we must say it looks stunning, especially with the BMW M Motorsport livery. The new GT3 race car by the Bavarian manufacturer replaces the aging M6 GT3 that first hit the track in 2016 and has proven to be very successful with several impressive results under its belt. The M4 GT3 race car, as the name suggests, is based on the 2021 M4 Competition Coupe. While it does share many styling elements with the performance coupe, including the controversial massive front grilles, the M4 GT3 is a hardcore race car with aggressive aero elements and components specifically designed for endurance racing.

While the outgoing M6 GT3 came with a 4.4-liter P63 V8 with up to 580hp on tap, the new M4 GT3 uses a 3-liter P58 straight-six turbocharged engine that can produce up to 590 HP. Although it is based on the S58 engine that powers the road-going variants, the race engine features extensive changes and is more than 80 pounds lighter than the V8 in the M6 GT3. The race car has already undergone over 8600 miles of testing to prepare it for customer deliveries in 2022. Still, BMW will get to finetune the M4 GT3 when it makes its race debut on 26th June 2021 at round four of this season's Nürburgring Endurance Series (NLS).

Markus Flasch, CEO of BMW M, said: "The development work on the BMW M4 GT3 is now on the finishing straight, and the 24-hour race at the Nürburgring is the perfect stage on which to present the car in its BMW M Motorsport design and thus to herald the final phase leading up to the first race outings." As for the price, the new M4 GT3 will be available to customer teams for €415,000 (roughly $530,000), about $5000 less than its M6 GT3 predecessor.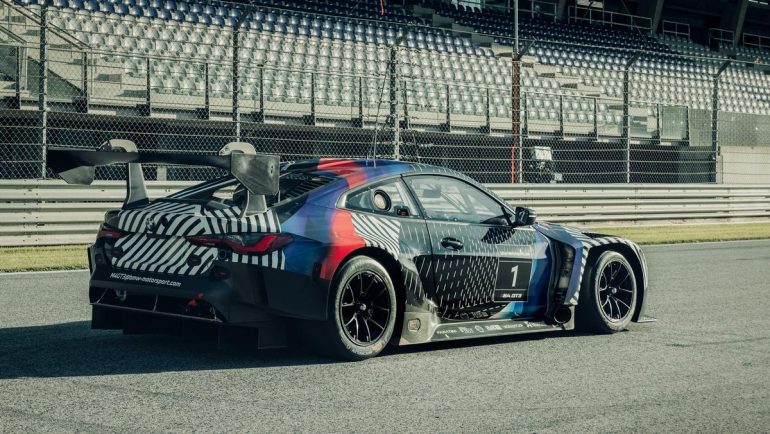 [Via: CarBuzz]