One more showstopper from Geneva Motor Show is this Bugatti Veyron Fbg par Hermès. Bugatti and Hermès gave birth to this magnificent car by associating Bugatti's technical performance with the expertise of Hermès and its craftsmen. Designer Gabriele Pezzini has expertly combined the characteristic Hermès style to the legendary Bugatti Veyron 16.4, magnifying the car's personality. Since nothing has changed with the engine, it still packs the 1001 hp that propels the car from 0-62 mph in 2.5 seconds. But it's the unique two-tone color scheme that extends from the hood to the interior of the cockpit, and re-emerges behind, at the level of the rear wing that catches the fancy. Also, the eight-spoke polished aluminum wheels with central butterfly wheel lock branded with the letter H and air vents around the edges mimicking Hermès saddle-stitching, and a new grille and fuel-filler cap.

The horseshoe radiator grille, and the lateral ventilation grilles flanking it, are made from lightweight alloys with a design of interlocking H's evoking the Hermès "signature." The inner décor of the car, including the brushed aluminum dash, has been fitted with calfskin leather. The door handles have been replaced with Hermès-luggage-style units, and a new leather case is installed in the trunk.
Byt this year end Bugatti enthusiats can r ride this car if they care to unload €1.55 million ($2.37 million).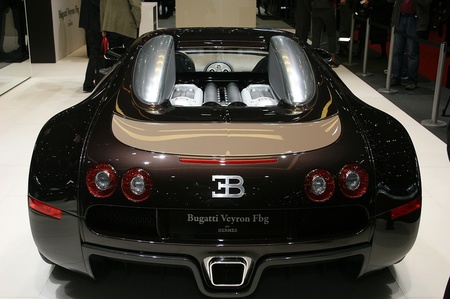 Source