Aptly named Infinity, this imposing creation of Oceanco made history as soon as it hit the high seas. The interminable 384 footer is the largest motoryacht from Oceanco to date and the largest megayacht ever to materialize from a Dutch shipyard. It was called Y719 during construction, which may remind you of Jeff Bezos's dream luxury vessel, but that is the Y721 under construction at the Zwijndrecht shipyard in West Netherland.



Infinity will enjoy being the largest ship to be built in the Netherlands for a while until Oceanco's $500 million Project Y721 supersedes it. For now, we take great pleasure in diving deep into the marvels of Oceanco's largest ship that has officially been delivered to American businessman Eric L. Smidt following successful sea trials earlier this year:

Infinite reasons to like the superyacht Infinity:
With exteriors by the well-known Espen Øino International and a contemporary interior by Sinot Yacht Architecture & Design and David Kleinberg Design Associates, Oceanco's largest motoryacht to date is a beauty completed by the stalwarts of the yachting industry. The $350 million (estimate) superyacht boasts seven decks, catapulting Eric L. Smidt is in the league of yacht owners such as Roman Abramovich or Alisher Usmanov, who own Solaris with eight, and Dilbar with seven decks, respectively.

The beautiful Infinity yacht is decked out with world-class amenities and remarkable features. Flaunting elegant interior and exterior spaces owing to a 53 feet beam, she provides accommodation for 16 guests among six guest cabins and two VIP suites. A comprehensive wellness area with a spa, sauna, gym and even a yoga studio are among her noteworthy features. Oceanco states Infinity is a gem of the seas boasting best-in-class crew areas, mechanical systems, and technology. Marcel Onkenhout, CEO of Oceanco commented, "She is the result of impressive teamwork from the Owner's team, Espen Øino, Sinot Yacht Architecture & Design, David Kleinberg Design Associates, Lateral Naval Architects, and all Oceanco's co-makers and strategic partners. She represents the true power of co-makership that is central to all our projects."

There are not many photos of the ship; considering it's a relatively new release, it is telling from some aspects of styling, such as the flared bow and the sculpted forward sections of her upper decks, that the stern slopes to form an expansive swim platform, suggesting the presence of a well-appointed beach club. As per Megayacht News, Infinity has more than one helipad, a five-meter circular swimming pool surrounded by seating, an indoor/outdoor alfresco dining room on the upper deck, and an entertainment lounge.

With seven sprawling decks, the best view is enjoyed from the skylounge sitting atop- a private space with a relaxing spa tub, bar, and observation lounge. Infinity flaunts a top speed of 18.5 knots and an extraordinary comfort level with low noise and vibration levels. The hull and active stabilization are optimized to deliver seakeeping and hydrodynamic efficiency.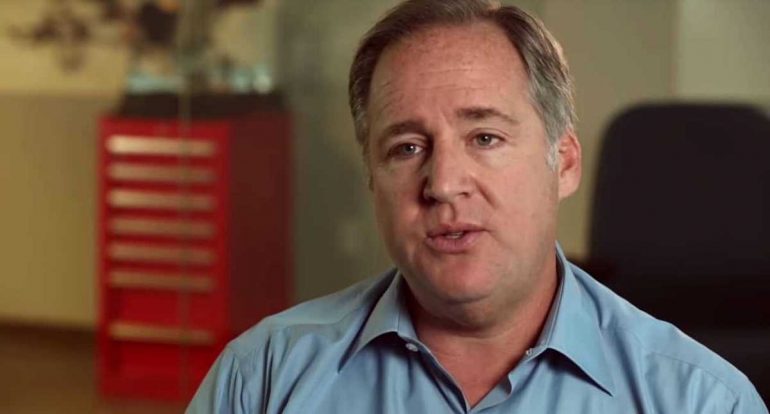 About Infinity superyacht owner Eric L. Smidt:
Wikipedia names the chairman and CEO of Harbor Freight Tools as the owner of Oceanco-built $350 million Infinity luxury motoryacht. Harbor Freight Tools is known to operate over 1000 retail hardware stores in 48 states. In 2020, Forbes magazine identified 150 U.S. companies with over 1,000 employees as the Best Employers for Veterans to work and ranked Harbor Freight Tools number one. It is incredible to see the company that has grown to become the leading discount tool retailer in the United States began as a small mail-order tool business in North Hollywood, California. The teenager who started working with his father in 1977 at Harbor Freight Tools is worth $5.2 billion today.

Smidt is known for leading a flashy lifestyle, so much so that his father Allan sued him for "looting" the company and leveraging it to finance his extravagant lifestyle, shared Forbes. Smidt and his wife live in a 35-room Beverly Hills mansion called "the Knoll," and is a noted collector of modern art who serves on the boards of the Los Angeles County Museum of Art and the Portland Art Museum.