Have you ever been homesick when sailing on new adventures? Barracuda Yacht Design knows that feeling just too. Well, I guess, as they came out with the 32 meter Pendennis Akalam. Considering that the yacht's European owner emphasized that the vessel "should not have to follow a yacht concept just because it is a yacht," the yacht follows an outdoor living theme. The exteriors spot a graphite black finish with a matching carbon rig and cream-hued superstructure and large glass windows with 'patio-style' doors that peer into a spacious aft-deck.

The "all year round" yacht features a lounge-style seating area created around a varnished teak coffee table that features hidden low-level heating below it. For formal dinners, head over to the customized glass table or a second, removable dining table located at the rear of the aft deck to accommodate more guests. The main saloon spots custom created curved sliding glass door from Rondal that can turn opaque with LED lights' help. For added security and privacy, the yacht features gas sealed doors, just like the one in aircrafts
The "apartment-style" interiors designed by Javier Muñoz are set in contrasting dark grey tinted Zebrano and touches of olive and panga woods, which use the ample natural light fall optimally. At the rear of the pilothouse, you can spot a spiral staircase that takes you to two identical twin-bed guest cabins and a narrow corridor leading to the stunning owner's suite. Riding at passage speeds over 13.5 knots, you will reach your desired destination quickly and in style!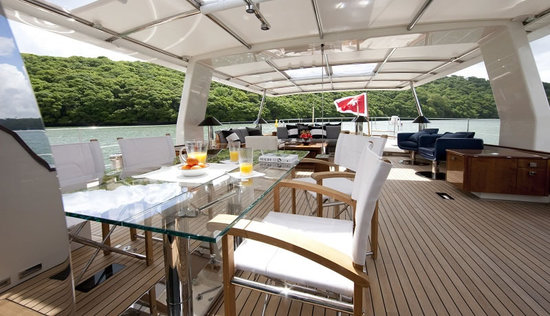 [SuperYachtTimes]