A London-based designer has created a new kind of accommodation that's equal parts posh and playful. Located in a forest in the county of Dorset, is the Woodsman's Treehouse, created by Guy Mallinson and believe us when we say, it's unlike any other treehouse you've ever seen before! This retreat was built as a tranquil but luxe getaway from demanding city life. It took five months to build and includes fancy add-ons including a sauna and a slide! When we said posh and playful, we really meant it!



In the fabulous bedroom, you can wake up with sunshine on your face thanks to the skylight located right over the bed.


A small but serviceable kitchen offers beautiful views of the forest greenery.


Relax and unwind in the gorgeous copper tub with a view!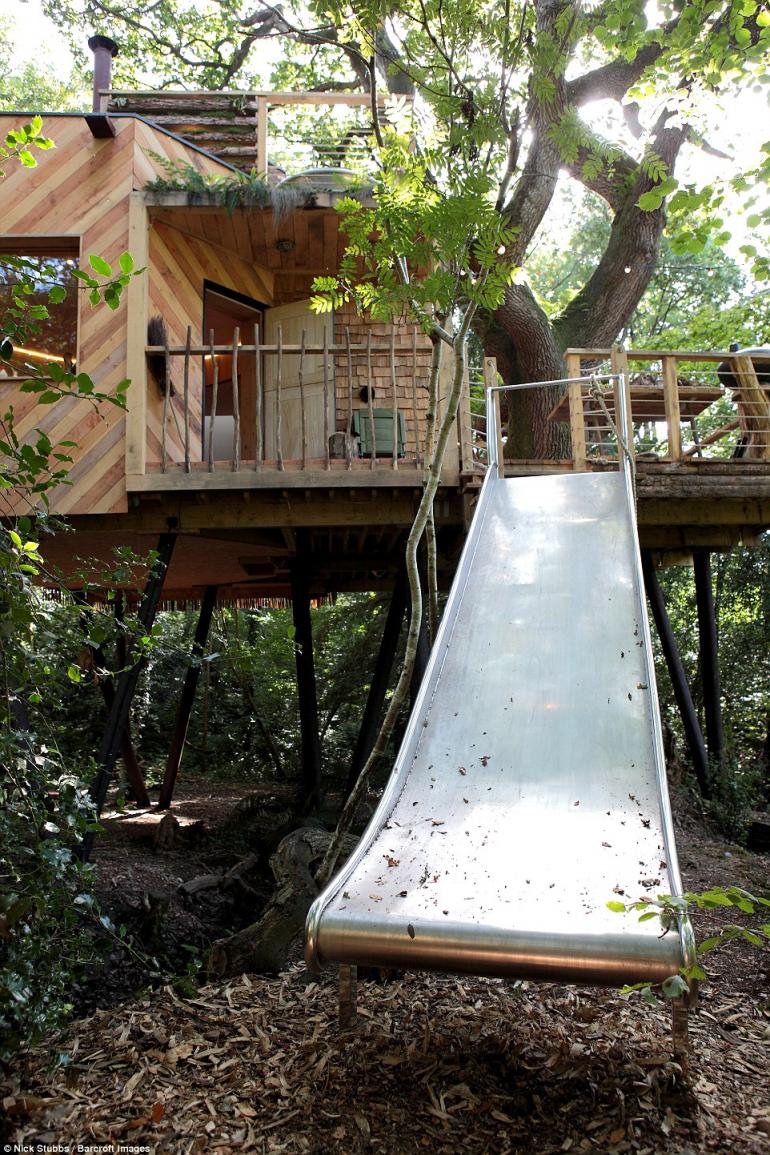 Or let your inner child come out to play with this adult-sized slide!
The open air deck comes with a hot tub.


You can even try your hand at pizza thanks to the pizza oven on the balcony.


Indoor/outdoor living gets a new meaning with this outdoor shower and hammock for naps.


The treehouse took five months to build and on the construction team were Mallinson's sons.


Knowing that the heavy structure would put a strain on any tree, Guy chose to build his treehouse on stilts.


Sustainability was a key factor in this project. "We teach green woodworking, which uses unseasoned woodland thinnings," said Guy, "We also use 18-year-old rotational coppiced sweet chestnut in the ground – this is totally renewable and due to the tannins in the wood no preservatives are needed or used. Similarly the materials used in construction of the treehouse are selected for their characteristics and don't need preservatives and are local, sustainable and totally renewable."
The treehouse cost about £150,000 (approx. $ 193,984) to build and has been receiving guests since August but it's been fully booked for the next few months. If you're keen to book a stay as soon as the treehouse is available, visit Malinson's website for more details
[ Via : Dailymail ]