We're all about extravagant travel here at LuxuryLaunches, from private jets to luxury yachts, we love them all! If you must travel commercially though, Business class is the place to be. Most major airlines are hard at work competing to offer the most luxurious and bespoke experience to travelers who are willing to spend extra for total comfort. Whether it is designer amenity kits, or seats designed for maximum comfort, airlines are going all out to create a luxury-hotel style experience thousands of miles above the ground. Keep reading to know what different airlines have in store for their business class passengers.



WestJet
WestJet revealed plans to become a full service airline this year and their Boeing 787-9 Dreamliner boasts a Business Class cabin that is decorated with the colors of a Canadian summer. Guests will get to enjoy touchscreen service and on-demand dining as well as lay-flat mattresses, and bedding and turn-down service for maximum comfort.


Air Canada
This airline gave its premium Business Class an image makeover, rebranding it their Signature Class and added upgrades like a new menu by chef David Hawksworth with dine-on-demand services; a new drinks menu; amenity kits by Want Les Essentiels and Vitruvi; mattress pads for a comfortable rest; and access to luxurious Signature Suite Lounge.


Cathay Pacific
At Cathay, Business Class upgrades incorporate all new design elements by Studio F A Porsche. Look for small details lthat make a difference from the mini cocktail table to the diagonally staggered seats that maximize the limited space. These lay-flat seats are designed to give you the privacy that you need without sacrificing comfort.


United Airlines
At United, the Business Class experience before you even take off. Passengers can use Premier Access check-ins and security lanes. In the plane, you get extra spacious premium seats and plenty of smart and convenient storage options for your in-flight essentials. You also get access to United Private Screening entertainment which includes an extensive library of movies, TV shows etc. You'll dine on restaurant quality meals by a team of renowned chefs.


Qatar Airways
Qatar was recognized by the 2017 Skytrax World Airline Awards for offering the world's best business class so there's plenty to be excited about here. Qatar will spoil you with amenities from Italy's Castello Monte Vibiano Vecchio, including lip balm, hydrating facial mist and anti-ageing moisturiser cream; not to mention their ultra-comfortable 100 per cent cotton sleeper suits and slippers from The White Company. You can enjoy a selection of drinks anytime during the flight and enjoy their signature delicacies from an on-demand menu. They also offer Wi-Fi on board their A380, A350, B787, A319 and selected A330, A320 and A321 aircrafts.


American Airlines
On International Business Class flights, American Airlines passengers will be treated to a new Vole Haan amenity kit containing an eye mask, earplugs, socks, a pen, tissues, a toothbrush and toothpaste, and a larger "refreshing" travel kit.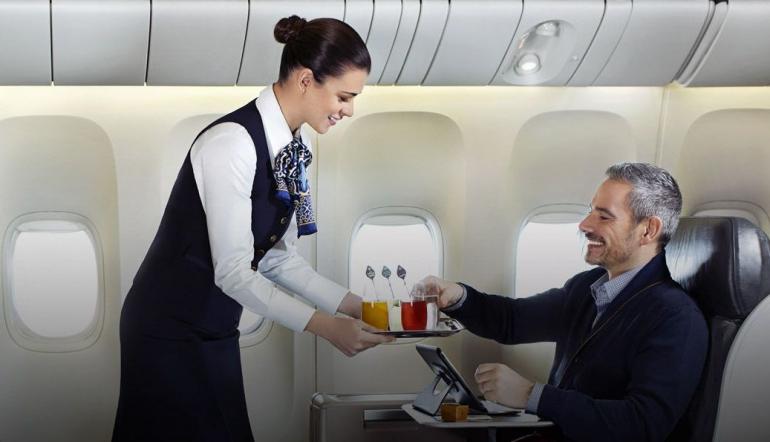 Turkish Airlines
Turkish Airlines has won awards for their innovative amenity kits. From the Umrah kits presented to passengers who were making the Umrah pilgrimage to the "Hajj Pilgrimage Kit" for passengers on the annual pilgrimage to Mecca, the airline was praised for offering thoughtful items designed to make the pilgrimages more comfortable. More recently they have offered the "Trio Amenity Kit" – a set of three bags that maintain novelty for passengers through regular rotation combined with cosmetics by the renowned German brand Bogner.