Amongst all the novelties released by Jaeger-LeCoultre at the Watches & Wonders 2022 based on the chosen theme of "Stellar Odyssey" is a stunning new Atmos clock named Infinite that utilizes a horological idea that was developed way back in 1928 by Jean-Léon Reutter. What makes it incredibly cool is that doesn't rely on an external power source to run and rather harnesses energy from minute changes in atmospheric temperature, keeping the movement beating in perpetuity. Even the smallest change in temperature causes ethylene chloride gas filled inside a bellows-shaped capsule to expand or contract which powers the movement by activating a chain that winds the clock. Jaeger-LeCoultre claims a change of even one degree Celsius (1.8 degrees Fahrenheit) can keep the clock running for 48 hours.



The latest Atmos Infinite clock features a minimalist design that harks back to the first Atoms clocks of the 20th century. With a bare minimum approach in terms of componentry, the Atmos Infinite gets an openworked construction and displays only the hours and minutes. The clock is housed inside a cylindrical glass cover that measures 215mm in diameter and 253mm in height, while the mechanism sits on virtually invisible glass supports which gives the illusion of the watch floating inside the glass capsule.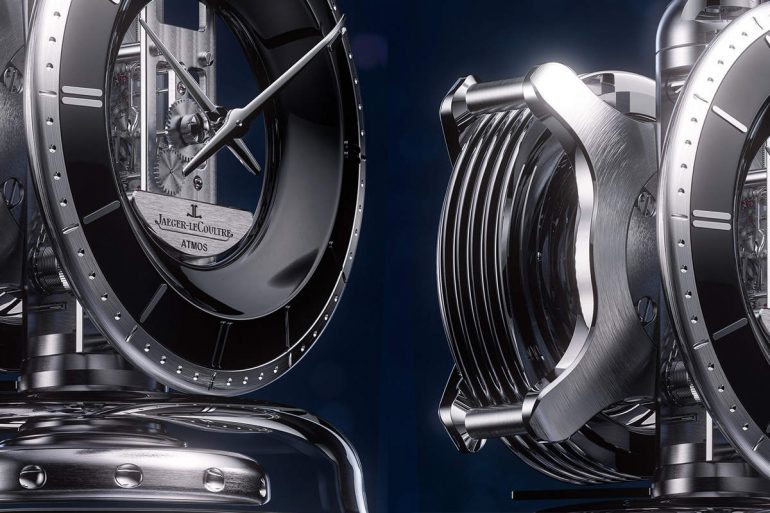 The dial of the watch is a black lacquered ring that has applied and polished baton-shaped hour markers along with an outer minute track and a gaping hole in the middle that gives a view of the ticking vertical gear train. The rhodium-plated hands match the finish of the mechanism. Powering the watch is the JLC caliber 570 that's decorated with brushed surfaces, beveled and polished edges, and Côtes de Genève stripes. Although the movement is designed to operate perpetually without the need for winding or any other human intervention, the watchmaker recommends a timely service every 10 to 15 years. The Jaeger-LeCoultre Atmos Infinite is not a limited production piece and is priced at $15,100, making it incredible value for money.