Since it's founding in 1755 Vacheron Constantin has endeavored to build an identity on the pursuit of excellence. A Vacheron watch is not merely a timepiece but a reflection of the culture and era to which it belongs. To pay tribute to women, Vacheron Constantin is all set to dedicate most of its new watches to women in 2013. The Métiers d'Art Florilège collection collaborates between watch manufacturing and artistic crafts, combining to represent Vacheron's fundamental values. Vacheron has created this collection for SIHH 2013; the Métiers d'Art Florilège consists of a trilogy of watches, all paying tribute to English botanical illustrations from the 19th century. The plants have all been inspired by Robert John Thornton's 'The Temple of Flora,' originally published in 1799. The Temple of Flora remains relevant even today to both botany and art historians. Vacheron employed Anita Porchet, an independent artist specializing in miniatures, and fired enamels in the Geneva style to create these incredible timepieces. A bezel set with diamonds highlights the artwork reproduced in guilloché engravings and Grand Feu cloisonné enamels.



The painstaking detail that goes into creating this artistic timepiece is incredible; the engine turners cut a line a tenth of a millimeter apart to create a symmetrical pattern; he is then followed by the enameller, which adds thin enclosures of gold filled with color. The enamel is then fired in ovens that reach 800°; this process is repeated till the enamel reaches a level of translucency.

The three models – the Queen watches, White Lily, watch, and China Limodoron, have been fitted with mechanical manual winding caliber 4400, which calculates time extremely accurately. The watches contain a power reserve of 65 hours. Other components such as the bridges and baseplate have been beveled and decorated by hand—leather straps in feminine colors complete this graceful collection.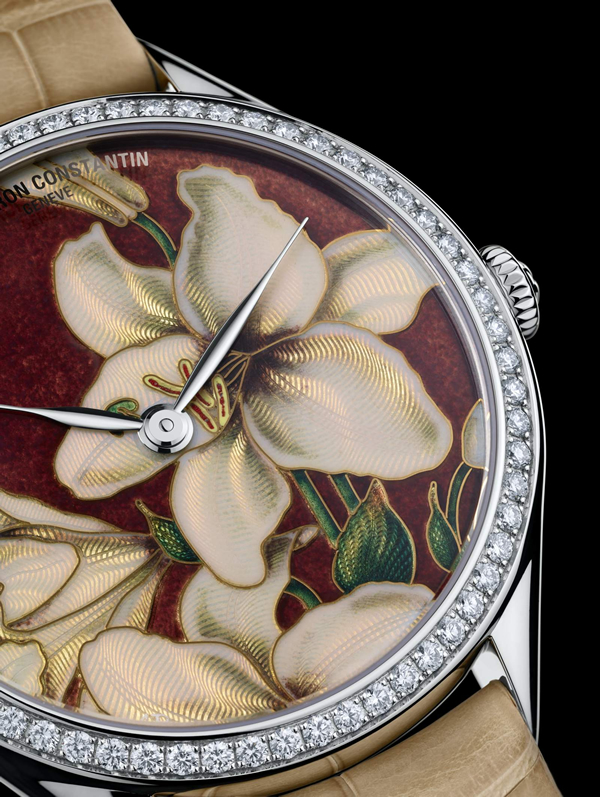 The Métiers d'Art Florilège has been limited to a mere 20 collector's watches. Each bezel is set with round cut diamonds; there are also 5 watches set with baguette-cut diamonds, which have been created exclusively for Vacheron boutiques. Each of these collectors edition watches has the hallmark of Geneva, thus authenticating the incredible workmanship that went into creating this collection.