From the makers of minimalism is yet another beacon of fashion and a shining one at that, literally, that has come out in an inaugural Spring 2014 collection. Featherweight wool denims and chambrays, silks, leathers and silk/cottons, all of these have combined after snips and stitches in flourishes and folds to create Calvin Klein's latest Platinum Label. So, while slip dresses shine in modern watercolors for women, manipulated seams and precise pleats are echoed in the designs for men as well.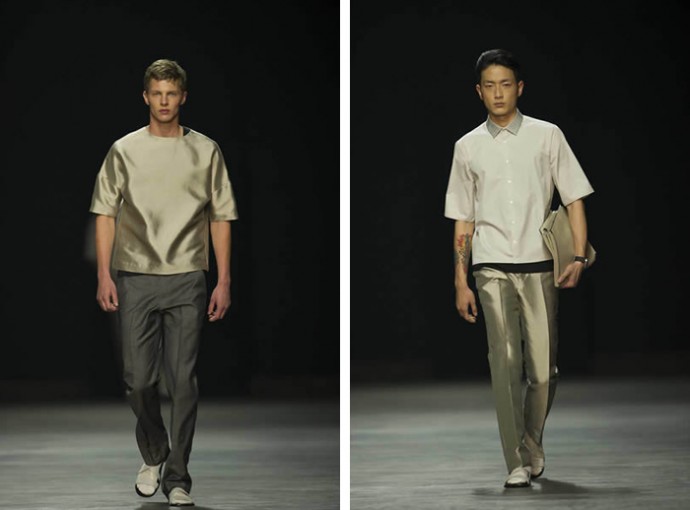 Calvin Klein Platinum is well, platinum to begin with. Calvin Klein's signature understated style comes out well in this new addition. But it isn't merely an addition. The Platinum label is a rebranding of the Calvin Klein bridge diffusion line formerly known as CK Calvin Klein and clearly an up gradation since "gray" has been replaced with "platinum."

The designs made their runway debut in Hong Kong few days ago. Form fitted looks fitted right in with a host of sculptural silhouettes. With just a touch of futuristic, 'familiar' oozed a modern elegance. Designed for both men and women, the clothes used innovative fabrics and fused street, sportiness and strength to form an effortless sophistication. In the words of the illustrious label, they went for "modern silhouettes in innovative fabrics and forward-thinking, distinctive color palettes."

Jewel tones shone giving a great follow up to the luxury brand's "gray label" status. According to Calvin Klein chief executive Tom Murry, these efforts, including the opening of freestanding stores bearing the new branding and transitioning of existing stores, "will benefit the brand image and result in the enhancement and expansion of the Calvin Klein lifestyle." The Platinum name first made an appearance on the fashion label's Fall 2013 collection of men's and women's watches and jewelry unveiled this year at BaselWorld.
[Via – Fashionwindows and Manila-Standard-Today]